Dive Courses at Murex Resorts
At Murex Resorts we offer a full range of PADI dive courses from beginner levels through to Divemaster. Our professional team of PADI Instructors speak English and Indonesian. If you would like to learn the theory in another language we recommend that you take PADI e-Learning and study from home before your trip.


Murex dive centers are Aqua Lung partners' and we provide free full equipment hire for those taking beginner courses (Introductory Dive Experiences and PADI Open Water Diver), for advanced courses we have full dive equipment rental available.
Murex Manado is an award winning PADI 5 star Dive Centre with a 4 meter deep, purpose built dive training pool.
Safety and quality are our first priorities, but we haven't forgotten about convenience – we'll make sure your dive course fits around your schedule while you are here. You'll have plenty of time to relax and enjoy North Sulawesi – you are on holiday!
Scuba Diving Courses for Beginners
Introductory Dive Experience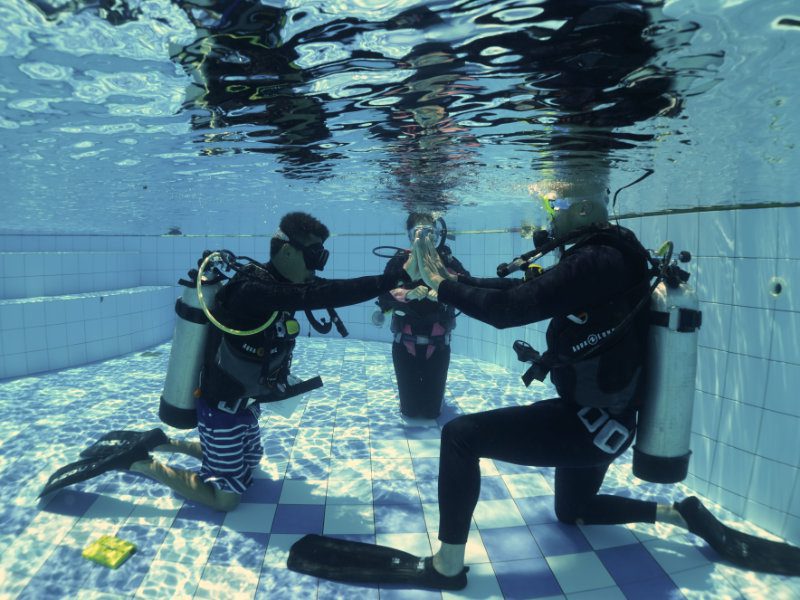 The incredible underwater world of North Sulawesi is waiting for you and you don't have to be a certified diver to experience diving and see amazing marine life. During your introductory dive program you'll learn some basic scuba diving skills in our dive training pool before heading out on your very first dive in the ocean. Your PADI Instructor will be by your side from start to finish to ensure that you have great fun and a safe experience. Be warned though – it's addictive!
Pool and 1 House Reef Shore Dive: USD 130 / IDR 1,950,000
Additional House Reef Shore Dive: USD 83 / IDR 1,250,000
Full Day inc. 3 Boat Dives: USD 247 / IDR 3,700,000
Free inclusions: Full equipment hire for all introductory dives
PADI Open Water Diver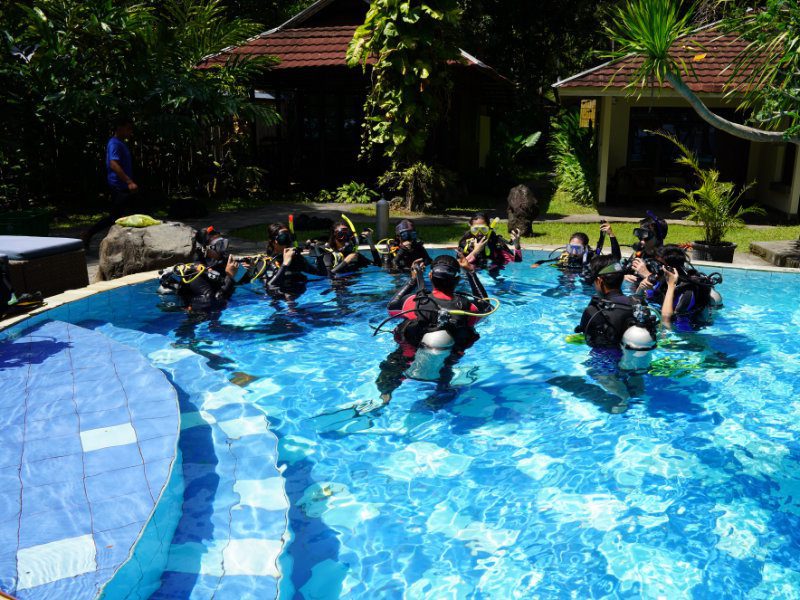 If you have always wanted to learn to dive and see the world beneath the waves this is where to start. The PADI Open Water Diver course is the first level of diving certifications and it's a fun and rewarding experience. The course includes dive theory (which can be studied at home through e-Learning or here in resort), swimming pool training sessions and 4 dives in the ocean which is when you'll see why North Sulawesi is such a famous diving destination. The full PADI Open Water Diver course takes 4 days but if you have taken PADI e-Learning this is reduced to 2 – 3 days. At the end of your program you'll be certified to dive to 18 meters and you'll be ready for a lifetime of adventure!
Complete course 4 days / 5 dives: USD 617  / IDR 9,250,000
Complete course with discount for 2 or more students: USD 563 / IDR 8,450,000
With eLearning 2-3 days / 5 dives: USD 480 / IDR 7,200,000 (plus AUD $231 paid direct to PADI online)
Click here to sign up for PADI eLearning and start learning from home!
Free inclusions: Full equipment hire including dive computer and 100 page deluxe log book
PADI Scuba Diving Courses for Certified Divers
PADI Advanced Open Water Diver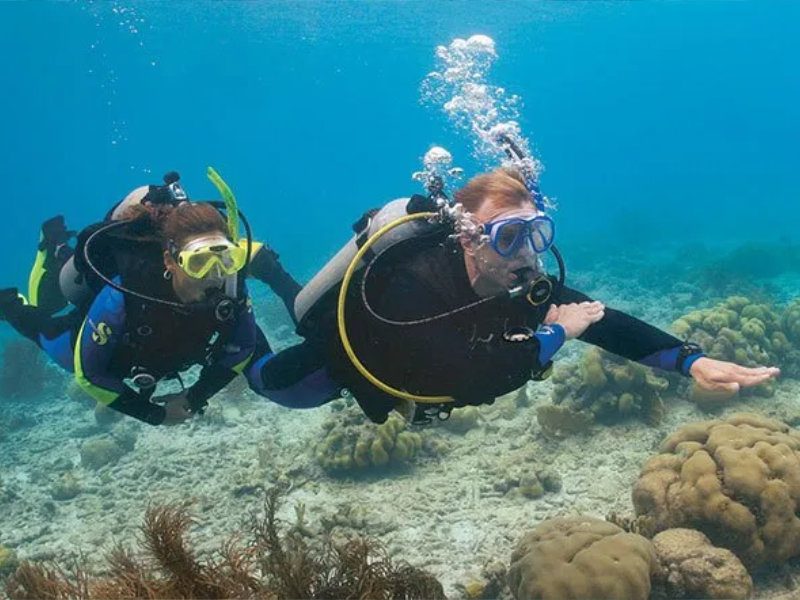 Do you want to improve your dive skills, increase your depths and become a more confident and capable diver? The PADI Advanced Open Water Diver course involves 5 theory sessions and making 5 "Adventure" dives with your instructor. You must complete a Deep Dive and an Underwater Navigation Dive and the other 3 dives are yours to choose from the following: Night Diver, Wreck Diver, Fish Identification, Peak Performance Buoyancy, Search and Recovery, Boat Diver, Drift Diver and Underwater Photographer.
The PADI Advanced Open Water Diver course takes 2 days to complete and will certify you to dive to a maximum depth of 30 meters, which means even more great dive sites to explore!
2 Days / 5 Dives: USD 484 / IDR 7,260,000
PADI Rescue Diver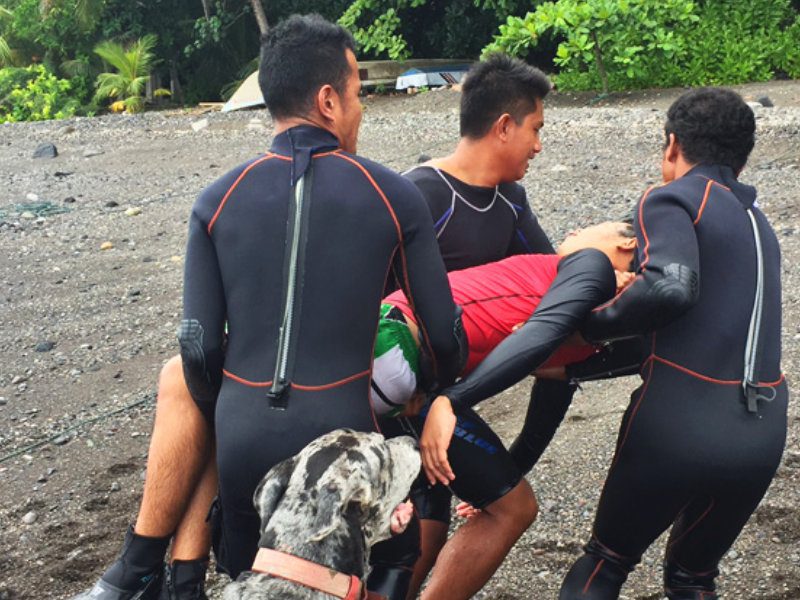 The PADI Rescue Diver course takes 2 days and is cited by many as being the most challenging and rewarding dive course they have taken. Not only will you learn how to deal with diving emergencies, you'll learn how to minimise the risk of accidents occurring in the first place. During the course, you'll also learn how to become a better buddy by practicing problem solving skills until they become second nature. When you complete your PADI Rescue Diver course you'll feel a huge sense of accomplishment and be a better and more confident diver.
For certification as a PADI Rescue Diver you will also need to complete the Emergency First Response program or have a recognised and current (last 24 months) First Aid and CPR certification.
3 Days / Pool Sessions / 2 Dives: USD 453 / IDR 6,795,000
Emergency First Response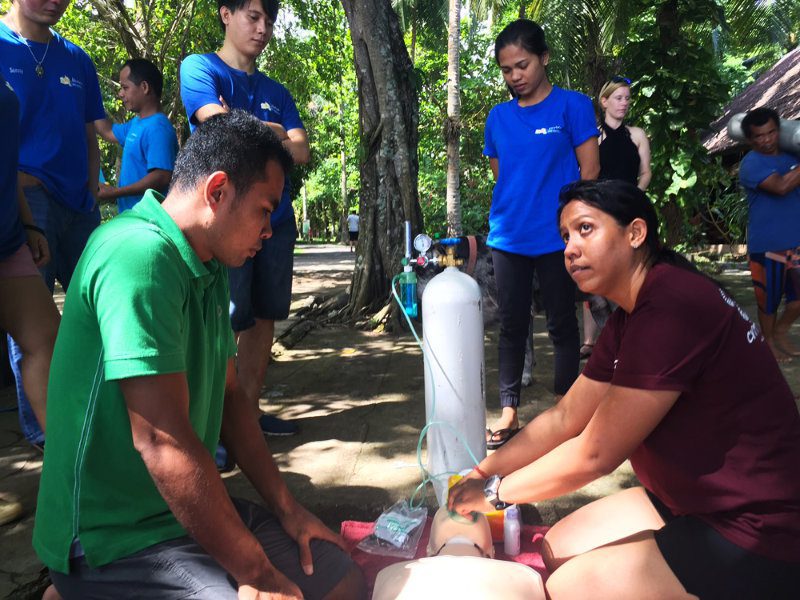 The Emergency First Response course comprises of Primary Care (First Aid) and Secondary Care (CPR). This is a non-diving, one day course in which you will learn how to deal with accidents and emergencies. This is a valuable course which is also recognised in many work places.
1 Day: USD 163 / IDR 2,445,000
PADI Divemaster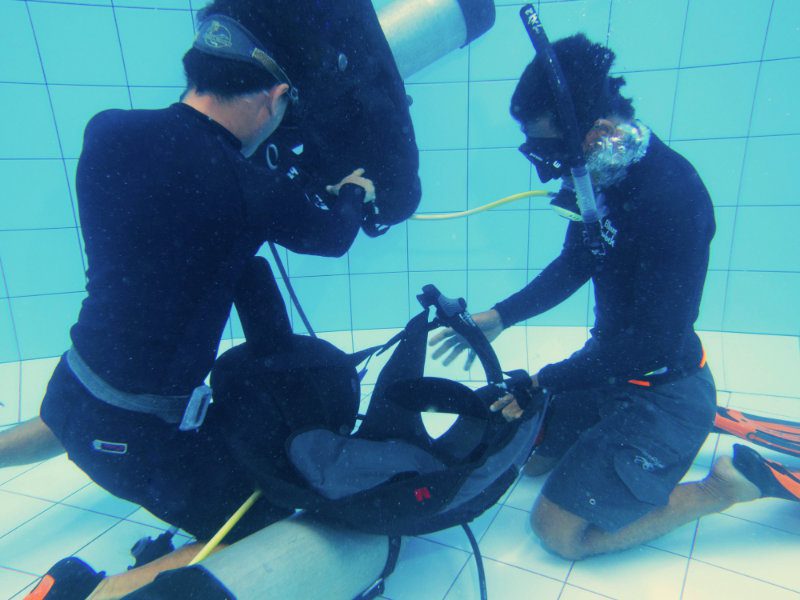 Are you thinking about becoming a PADI Professional? The PADI Divemaster course is the first level of professional certification and allows you to assist PADI Instructors as well as independently guide certified divers. You'll also learn about working in the diving industry, study advanced dive theory, you'll be required to demonstrate high-level diving skills and you'll complete in-water stamina and fitness tests.
You'll need 40 logged dives to start PADI Divemaster training and 60 logged dives by the end of your program, you'll also need a medical statement signed by your doctor and your EFR certificate must be from within the last 24 months (if it is not recent we can run a refresher program for you here). If you do not have 40 logged dives, we can extend your program to an internship to build in additional diving experience.
You'll be mentored by one of our experienced PADI Instructors and you'll get to see and feel what it's like to be a part of a diving team. It's challenging but it's an exciting course which will give you a professional qualification and beyond that, the world is your oyster!
This course can be completed in 2 weeks for divers with 40 logged dives but we recommend staying up to 4 weeks or more to get the best possible experience and broadest training – check out our Internship options below.
Duration varies according to experience: USD 1,000 / IDR 15,000,000
Peak Performance Buoyancy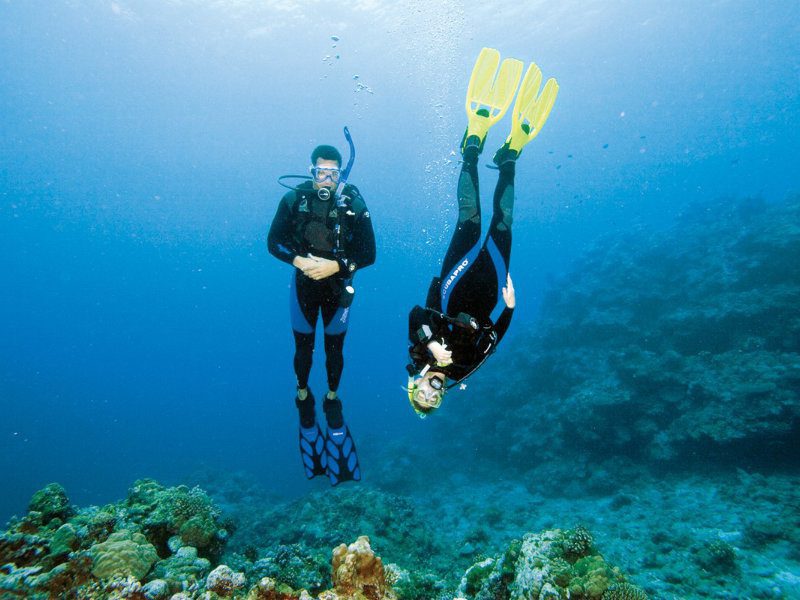 PADI's Peak Performance Buoyancy Specialty Course is the perfect opportunity to hone your buoyancy skills. You'll learn how to check for proper weighting, how to position weights for trim, how to use your breathing effectively and how to move underwater more efficiently. Once you have perfected your buoyancy you'll conserve air, energy and our precious marine environment.
2 Dives / 1 Day: USD 203 / IDR 3,045,000
Digital Underwater Photography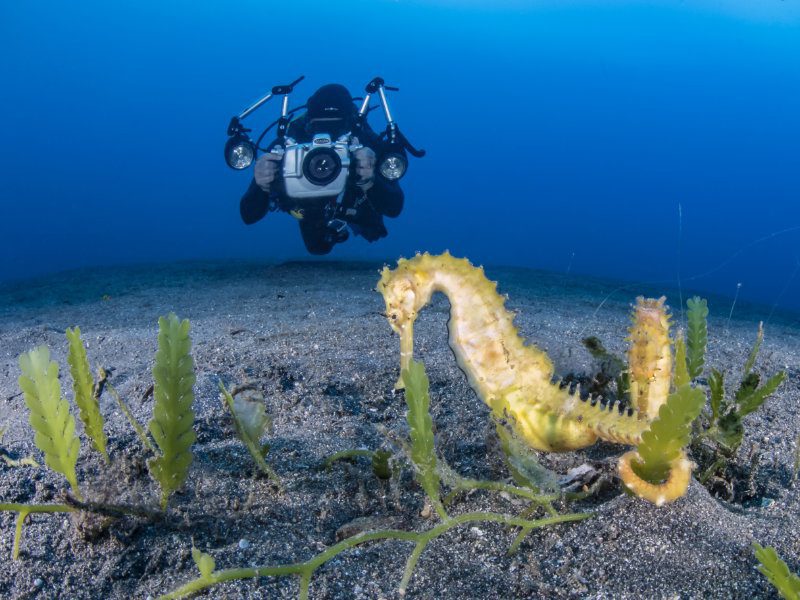 No photo experience required! That's what the program is for – showing you how to take award-winning pictures underwater. During your PADI Underwater Photographer Specialty Course you'll do two open water dives, which will be conducted in one day. You'll learn about camera settings, preparing your camera and housing for diving, how underwater photography differs to land based photography, the importance of lighting and techniques, composition, shooting a variety of subjects and aftercare for your equipment. If you have a new camera set-up, this is a great way to get familiar with it and learn how to take the best shots possible.
2 Dives / 1 Day: USD 203 / IDR 3,045,000
Night Diver Specialty
During the Night Diver Specialty course you'll learn how to dive safely at night, what equipment to use, the importance of buddy contact, night navigation and the highlights of night diving. This is a great program to take here in North Sulawesi where we have so many wonderful nocturnal critters!
3 Dives / 2 Days: USD 264 / IDR 3,960,000
Enriched Air Diver Specialty
The PADI Enriched Air Diver course is PADI's most popular specialty course. Why? Because scuba diving with enriched air or Nitrox gives you more no-decompression time, especially on repetitive dives. If staying down longer and getting back in the water sooner sounds appealing, don't hesitate to become an enriched air diver. This is a non-diving, theory based course with a practical air analysis component. If you take the program with us, we'll give you free nitrox for your next dives!
1/2 Day program including 2 Nitrox dives: USD 185 / IDR 2,775,000
Deep Diver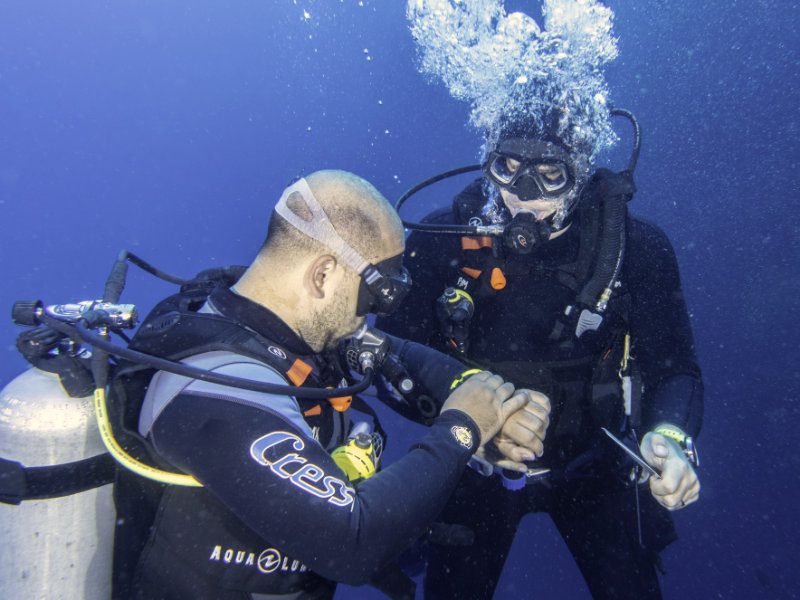 The Deep Diver Specialty is designed to help you develop the necessary skills, knowledge, and techniques to safely participate in deep diving including understanding when and when not to deep dive, deep diving objectives, decompression theory and dive computers, using reserve tanks, no decompression stops, additional equipment requirements and how to deal with emergency situations. Divers taking this program should already be certified Advanced Open Water Divers.
2 Days / 4 Dives: USD 313 / IDR 4,695,000
Diving Internship Programs at Murex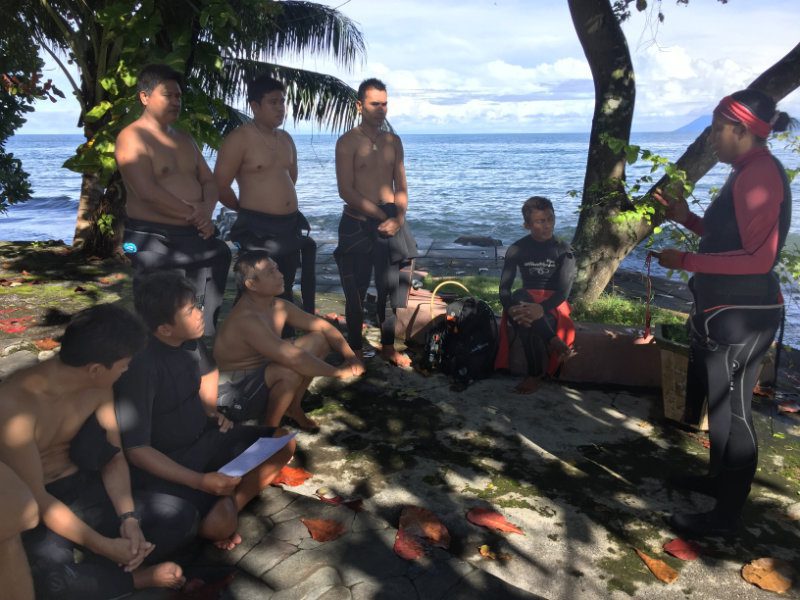 If you'd like to take multiple PADI courses with us or take a Divemaster internship that's entirely possible and a great experience. Let us know what courses you'd like to take, your number of logged dives, how long you'd like to stay and we'll get back to you with an itinerary and quote.
Are you ready for the diving trip of a lifetime?