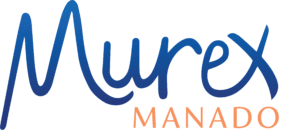 Consistently 28 – 29 degrees all year round

On average 15-25 meters, often up to 30 meters

Muck diving, critters and shallow sloping reefs

Generally easy conditions with little to mild currents

Minutes away to Manado Bay's dive sites

Get involved in our collaborative coral nursery and Ocean Gardener project

Small groups for a more personal experience

Marine biology and underwater photography trained guides
Introducing Manado and North Sulawesi, Indonesia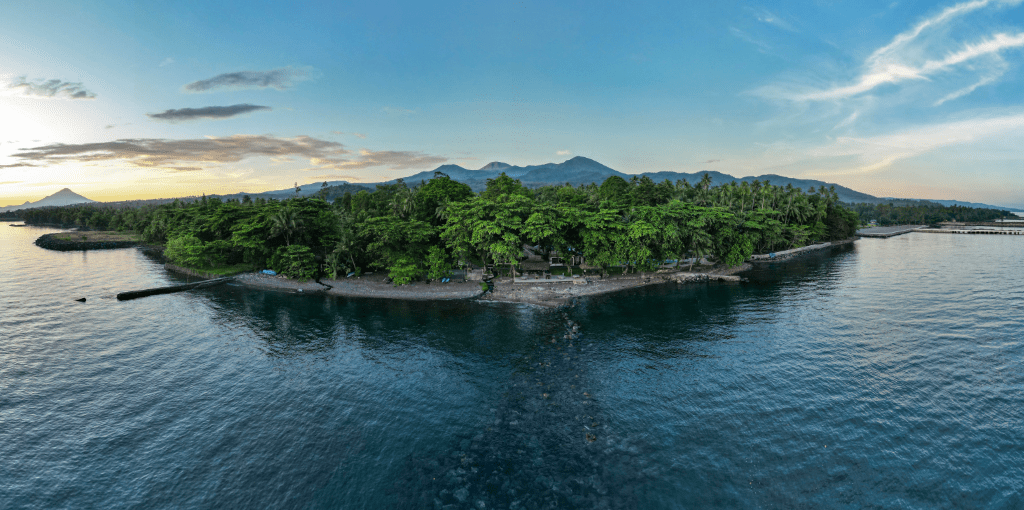 Indonesia is the largest archipelago on the planet and is made up of over 17,000 individual Islands. For divers, Indonesia is a Mecca; THE place to dive, but with so many islands and so many options, how do you decide where to dive? 
North Sulawesi is one of Indonesia's most famous and spectacular diving regions and the ideal place to visit if you are hoping to cash in on as much as possible of Indonesia's diverse marine life and underwater topographies. 
Manado is the provincial capital of North Sulawesi and has an International Airport with direct flights from other major cities in Indonesia as well as Singapore – which make it a great place to start! The name of the airport is Dr. Sam Ratulangi International Airport (Airport code: MDC).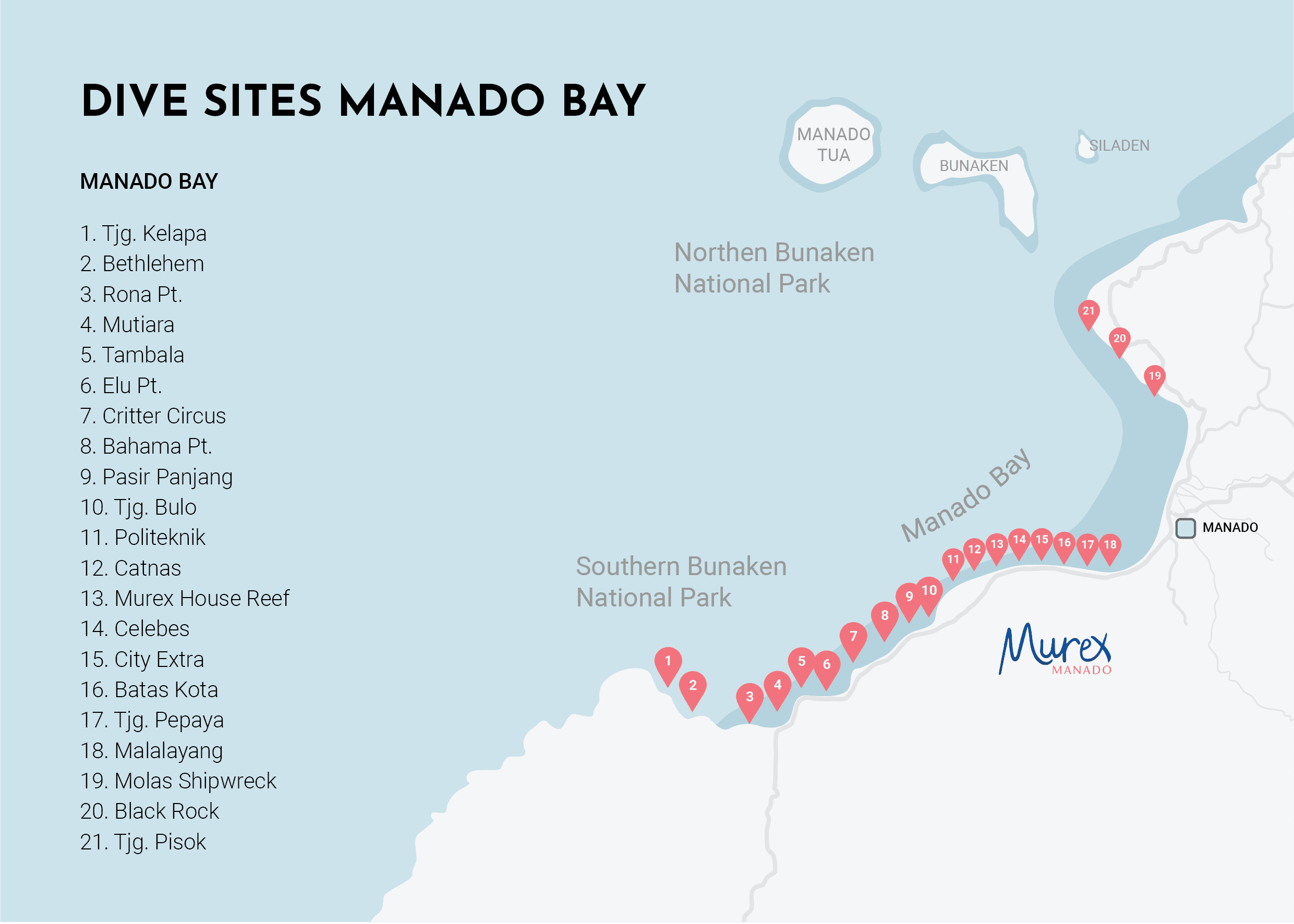 Manado Bay Diving Highlights
Manado city sits on the edge of a large wide bay (Manado Bay) which boasts some of Indonesia's most unique critters combined with both muck diving, coral reefs, and a wreck. 
Manado Bay is a relatively new diving area which is garnering fame for its diversity of sites and marine life. The majority of the diving is classified as muck diving but these are not all plain sandy sites, they are littered with coral outcroppings and reefs.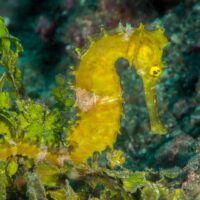 Access: Boat | Dive Type: Muck | Depth: 20 meters | Current: None to mild | Visibility: 10-15 meters
Bethlehem is a favourite with macro photographers who are keen to spot seahorses, pipefishes and nudibranch on the shallow water seagrass beds, and frogfishes and longfin squid on the deeper sandy slope.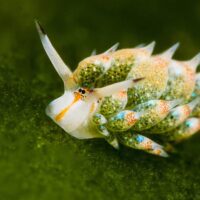 Access: Boat | Dive Type: Muck | Depth: 20 meters | Current: None to mild | Visibility: 10-15 meters
City Extra is a great site for cephalopod seekers; mimic octopus, flamboyant cuttlefish, reef cuttlefish, blue ring octopus are all possible here – not to mention Ambon scorpionfish and a plethora of others.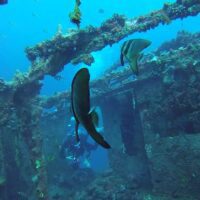 Access: Boat | Dive Type: Wreck & Slope | Depth: 40 meters | Current: Mild to Medium | Visibility: 10-20 meters
The Molas Shipwreck, which is thought to have sunk during World War II, has an unclear history. However, it offers excellent diving, especially for those who enjoy, or want to try, wreck diving. The wreck lays on a sand slope which many divers enjoy as much as the wreck itself – the slope is littered with critters which make for an excellent end to the dive as you make your way back to the shallows.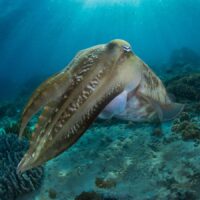 Access: Boat | Dive Type: Muck & Reef | Depth: 40 meters | Current: Mild | Visibility: 10-20 meters
Circus aka Critter Circus, is an amazing dive site in Manado Bay. This is a great site for finding interesting bottom dwellers. In addition to a whole array of critters, including ghost pipefish and frogfish, there are also amazing hard coral reefs with tons of fish. Keep an eye out for cuttlefish, as they love this reef and several of them can be found on almost every dive.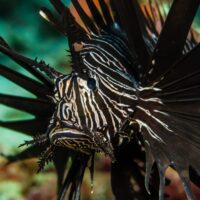 Access: Shore | Dive Type: Reef & Muck | Depth: 20 meters | Current: Mild to Medium | Visibility: 10-20 meters
Murex Manado House Reef is just a step off the beach in front of the resort and offers easy shore diving. This is a combination site with coral reef, sandy patches, and a variety of artificial reef structures. It's not unusual to see schools of batfish, scorpionfish, mantis shrimps, cuttlefish and reef octopus here.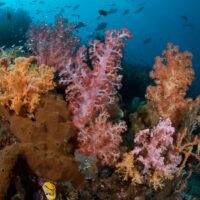 Access: Boat | Dive Type: Reef & Wall | Depth: 30 meters | Current: Mild to Medium | Visibility: 15-25 meters
Tanjung Kelapa is the most southerly site in Manado Bay – and it's also one of our favourites. Tanjung Kelapa offers vibrant, brightly coloured corals and an abundance of fish. A fish count here even recorded the 2nd highest number of different species in one dive in Indonesia!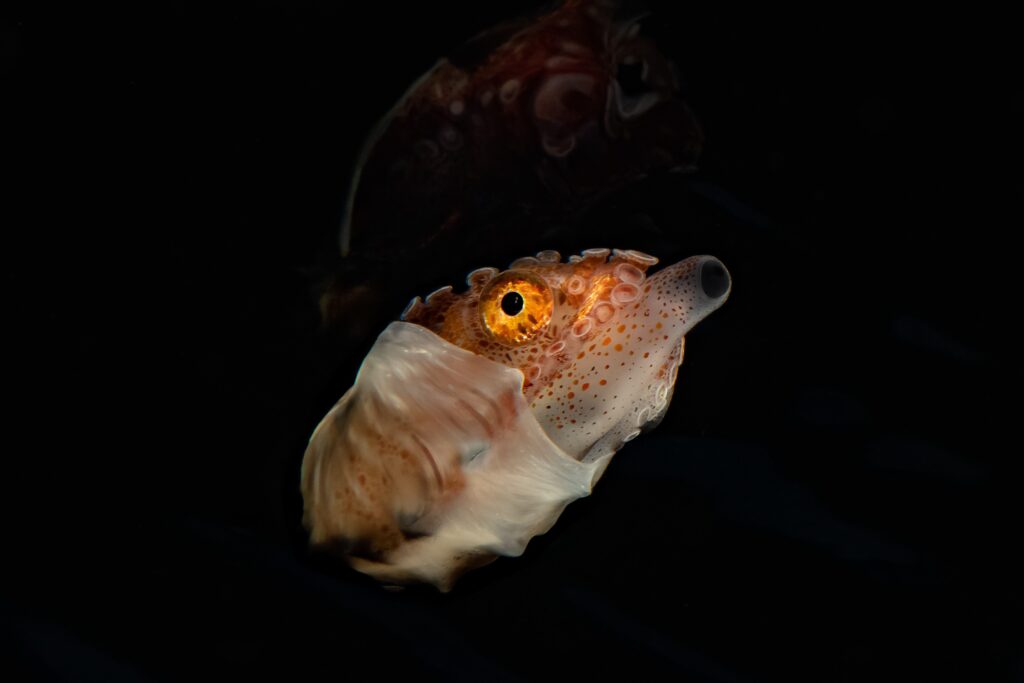 For those who want to try something new, blackwater diving is a relatively new and exploratory type of diving. Blackwater dives are night dives over deep water, using powerful lights, suspended from the boat, which attract plankton. The accumulation of plankton around the lights, attracts strange looking larvae stage critters to feed. Some of the most impressive underwater images have been captured during blackwater dives.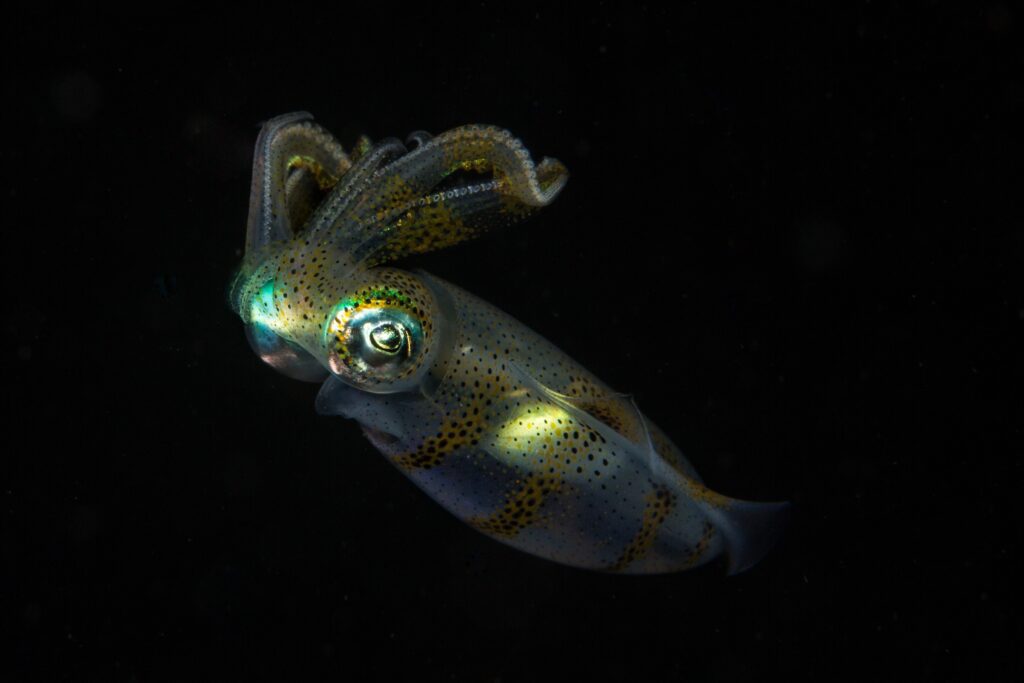 Due to the vast array of nocturnal critters found in Manado Bay, night dives are not to be missed! Many of the cephalopod species, eels, crustaceans are all active at. Night. The Murex Manado House Reef is also a great site for spotting Spanish Dancers too!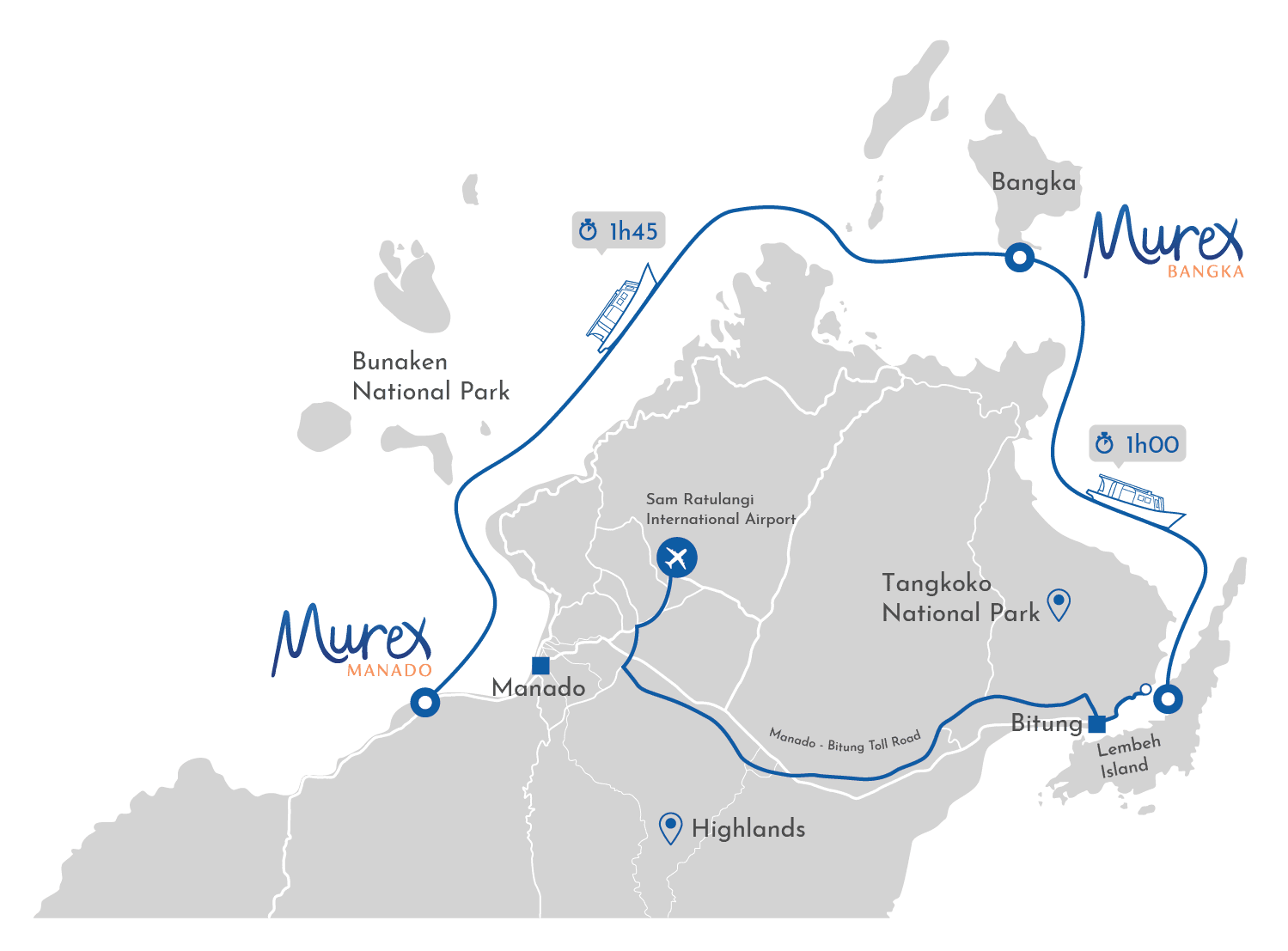 With the Passport to Paradise program, you have the opportunity to discover the stunning underwater world of Manado Bay, the Bunaken Marine Park, Bangka Island, and the Lembeh Strait. Convenient boat transfers between resorts are included to maximize your dive time.
North Sulawesi does not only provide excellent diving opportunities; for divers (or non-diving friends and family) who want to take land tours, nature tours, or soak up some culture during their stay there are a number of fantastic options available too.