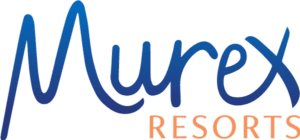 Diving with Murex Resorts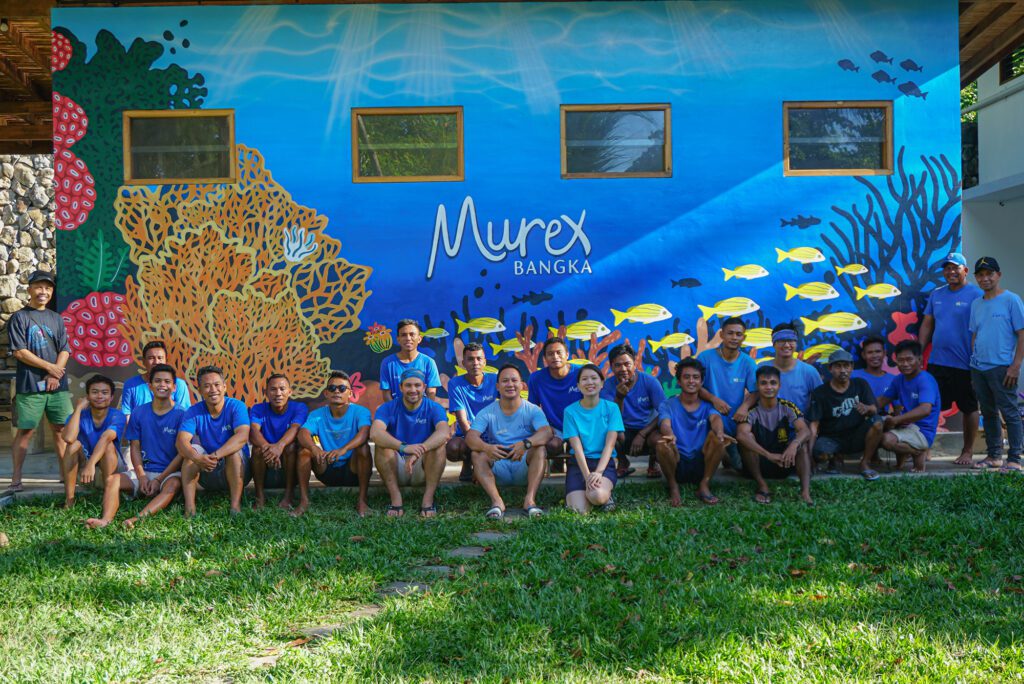 We have been diving in North Sulawesi since the 1980's and we were instrumental in creating the Bunaken Marine Park. We were also the first resort to welcome guests on Bangka Island.
Many of our team have been with us from the very beginning and they have extensive local knowledge – we look forward to sharing these years of experience with you.
We follow the same procedures at each of our resorts so wherever you decide to stay, or if you decide to join us for a combination stay, or take a Passport to Paradise, you'll find the same procedures in place, making it easy to transition from one location to the next. In fact, your Dive Guide will transition with you too, making it seamless!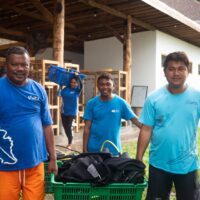 Our dive guides are trained in far more than just guiding and spotting. Our guides undergo marine biology, marine life identification, and underwater photography training.
All Murex dive guides are Indonesian and most are from the Manado area. All of our guides speak English and attend regular English language classes to further develop their skills. They all share the same passion as you – diving and marine life.
We love to keep our dive groups small and we aim for a maximum of 4 divers to 1 dive guide. For those who are seeking a more exclusive experience, we also offer private guide dives and private boats services – contact us to find out more.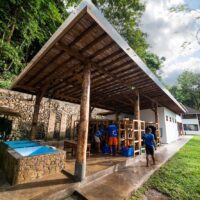 Our dive centers are at the heart of our resorts. At the dive center you will find whiteboards with schedules for the following day's dives and our team is on hand to answer any questions.
Both dive centers have separate freshwater wash tanks for gear and cameras. There is outdoor drying space and individual gear lockers in the dive center's covered gear area.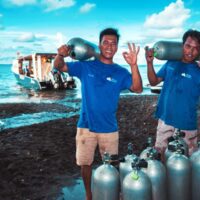 We aim to go out for a two dive trip each morning at around 8.15am (times do vary) from the beaches in front of each resort. We return to the resorts for lunch and our afternoon dives head out at around 2.30pm for a third dive. It is also possible to arrange for a longer 3 dive trip with lunch served on the boat between dives 2 and 3.
Night dives depart at around 6.30pm and blackwater dives at around 7pm. Times depend on the stage of the lunar cycle.
We aim to keep our schedules as flexible as possible – if you have any special requests, please let us know in advance.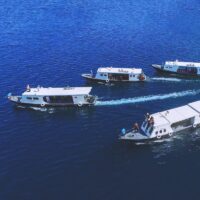 Our spacious and comfortable dive boats have individual tank holders for each diver, access to the bow and roof as well as shaded areas inside the cabin. All of our boats provide cushioned seating and dry storage areas for cameras & personal belongings. You'll have your own personal towel and fresh fruit, drinking water, coffee and tea are offered on all boats.
Murex dive boats are staffed by licensed captains and an assistant. Each vessel is equipped with first aid kits and emergency oxygen. All boats also have on-board toilets and long boarding ladders.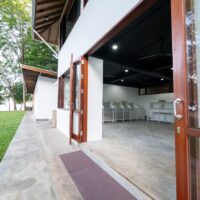 Camera Rooms and Photography
Our dive centers at both Murex Manado and Murex Bangka are proud to offer facilities for those traveling with cameras and underwater video gear.
We offer camera rooms at both resorts so you can rest assured that your imaging equipment will be taken care of. With individual preparation stations and ample plug sockets, you'll have everything you need, on hand.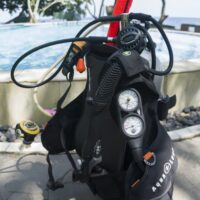 If you don't have your own gear, or you simply prefer to travel light, we can include complete gear hire in your package. All of our rental gear is either new or well maintained. We regularly service our equipment and purchase new items.
We will need to know your sizes in advance so we can prepare everything for you prior to your arrival.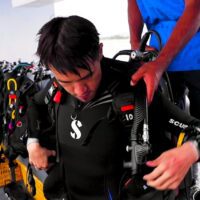 Each morning our team will bring your larger items (BCD, regulator, fins and weights) to the boat and assemble your gear while you are enjoying breakfast. After your last dive of the day, our team will wash your gear for you and store it away.
If you plan to make a House Reef dive then our team will also prepare your equipment in advance.
This is your holiday… relax and enjoy!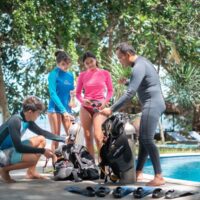 Whether you are a beginner and want to learn to dive, or a seasoned pro and want to hone your skills, our 5 star PADI Dive Centers offer courses for all levels.
Find out more about our courses here… PADI Courses.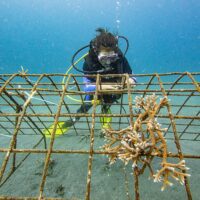 We are extremely proud to partner with Ocean Gardener.
During your stay with us, you also have the opportunity to visit our coral nurseries – and even plant your own coral!
Find out more about Ocean Gardener opportunities here… Ocean Gardener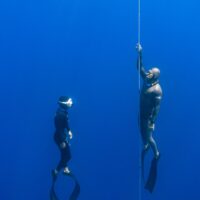 We are one of the only resorts in North Sulawesi that offers both scuba diving and freediving. Our freediving team includes Indonesian national record holders as well as world record holders.
Apnea Murex offers the full range of AIDA freediving courses as well as gear hire and freediving boat trips to Bunaken.
Find out more about our freediving here: Apnea Murex.
Two Beautiful House Reefs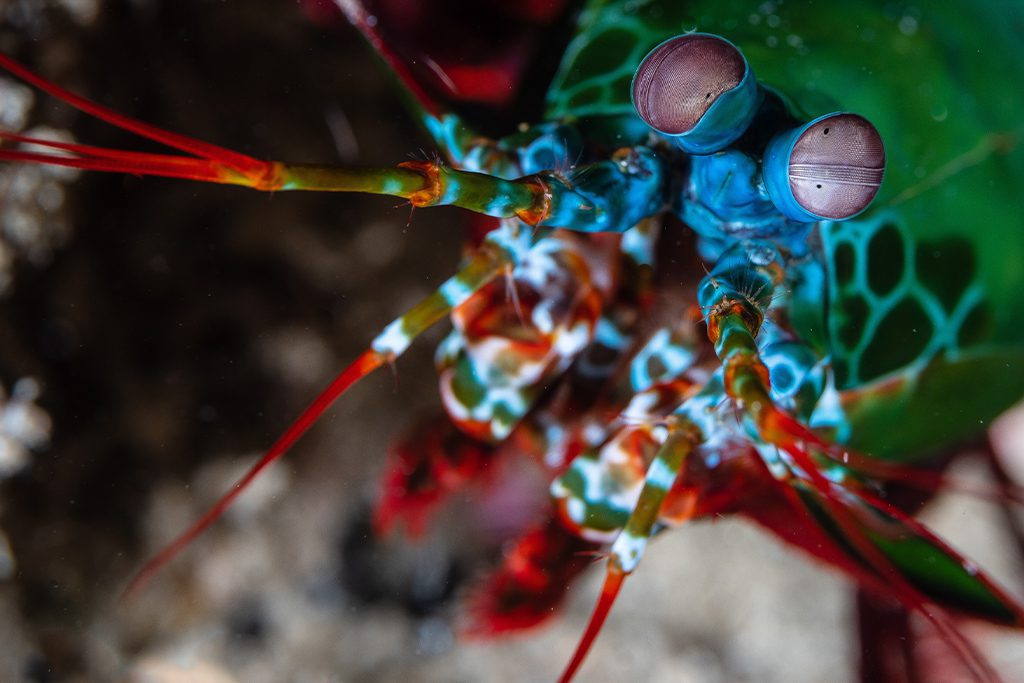 Murex Manado House Reef is just a step off the beach in front of the resort and offers easy shore diving. This is a combination site with coral reef, sandy patches, and a variety of artificial reef structures. It's not unusual to see schools of batfish, scorpionfish, mantis shrimps, cuttlefish and reef octopus here.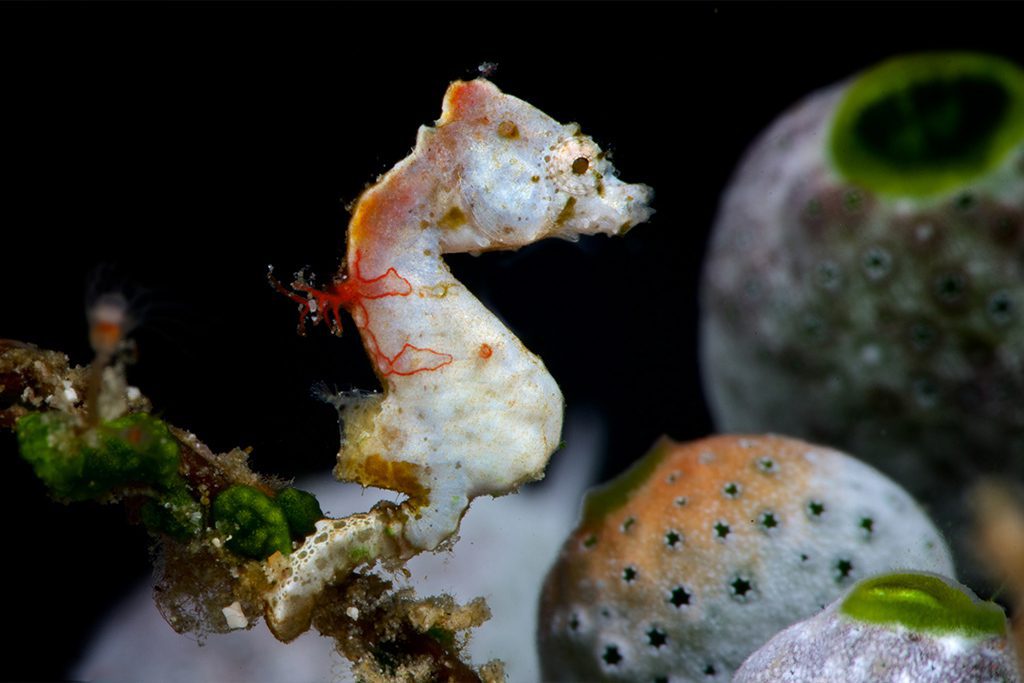 Another easy step off the beach reveals a colorful sloping reef down to a white sand bottom. Look out for an array of critter including frogfish, ribbon eels and there are resident pygmy seahorses. Keep an eye out to the blue for possible cruising eagle rays!
Blackwater and Night Dives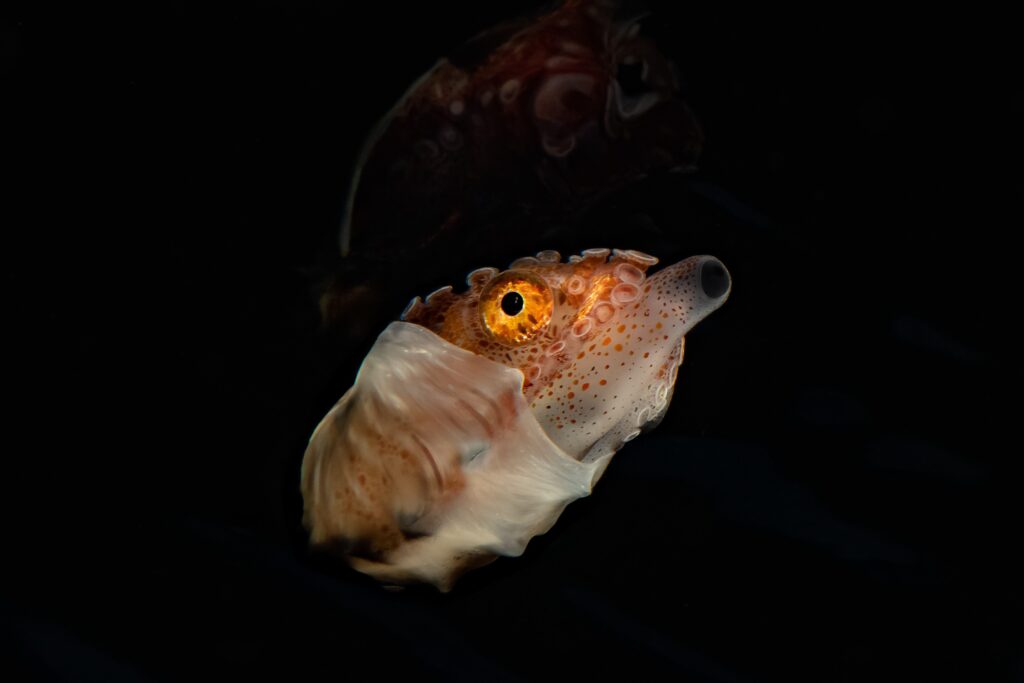 For those who want to try something new, blackwater diving is a relatively new and exploratory type of diving. Blackwater dives are night dives over deep water, using powerful lights, suspended from the boat, which attract plankton. The accumulation of plankton around the lights, attracts strange looking larvae stage critters to feed. Some of the most impressive underwater images have been captured during blackwater dives.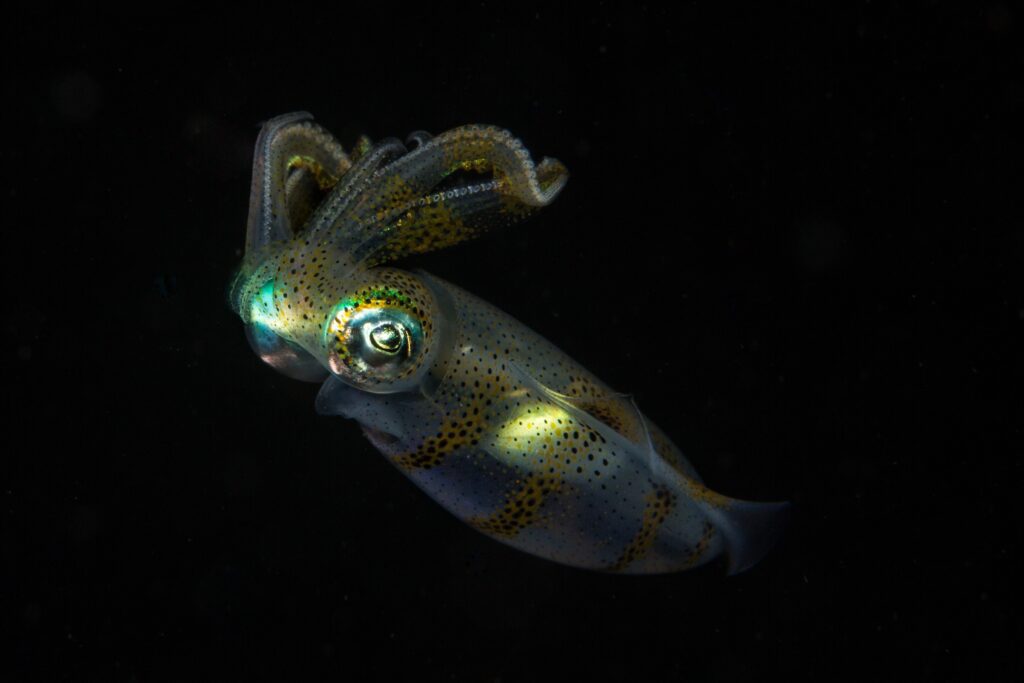 Due to the vast array of nocturnal critters found in North Sulawesi, night dives are not to be missed! Many of the cephalopod species, eels, crustaceans are all active at night. In Manado Bay, City Extra is one of our favorites and the Murex Manado House Reef is also a great site for spotting Spanish Dancers! When night diving from Murex Bangka dive sites such as Delphine's Point showcases a plethora of cephalopods including coconut octopus!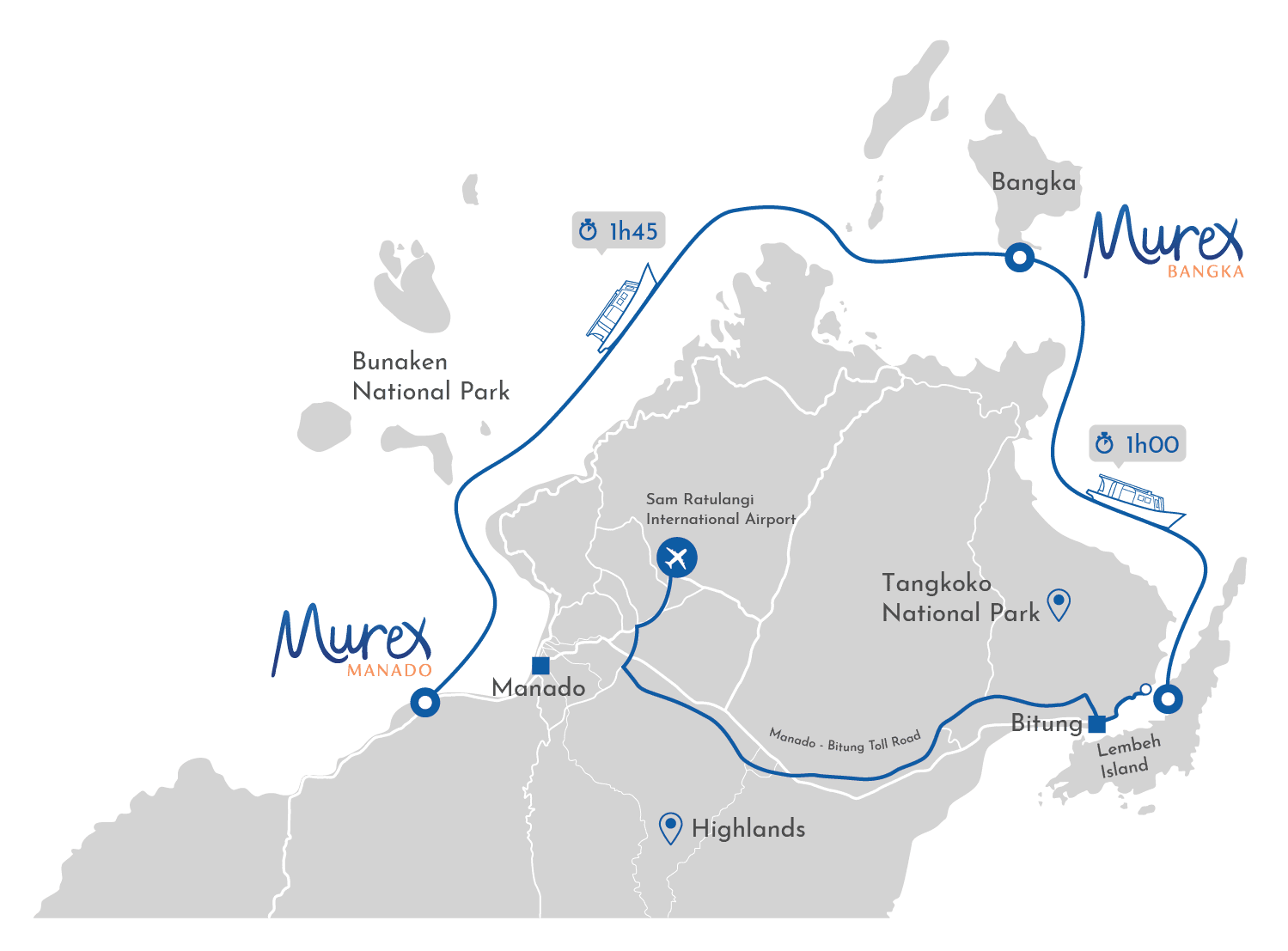 With the Passport to Paradise program, you have the opportunity to discover the stunning underwater world of Manado Bay, the Bunaken Marine Park, Bangka Island, and the Lembeh Strait. Convenient boat transfers between resorts are included to maximize your dive time.
Dive Shops, Clubs & Groups
If you are planning a group trip, get in touch! We have years of experience in catering for larger groups and working with group leaders – including providing assistance with tailormade itineraries, logistics, and planning.