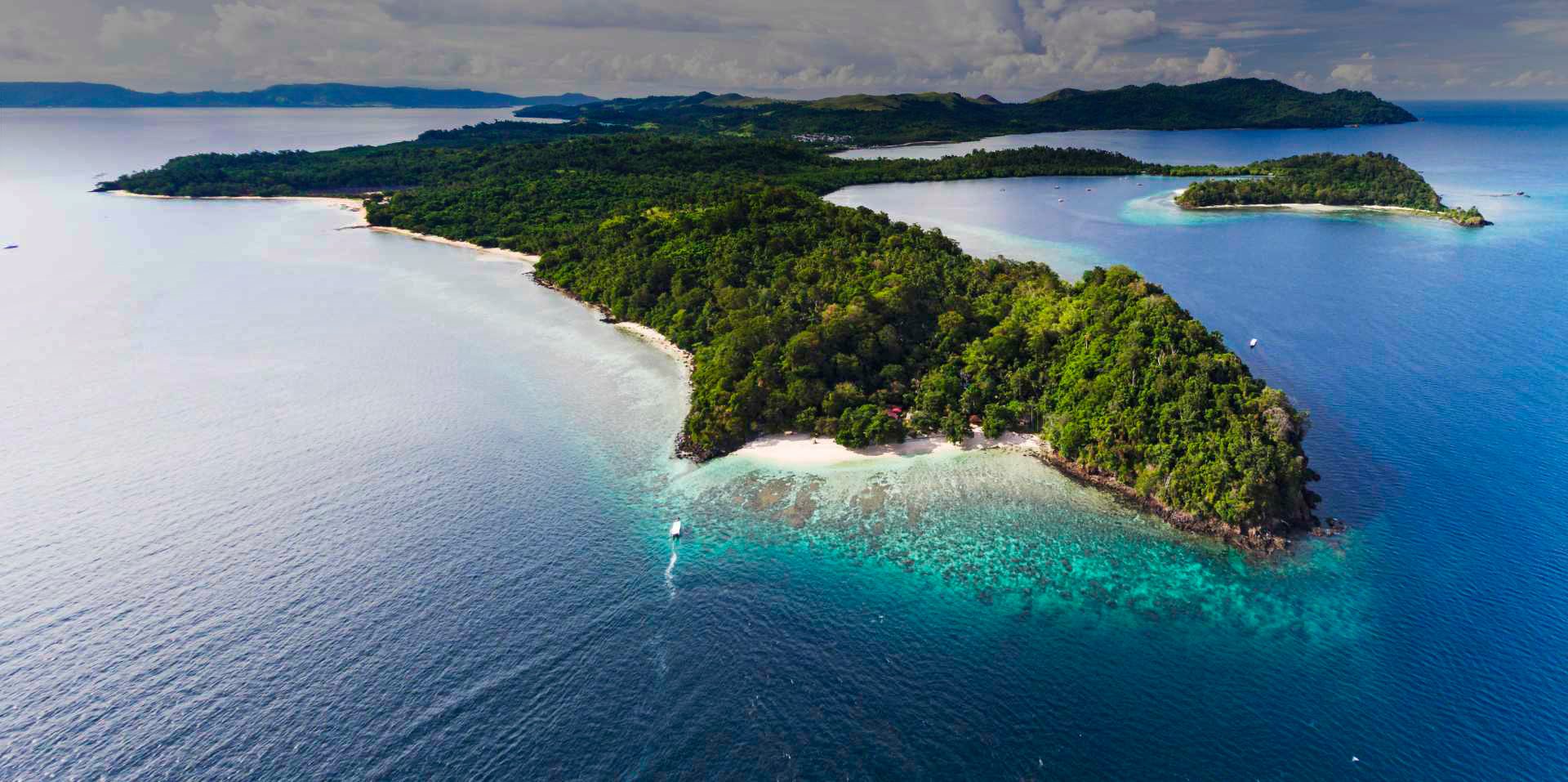 Travel Practicalities and North Sulawesi FAQ's
Visiting North Sulawesi in Indonesia is an exciting and unforgettable experience – the trip of a lifetime with phenomenal diving, stunning scenery, spectacular wildlife, and smiling friendly people wherever you go.
To assist in your travel preparation and stay at Murex Resorts we have put together a list of questions that we are frequently asked – if there is anything we have not included, just let us know!
Airport
Our local airport is Manado International Airport (Airport Code: MDO) which is currently serviced three times per week (Wednesdays, Fridays and Saturdays) direct from Singapore by Scoot Air, the regional carrier of Singapore Airlines. There are also several daily non-stop flights from Jakarta and services from Bali.
It is around 1 hour by car from the airport to Murex Manado or 1 hour by car followed by a 20-minute boat ride to Murex Bangka.
Baggage Allowances
If you are flying domestically before or after your stay, most airlines have a baggage allowance of 20kgs plus your carry-on bag. Some airlines allow an additional bag for dive gear. Excess baggage charges vary from airline to airline – check at the time of booking.
Climate
North Sulawesi has two seasons –one dry and one bringing more rain. The driest period is from the end of March until the end of November. The rain lowers the air temperature so this is a good time to visit for those who prefer cooler temperatures.
COVID Requirements
There are some requirements still in place regarding COVID-19 and travel. Please check this section carefully. This information was last updated on 19th October 2022. We recommend checking with your agent, or online, for any more recent updates:
Pre Departure:
You will need to present your COVID vaccination certificates – which must be in English. If you are not vaccinated you will require a medical vaccination exemption letter from a Government hospital in your home country (also in English) to enter Indonesia.
Residents from 43 countries can obtain a tourist visa on arrival (see visa section below), if you are not traveling from one of these countries you will need to apply for a B211A visa in advance. We can provide assistance in arranging this through a reputable agent.
Residents from 9 ASEAN countries may enter Indonesia without a Visa.
All travelers MUST arrange medical insurance which specifically covers COVID. You should carry a copy of your policy with you when traveling.
All travelers must have the Peduli Lindungi application installed on their smartphone and have a completed International eHAC (e-Health Alert Card) inside the app.
Here is our Step-by-Step Guide on how to download and use the App.
Upon Arrival in Manado:
For double vaccinated travelers (or more than 2 vaccines) there is no PCR test on arrival and no quarantine.
For travelers who have received only one vaccine dose (more than 14 days pre-departure), there is a 5 day quarantine period at Murex, during which time you are able to dive under our resort bubble status.
If you are traveling with a medical vaccination exemption letter, there is no PCR test on arrival and no quarantine.

Currency
The currency in Indonesia is the Indonesian Rupiah – IDR. We can accept payment in IDR, USD, Euro, and other major currencies. However, please be advised that foreign notes should be clean, new and crisp. Indonesian banks and money exchangers will not accept old notes or notes which are damaged in any way. We also accept credit cards (Visa, Mastercard, Amex) please note there is a % fee for credit card payments in Indonesia.
There are also ATMs at Manado Airport and in Manado.
Duty-Free
If you are planning to bring duty-free into Indonesia with you, the current limits apply:
Tobacco: 200 cigarettes or 25 cigars or 100 grams of tobacco.
Alcohol: 2.25 liters of spirits or wine
Perfume: A reasonable quantity
Electricity
Indonesia operates on a system of 220v/50Hz electrical outlets for 2 pin plugs. At Murex Bangka, electricity is available 24 hours a day (not including Air Conditioning). Additional solar power for Air Conditioning runs from 5pm – 7am.
At Murex Mando, full power is available 24/7.

Dietary Requirements
We cater to a wide range of special dietary requirements, including vegetarian, vegan, lactose intolerant, gluten-free, food allergies, and any personal preferences – please let us know in advance so we can be prepared on your arrival day.
Gift Shop
Both Murex Manado and Murex Bangka have small shops, which sell basic toiletries (shampoo and shower gel is also provided in your room), snacks, souvenirs, and some dive accessories.
Hospitals
There are several hospitals in Manado, including Siloam Hospital which is an international hospital with English-speaking doctors.
Internet Access
We offer free Wi-Fi at both resorts but please be aware that Wi-Fi in North Sulawesi can be much slower and less reliable than you may be used to at home.
Language
The official language of Indonesia is Bahasa Indonesian with most areas having a local dialect. Here in North Sulawesi, the dialect is "Manadonese". Staff at Murex Resorts speak English and Indonesian. We also have staff who speak German and several other languages.
Medication
If you are taking any prescribed medication make sure you pack enough to last the duration of your trip. If you are taking a dive course and are taking medication you will need a doctor to confirm in writing that you are "fit for diving".
Packing
Here is a list of items that we recommend packing for your trip to Murex Resorts:
Sunscreen, factor 50 plus*
Clothing – lightweight and light-colored long pants and sleeves for evenings
Insect repellant*
Medications
Any snacks or treats that you can't survive without
Rechargeable batteries and charger
Dive certifications
Logbook*
Insurance documents
Polarized sunglasses
After-sun lotion*
We have a small library selection of books in each resort – but you may want to bring something of your choosing
2 pin plug adaptor*
(*available in our gift shops – if you have specific needs, let us know prior to arrival and we can let you know if your item(s) are available)
Recompression Chamber
There is a recompression chamber for divers in Manado.
Religion
In North Sulawesi, the majority religion is Christian which is evidenced by churches on almost every street. Christianity in Indonesia is defined as being either Catholic or Protestant.
Souvenirs and Shopping
Our gift shops at Murex Manado and Murex Bangka have a small selection of locally crafted souvenirs including sarongs, jewelry and handicrafts. If you are taking a land tour during your stay there may be opportunities to make purchases and our guides will help with the bargaining! Manado has several large, modern shopping malls (with fixed prices) for those who enjoy shopping.

Telephone Communications
The international dialing code for Indonesia is +62 (without the first 0 of the phone number you are dialing). Phone signal is usually good at both resorts.
Time Zone
North Sulawesi is located in the Indonesian Central Time zone which is GMT+8 and known as WITA.
Tipping
While a tip is not expected, if you'd like to leave a gratuity for our staff we will provide you with an envelope which will be placed in the resort tip box. Tips are divided across all employees – because they all contribute to your stay in different ways. We ask that you refrain from tipping individual members of the team to avoid compromising them.
Vaccinations (not inc. COVID)
Murex Resorts are located close to the equator in the tropics. It is generally humid and there are mosquitoes. There are cases of malaria and dengue fever in North Sulawesi, so we recommend you bring plenty of repellents and appropriate clothing. You may want to consult with your doctor before your trip for the most up-to-date advice on anti-malarial drugs, as well as other recommended vaccinations.
Visas and Passports
Please read visa information in conjunction with the COVID information near the top of this page:
Over 43 countries are eligible for a 30-day tourist visa on arrival – check with your embassy if your country is included.
When you enter Indonesia, make sure that you have at least one clean page in your passport and your passport must have at least 6 months of validity remaining on it. You may also be required to show your ticket for onward travel leaving Indonesia.
Visa on Arrival currently costs IDR 500,000 (approx. US $35)
Water
Tap water in Indonesia is not drinkable – we provide unlimited drinking water and encourage you to drink plenty on a daily basis to avoid becoming dehydrated. This is especially important for divers.
Water Temperature
North Sulawesi enjoys temperatures of 28 to 30 degrees Celsius (82 to 86 degrees Fahrenheit) year-round and a 3mm wetsuit is sufficient for most divers. There are occasional cooler thermoclines around October to December.
__________________________________________________________________________________
If you have any questions which we haven't covered, please feel free to email one of our friendly team on: [email protected]
We hope this was useful information and look forward to welcoming you to Murex Resorts in North Sulawesi soon.