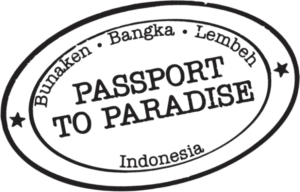 Welcome to Apnea Murex
Our Freediving Center is based at Murex Manado. We provide a full range of AIDA courses as well as freediving trips to Bunaken, Manado Bay, Bangka Island & Lembeh Strait.
Take a Passport to Paradise and experience freediving and adventure tours in each of these stunning locations!

Consistently 28 – 29 degrees all year round

On average 15-25 meters, often up to 30 meters

Coral reefs, walls, and drop offs

Generally easy conditions with little to mild currents

5 mins to Manado Bay, 30 mins to Bunaken Marine Park

Freedive in Marine Protected Areas

Small groups for a more personal experience

Marine biology and underwater photography trained guides
Highlights of Freediving Bunaken Marine Park, Bangka & Manado Bay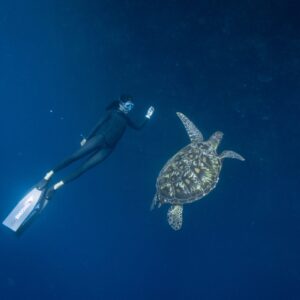 Bunaken is known for its huge drop-offs, excellent visibility, stunning walls, and hard corals. You'll have the chance to see countless turtles during your freedives, no matter what depth you are working towards. Other highlights include reef sharks, schooling fish, sea snakes, passing eagle rays, and stingrays. Resident dolphin and pilot whale pods swim alongside the boat, there are occasional dugongs, seasonal sperm whale sightings, and no shortage of vibrant, colorful corals.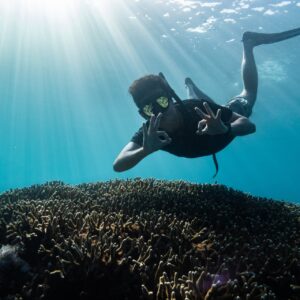 Manado Bay is just a step off the beach in front of the resort. The House Reef is an ideal spot for shallower freedives and training. In front of the House Reef there is a drop-off for deeper dives and you'll have the chance to see schooling fish and passing pelagics in the blue. Further afield in Manado Bay is the Molas wreck and there's even an underwater motorcycle junkyard! One of the highlights of freediving around Manado Bay is that you never know what you might see next!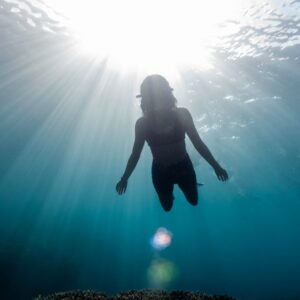 Bangka offers freedivers a variety of marine life, topographies, and an explosion of color underwater! Many of Bangka's freediving spots are around rugged rock pinnacles which are magnets for marine life. Highlights here include kaleidoscopic soft corals, schooling fish, passing reef sharks, rays, tuna and other pelagics. Look out for hunting predators and non-stop action on the reef. Dugongs are known to frequent the area, along with dolphin and pilot whale pods.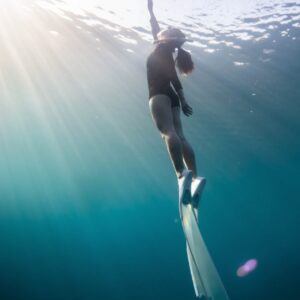 Lembeh Island offers a variety of freediving experiences. The north end of the Lembeh Strait and the east coast of Lembeh Island are home to colorful coral reefs and an abundance of marine life including pelagics. The Lembeh Strait separates Lembeh Island from mainland North Sulawesi and offers year-round calm conditions. Freedives in the Strait can be over sandy slopes, further out in the channel, or around some of the rocky islets.
Apnea Murex was established at the beginning of 2021 and since then we have been exploring, adventuring, introducing beginners to freediving and training experienced freedivers new skills. We are extremely fortunate to be able to explore 4 unique regions in North Sulawesi.
Apnea Murex is based at Murex Manado where our freediving center offers trips, AIDA courses, training and coaching as well as full equipment hire. Whether you stay at Murex Manado, Murex Bangka or take a Passport to Paradise, our freediving services will move with you, ensuring you get to experience the best freediving in each region.
Apnea Murex is a collaboration between Murex Dive Resorts and Stanley Sradaputta who is a renowned Indonesian freediver, best known for setting the Indonesian freediving record during the 2018 Asian Freediving Cup in the Philippines, where he reached a depth of 81 meters for 3 minutes. Stanley, who is originally from Java, is now a veteran freediver who continues to freedive extensively around North Sulawesi. Our AIDA certified Freediving Instructor Jiman Toro, like Stanley, is an Indonesian record holder (static breath-hold) and an award-winning freediver with both bronze and gold medals to his name. You can rest assured that you are in experienced and capable hands!
No matter which resort you are staying at, there are freediving sites with 5 – 30 minutes of each location. We start our day at 8am, after a leisurely breakfast. with some breathing exercises and warm-ups. Depending on your preferences or the course you are taking, we head out to the House Reef or a boat trip to make three 3 dives.
The line is set between 30meters and 50 meters and you'll work together in a buddy team. While one of you dives, the other remains close to the buoy to ensure safety. There is always plenty of time for breathing and relaxation exercises prior to diving and we ensure minimum surface intervals of two times your dive time.
We return to the resort after 2-3 hours so you have plenty of time before lunch is served in the restaurant.
Afternoons are free for you to explore the beauty and culture of North Sulawesi. Choose from a range of land tours and activities, or simply relax with family and friends. If you would prefer to freedive again in the afternoon, boats leave at 2pm.
Each resort (Murex Manado, Murex Bangka and Lembeh Resort) has a beautiful House Reef which is available to freedive with a buddy or snorkel at any time.
Murex Manado House Reef is a mixed coral reef and sandy slope to around 15 meters where it drops off. Manado House Reef is home to varied marine species including small schools of batfish, moray eels, butterflyfish damsels, pufferfish, and look out for brightly colored anemones and large table corals.
Murex Bangka House Reef is a steep sloping coral reef to around 20 meters. There is an abundance of fish including small schools. The brightly colored corals are a highlight here and looks out for passing eagle rays in the blue.
Lembeh Resort House Reef is a black sand slope interspersed with patches of coral and bommies. Batfish are seen here, including juvenile pinnate batfish close to the rocks. It's possible to venture out of the House Reef bay to both the North and South where you'll find beautiful shallow-water corals.
Murex dive boats are purpose-built for your comfort, safety and to deliver a smooth ride. With 7 boats in our fleet, which range in size, we are able to offer flexible schedules and cater for private boat options as well as for larger groups of families and friends.
Whether you prefer to freedive close to the resort, or go out for a day trip further afield with lunch served on the boat or a beach, this is your holiday and we can make it happen! Day trips can also include visits to mangroves for bird watching and sea kayaking, or snorkeling in some of North Sulawesi's secluded coves.
Visit more than one of our resorts, or take a Passport to Paradise, and you'll also transfer from resort to resort with freediving along the way!
Facilities onboard include
Shaded areas and sundeck
Toilet onboard
Long ladder and non-slip steps
Individual gear spaces
Freshwater box for cameras
Hot & cold refreshments
Personal towels for guests
First aid kit & oxygen
Spare equipment
Communication devices
Life jackets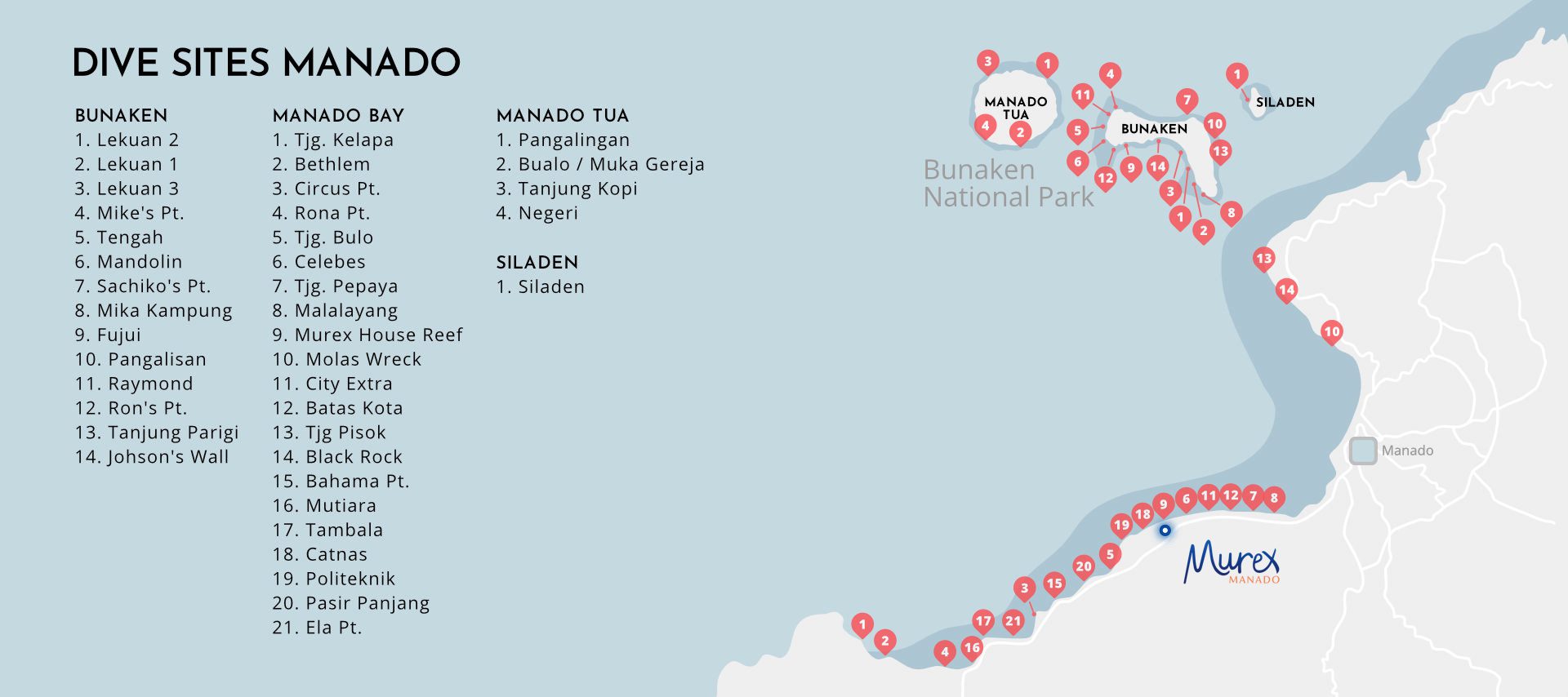 AIDA Freediving Courses with Apnea Murex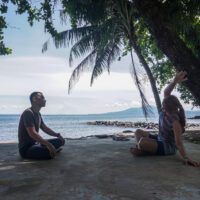 Pre-requisites: 18 years or older. Able to swim 100m non-stop | Requirements: None | Price: IDR 1,900,000 | Water Sessions: 1 | Duration: 1 day
The AIDA Level I course is a complete beginner's introduction to freediving. You'll learn some basic knowledge of freediving and introductory skills such as relaxation of body and mind, finning techniques, duck dives, and equalization. If you've never tried freediving before this is a great way to experience the amazing underwater realm of North Sulawesi!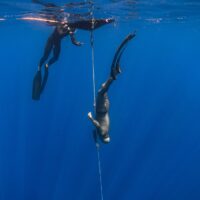 Pre-requisites: 18 years or older. Able to swim 200m non-stop | Requirements: 2 minutes STA; 40 meters DYN, 16 meters CWT, theoretical exam | Price: IDR 5,200,000 | Water Sessions: 5 | Duration: 2-3 days
The AIDA Level II course is a complete freediving certification that combines theory and confined water sessions in the swimming pool with freediving in the ocean.
The static and dynamic sessions in confined water are used to teach relaxation, breathing, finning, and safety techniques. You'll also learn equalizing, duck diving, vertical swimming, body positioning, turns and the use of buoyancy. In the open water sessions, you will apply the skills you have learned in the pool out in the ocean – while witnessing incredible marine life and coral reefs!
The freediving theory includes Introduction to Freediving, Freediving Breathing Cycle, Basic Physiology of Freediving, Equalization, Freediving Techniques, Safety in Freediving, Equipment in Freediving & Freediving Disciplines.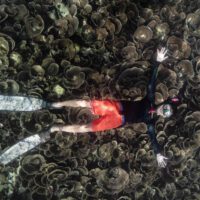 Pre-requisites: 18 years or older. Able to swim 200m non-stop. AIDA2 | Requirements: 2:45 minutes STA; 55 meters DYN, 24 meters CWT, theoretical exam | Price: IDR 7,000,000 | Water Sessions: 6 | Duration: 3-4 days
The AIDA Level III course is designed to further develop your skills from previous levels, as well as acquiring new skills and gaining a deeper understanding of safety procedures and techniques. The new techniques that are introduced in Level III include free-fall, Frenzel Equalizing, the use of training tables, the risks of increasing and decreasing pressure and also how to minimize these risks. You will practice these skills in the most common disciplines of freediving: Static Apnea, Dynamic Apnea, Free Immersion, and Constant Weight.
The theory modules for Level III include Physiology, Equalization, Barotrauma, Lungs at Depth, Buoyancy, Shallow Water Blackout, Training Concepts, The Mammalian Dive Response, Decompression Sickness, Surface Intervals and, the Freediver's Code of Conduct.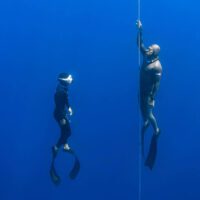 AIDA Level IV Master Freediver
Pre-requisites: 18 years or older. AIDA3. First Aid & CPR within 2 years | Requirements: 3:30 minutes STA; 70 meters DYN, 32 meters CWT, theoretical exam | Price: IDR 8,800,000 | Water Sessions: 6 | Duration: 4-5 days
AIDA Level 4 (Master Freediver) will familiarize you with techniques, knowledge, and safety procedures for deep freediving that go beyond recreational freediving. The new techniques introduced in Level IV include FRC diving, mouth-fill equalization and packing. You will practice these skills within these categories of freediving: Static Apnea, Dynamic Apnea, Constant Weight, Free Immersion and Variable Weight. In addition to the in-water skills that this course introduces, you'll also take a look at full body warm-ups and stretching, specific stretching of breathing muscles, training concepts and diet that benefits the freediver and helps shape their development as a diver. You will also be, acquainted with packing and reverse packing, mainly within vital capacity as a part of the dry lessons.
Another important set of skills concerns managing open water equipment. You will learn the use of appropriate knots and braiding techniques, setting the depth on the dive line, constructing a safe bottom weight from a weight belt and diving leads, safe handling of other additional equipment (bottom plate, torches, lanyards, etc.).
One of the purposes of this course is to prepare successful candidates for the role of "Assistant Instructor". This new role will include leading an appropriate warm-up session for confined and open water freediving and supervising students of all course levels during their confined or open water sessions.
AIDA Level IV theory sessions include: Physics – Dalton's Law, Boyle's Law, Henry's law, Decompression Sickness, Nitrogen Narcosis, Failure Depth and how to increase VC and decrease RV, FRC Diving, Mouth-Fill, Packing, Fitness and Training, Nutrition and Diet for Freedivers.
Are you ready for the adventure of a lifetime?