Consistently 28 – 29 degrees. Cooler around September

On average 5-15m. Up to 25m at reef sites

Black sand muck diving with some combination and reef dive sites

Generally easy conditions with some currents/drifts at reef sites

5 – 15 minutes for muck dive sites from Lembeh Resort

Coral nurseries and reef restoration projects

Personal service and dedicated guides

Marine biology and underwater photography trained guides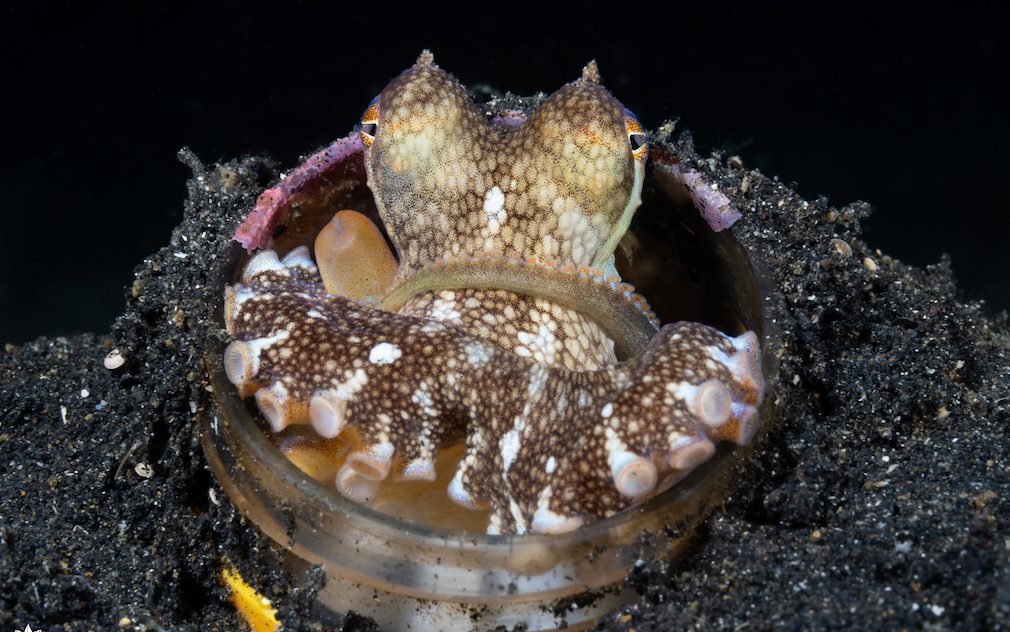 The Lembeh Strait's sheer abundance of biodiversity and rare critters has led to it being named the "Critter Capital of the World" where every dive reveals countless unique marine species. If you want to see the weird and wonderful, and dive on the best muck diving sites in the world, then the Lembeh Strait needs to be on your bucket list.
Murex's operations include the dive center at Lembeh Resort known as Critters at Lembeh. Lembeh Resort is a PADI 5 Star Dive Resort and on-site we offer highly trained, experienced Dive Guides, PADI Instructors, full-time Marine Biologists, and a Photo Pro available for consultations, advice, and photography courses.  Lembeh Resort is home to our Backscatter Authorized Photo Center and a spacious camera room. Private Guide and Private Boat services are also available.
Dive Schedule & Logistics
Day Trips from Murex Bangka: A day trip to Lembeh is a wonderful way to combine Bangka's stunning reefs with Lembeh's world-class muck dive sites. We offer full-day, 3 dive boat trips to the Lembeh Strait which includes lunch served on the boat, or at Lembeh Resort.
Day Trips from Murex Manado: A full day trip including transfer by road to Bitung on the banks of the Lembeh Strait (approx. 1.5hours) where you will join your dive boat. Make three dives in the Lembeh Strait with lunch at Lembeh Resort, before returning to Bitung to meet your driver and transfer back to Murex Manado.
Staying at Lembeh Resort: Stay in luxury at Lembeh Resort and dive the Lembeh Strait every day. We recommend combining a stay at Lembeh Resort with a stay at Murex Manado or Murex Bangka to ensure you see more of this stunning region and its underwater diversity. Take a Passport to Paradise and stay in all three locations with boat diving transfers and no wasted travel days or car journeys!
Highlights of Lembeh dive sites include 8 different species of frogfish, 12 species of octopus, numerous crustacean species that cannot be found anywhere else on earth, 3 species of pygmy seahorse, countless nudibranch species and new discoveries are continuously being made. Some of Lembeh's most iconic species include the hairy frogfish, Pontohi pygmy seahorse, wonderpus and mimic octopus, mandarinfish, rhinopias scorpionfish, flamboyant cuttlefish, blue ring octopus, Banggai cardinalfish and the list goes on.
Lembeh's classic muck sites feature gentle slopes of volcanic sand scattered with bits of debris, sponge, algae or rubble. Lembeh will convince you that the most beautiful animals are sometimes seen in the strangest habitats!
Lembeh also offers many combination sites which are a mix of muck and reef diving but if muck is not your thing don't worry because Lembeh also has stunning reefs, vibrant corals and intriguing topographies.
Night, Bonfire and Blackwater dives are highlights not be missed!!
Murex dive boats are purpose-built for your comfort, safety and to deliver a smooth ride. With 7 boats in our fleet, which range in size, we are able to offer flexible schedules and cater for private boat options as well as for larger groups of families and friends.
All boats are operated by experienced captains and deckhands. For photographers, there is plenty of space for cameras and our crew are used to handling photography equipment.
Long ladders make exiting the water easier, if you prefer to take your equipment off in the water, our crew are ready to assist.
Facilities onboard include
Shaded areas and sundeck
Toilet onboard
Long ladder and non-slip steps
Individual tank racks & gear space
Freshwater box for cameras
Hot & cold refreshments
Personal towels for guests
First aid kit & oxygen
Spare equipment & comms devices
Life jackets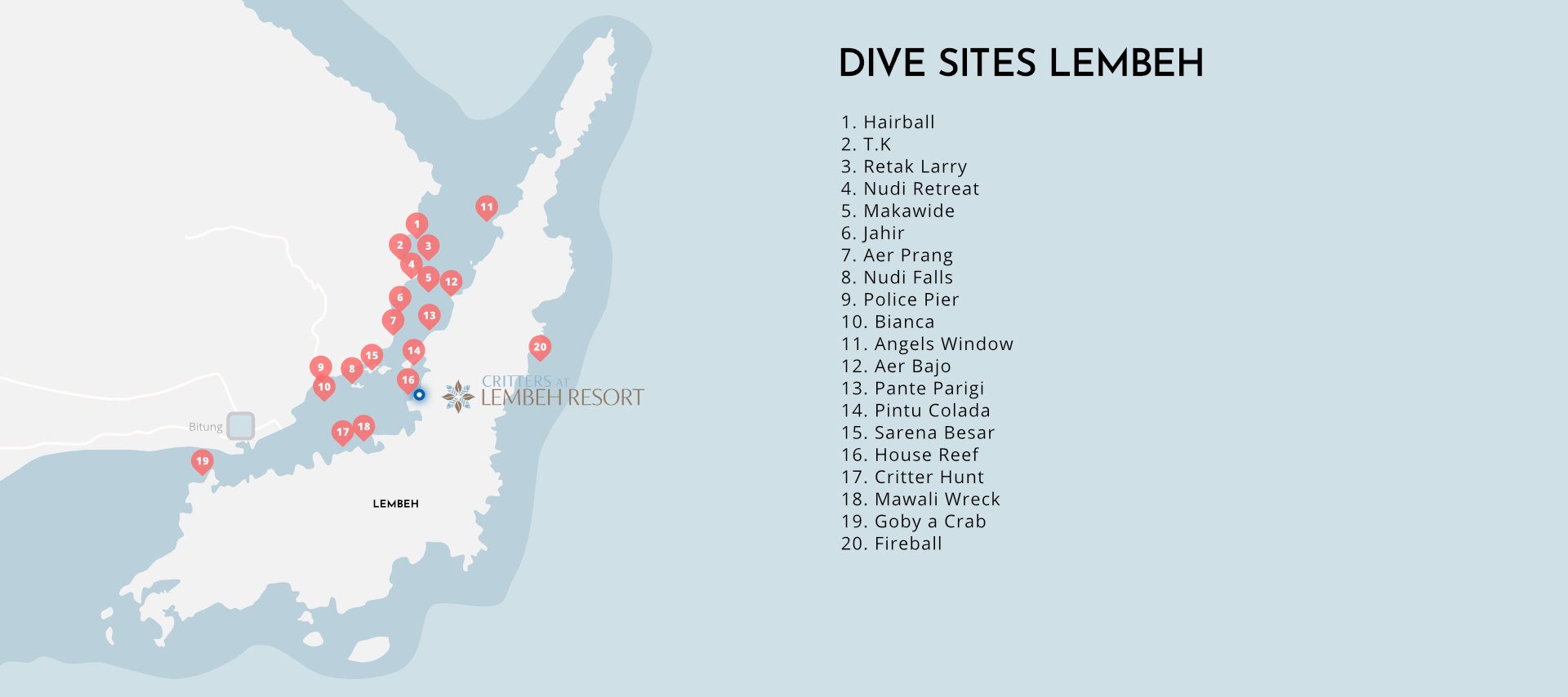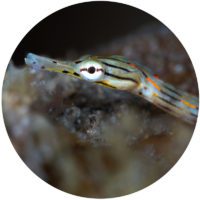 Access: Shore | Dive Type: Muck & Reef | Depth: 25 meters | Current: Mild to Medium | Visibility: 5-15 meters
The beautiful Lembeh Resort House Reef is just a step off the small beach in front of the resort and you'll immediately be amazed by the underwater diversity. From black sand to bommies, reef and marine biology structures there is no shortage of things to look at. Marine species are also incredibly diverse here and constantly changing throughout the year. Nudibranch are common all year round along with pipefish, ribbon eels, crustaceans and batfish. Seasonally you can expect to see frogfish and cephalopods. Night dives here are not to be missed!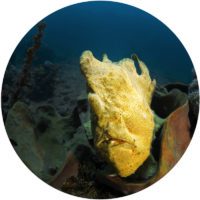 Access: Boat | Dive Type: Reef, Wall & Rubble | Depth: 25 meters | Current: None to Medium | Visibility: 10-20 meters
One of the most popular sites in the Strait, Nudi Falls gets its name from a story of divers' bubbles causing nudibranchs to fall off the wall above and drift down. It consists of a beautiful sheer wall with a rocky slope below, then a sandy slope, leveling out into the main channel of rubble sprouting a deep forest of large soft corals. Scenically, this site is unlike any other in the Strait. Look out for: Goniobranchus kuniei, Nembrotha rutilans, Nembrotha kubaryana, Thecacera picta, Giant frogfish, Cowrie shells and Pinnate batfish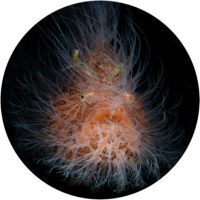 Access: Boat | Dive Type: Muck | Depth: 30 meters | Current: Very mild | Visibility: 15 meters
As you listen to the briefing for this Lembeh dive and look at the site map you may feel a sense of déjà vu. The muck diving site has a gentle slope, black sand, patches of rubble, a few sunken logs. Hairball, however, often emerges as a king among kings in the Lembeh Strait.
Commonly spotted species include: Hairy frogfish, Lembeh hairy frogfish, Common seahorse, Roughsnout ghost pipefish, Carrying crab, Wunderpus octopus, Napoleon and snake eels.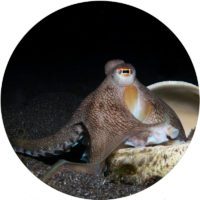 Access: Boat | Dive Type: Muck | Depth: 30 meters | Current: None to Mild | Visibility: 5-15 meters
This is one of the lesser-known sites in the Lembeh Strait, but it is one of our favorites! A black sand site with a small stand of healthy coral in the shallows. It was named after one of the first divers to explore the site, Larry Smith. Some of the most frequently spotted critters here are Common seahorses, Coconut octopus, Rough box crab, Broadclub Cuttlefish, Malibe sp (nudibranch) and Roughsnout ghost pipefish.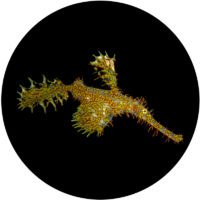 Access: Boat | Dive Type: Muck | Depth: 22 meters | Current: Mild | Visibility: 5-15 meters
TK 1, 2 and 3 are short for Teluk Kembahu. "Teluk" means bay and Kembahu is the name of the nearby village. It's an excellent muck site with a sandy slope that starts at 5 meters and continues down to about 22 meters. Patches of rope-sponges attract a variety of marine life as well as some small coral heads in the shallows.
Mimic octopus are a highlight here, along with Wunderpus octopus, Coconut octopus, Ornate ghost pipefish and Cockatoo waspfish.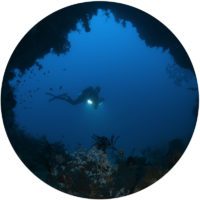 Access: Boat | Dive Type: Reef & Drop Off | Depth: 25 meters | Current: Mild to Medium | Visibility: 15-20 meters
A twin-peaked coral pinnacle comes within a meter of the surface. A large cave offers a swim-through for divers on the deep end of the pinnacle. This site got its name from the sunlight that shines through the cave opening in the early morning. One side is a coral slope leveling out onto a plateau at 15 meters and on the other side is drop off with a swim through (the window) at 22 meters.
Highlights include Tuberculatus Xeno crab, Pygmy seahorse bargibanti, Pontohi Pygmy seahorse, Twin-spot lionfish, Robust ghost pipefish, Green shrimp and Hairy shrimps.
Are you ready for the diving trip of a lifetime?