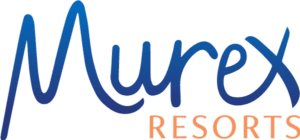 Consistently 28 – 29 degrees all year round

On average 15-25 meters, often up to 30 meters

Mainly coral reef walls and hard corals

Generally easy conditions with little to mild currents

30 minutes to Bunaken's iconic dive sites

Bunaken Marine Park is a Marine Protected Area

Small groups for a more personal experience

Marine biology and underwater photography trained guides
Introducing Bunaken, North Sulawesi, Indonesia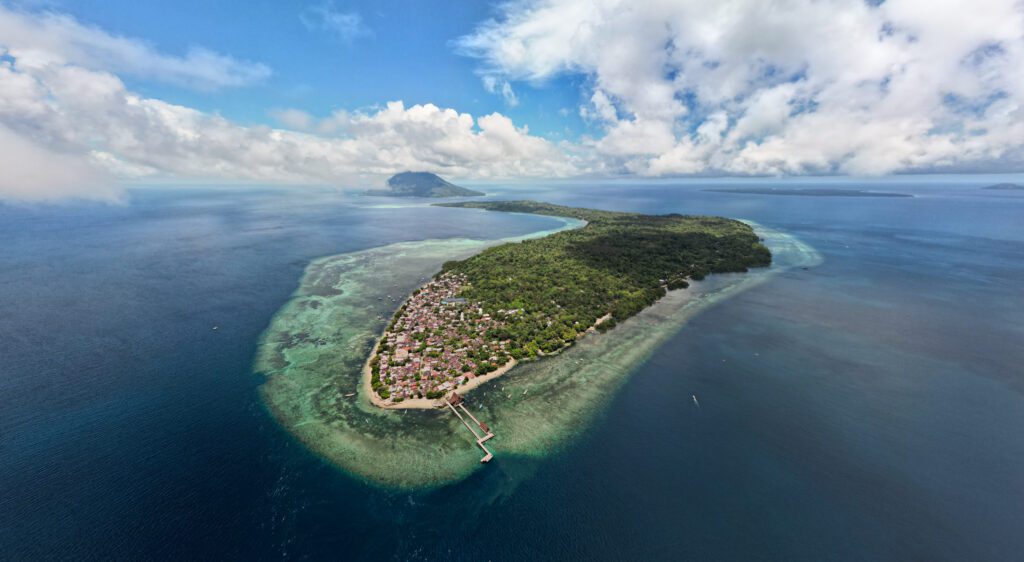 Nestled in the crystal-clear waters of North Sulawesi, Indonesia, Bunaken is a small island in North Sulawesi and it is one of 5 islands which make up the Bunaken Marine Park. The islands of Bunaken, Manado Tua, Siladen, Mantehage and Nain are home to numerous rare and endangered marine creatures which include dugongs, whales, a large resident population of green sea turtles and dolphins. 
With its vibrant coral reefs, teeming marine life, and excellent visibility, it is the epitome of a diver's paradise which offers an unforgettable diving experience for enthusiasts of all levels. As you descend into the depths, you'll be mesmerized by the kaleidoscope of colors that adorn the underwater landscape, from intricately shaped corals to schools of exotic fish. 
The gentle currents carry you along stunning vertical walls, where you'll encounter majestic turtles, graceful reef sharks, and an abundance of marine creatures.  With a variety of dive sites catering to different interests and skill levels, Bunaken Marine Park presents a perfect blend of adventure and tranquility, immersing you in a world of unparalleled beauty and captivating marine biodiversity.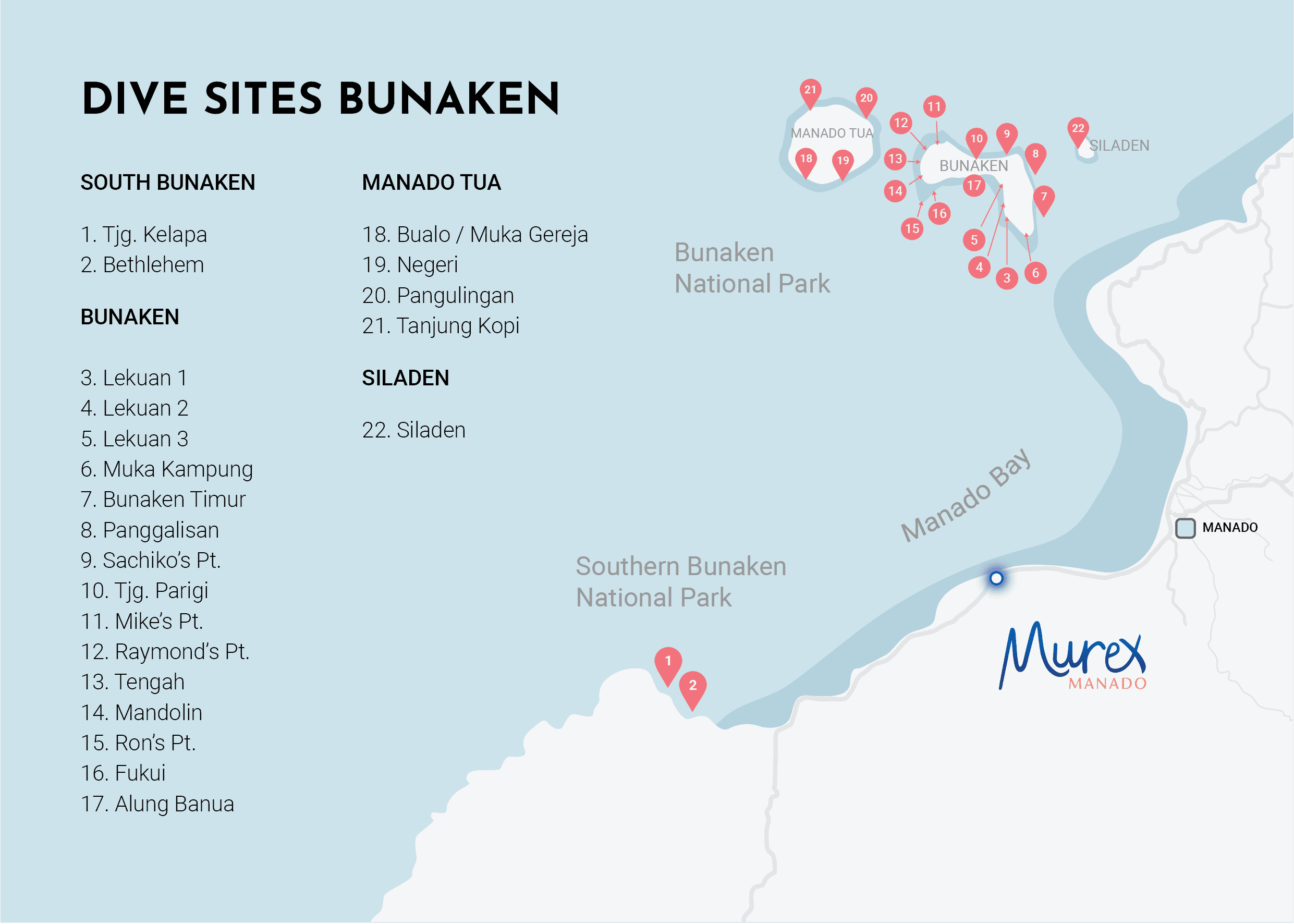 Bunaken Marine Park Diving Highlights
The Bunaken Marine Park in North Sulawesi is world famous for the incredible reefs and marine life and is often cited as being home to the best scuba diving in the world. As a marine protected area, the Bunaken Marine Park certainly lives up to this stellar reputation and it offers year-round good conditions for diving that is suitable for all levels of divers from beginners through to seasoned professionals.
The dive sites in Bunaken Marine Park are typically wall dives or slopes and in some places, the walls plummet down to the sea floor which lays almost two kilometers beneath you. This unique topography is what makes it a very special place to dive.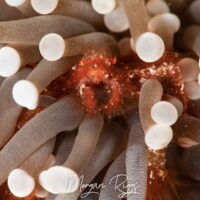 Access: Boat | Dive Type: Wall | Depth: 25 meters | Current: Mild to Medium | Visibility: 15-25 meters
Lekuan are the most famous dive sites in Bunaken Marine Park. These huge walls are covered with enormous sponges, soft and hard corals and offer both macro and wide-angle opportunities. The walls go down to about 40m before sloping out. Swarms of pyramid butterfly fish, an occasional eagle ray, countless green sea turtles and reef sharks will pass by out in the blue. Those keen on macro life will find pygmy seahorses, orangutan crabs, nudibranch and much more.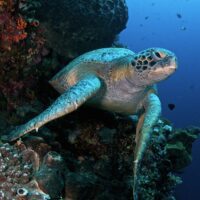 Access: Boat | Dive Type: Wall | Depth: 25 meters | Current: Mild to medium – me | Visibility: 15-25 meters
This dive site, named after its location, is on the east side of Bunaken Island (Timur, means "East" in Indonesian). It's a 40m deep wall, covered with hard and soft corals. The shallow reef top is one of the most pristine around Bunaken and offers the best snorkeling around the island – this is also a great site for green and hawksbill turtles, occasional passing eagle rays and an array of macro critters.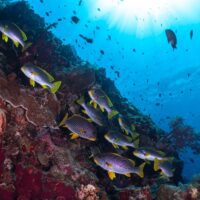 Access: Boat | Dive Type: Slope & Plateau | Depth: 35 meters | Current: Mild to Medium | Visibility: 15-25 meters
Ron's Point is located on the southwest corner of Bunaken Island and features a sloping reef running out into a large plateau for advanced divers, which sits at 35 to 40 meters. This dive site is the perfect spot to see pelagic species like sharks and eagle rays as they pass through. For less experienced divers the slope attracts all manner of marine life and the shallows are bursting with tropical reef fish weaving in and out of the corals.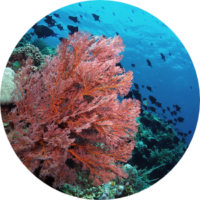 Access: Boat | Dive Type: Wall | Depth: 25 meters | Current: Mild – medium | Visibility: 15-25 meters
Sachiko's Point is a beautiful wall dive on the north side of Bunaken Island. It is covered with gorgonian sea fans and we often spot barracudas, black tip reef sharks, Napoleon wrasses, batfish, and moray eels in the blue water. The reef shallows are perfect for snorkeling and a group of bumphead parrotfish is often seen feeding on the hard corals.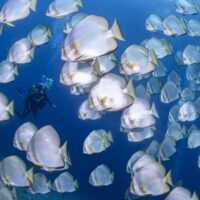 PANGALINGAN OR TANJUNG KOPI
Access: Boat | Dive Type: Slope | Depth: 30 meters | Current: Up to Strong | Visibility: and 15-25 meters
Located on the northern side of Manado Tua, this is an advanced dive because of the strong currents that can sweep you across the reef. The reef plateau starts at 5m deep and slopes down slowly to 30m. At 30m the wall drops down to greater depths. Due to the current you can often see bigger fish here. Resident schools of batfish and jackfish can be found hanging out in the current, and the majestic Napoleons frequently make appearances as well.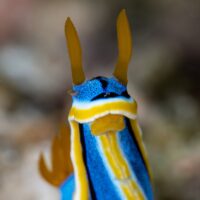 Access: Boat | Dive Type: Wall | Depth: 25 meters | Current: Mild to Medium | Visibility: 15-25 meters
Siladen Island is the smallest island in the Bunaken Marine Park and this dive site is situated on the southwest side of the island, featuring a colorful and vibrant coral wall. This is a classic Bunaken dive site which gives you the chance to spot larger species as well as a plethora of critters. Look out for cuttlefish, turtles, nudibranch and ribbons of schooling fusiliers passing by in the blue.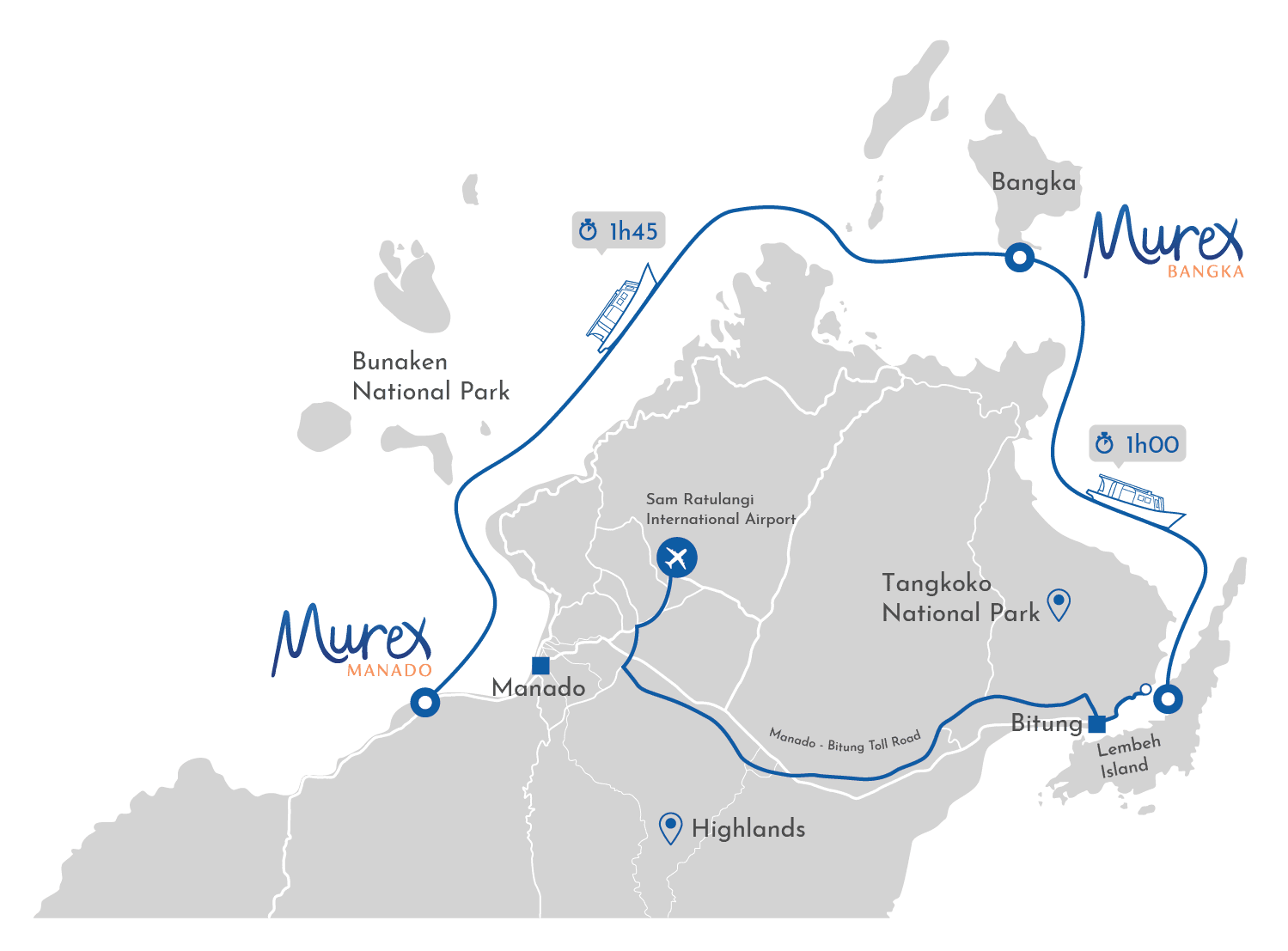 With the Passport to Paradise program, you have the opportunity to discover the stunning underwater world of Manado Bay, the Bunaken Marine Park, Bangka Island, and the Lembeh Strait. Convenient boat transfers between resorts are included to maximize your dive time.
North Sulawesi does not only provide excellent diving opportunities; for divers (or non-diving friends and family) who want to take land tours, nature tours, or soak up some culture during their stay there are a number of fantastic options available too.