Murex Bangka House reef
Murex at Bangka has a healthy, rich house reef with a good visibility. The Bay, where Murex resort spreads its cottages along its white beach is protected majority of the year from wind. However, it can be subjected to strong currents, as there is a significant amount of water flow between the islands of Bangka and Sulawesi. Coral reef rims the entire bay and apart of a narrow passage, man made for a safe boat entry and exit; the reef flat reaches up to shallow water.
The house reef at Murex Bangka has a simple topography. Shallow reef top (0.5m- 3m depth) with mostly hard coral coverage changes in to a string of coral bommies (coral islands) separated by sand and by smaller coral structures (3m- 6m depth). Reef flat changes into a rather steep slope at first to about 15 meters depth and then gradually slopes down up to 60m. This white sandy slope offers a long list of habitats and therefore a high diversity of animals.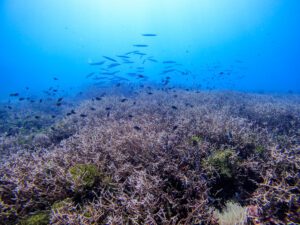 Given the easy topography of the house reef and because of the possible strong currents on the house reef we chose to install a safe borders to the house reef. These borders are represented by trail of buoys placed 1,5-2 meters apart. On the entry side the buy system starts just next to the boat mooring at 3 meters depth and leads straight down to about 24 meters depth. On the other end of the bay a similar trail starts again at 3 meters depth and leads right down to about 24 meters depth. Guests can easily self guide them selves within these borders, use them simply as reference points, or as an safe entry/exit point at the west end, or in case of emergency as a safe border limits. If they need to surface, they will still be in a visible angle from the resort and could easily call for a pick up.
By going to the right from the entry point you will venture outside of the marked area and you will find a whole array of Nudibranches. Keep track of the time and current so you will always be able to get back to the buoys and find the exit point. By going left you will dive the reef exactly in front of the resort. You don't have to venture far to find several huge Gorgonian sea fans, that usually are home to a few Bargibanti Pygmy seahorses. Make sure to closely inspect every bommie with patience because there are Pontohi & Severnsi Pygmy seahorses to be found. Not sure if you will be able to spot these tiny wonders of nature? Bring a long your dive guide and he will point them out to you. If you venture further east you will find a white sandy slope that plenty of Blue Spotted stingrays call their home.
Written by : Kat Bengtsson Kupcik
Kat and her husband, Johan Bengtsson, worked for Critters@Lembeh in 2006 / 2007. There they did a similar house reef project as they have done now here at Murex Manado & Bangka. Kat is a marine biologist and graduated in 2005 as Bachelor of science in Marine biology from James Cook university in Townsville, Australia. Below a picture of Kat & Johan with their 3 kids, Vicki & the twins, CLaudia & Vanessa.