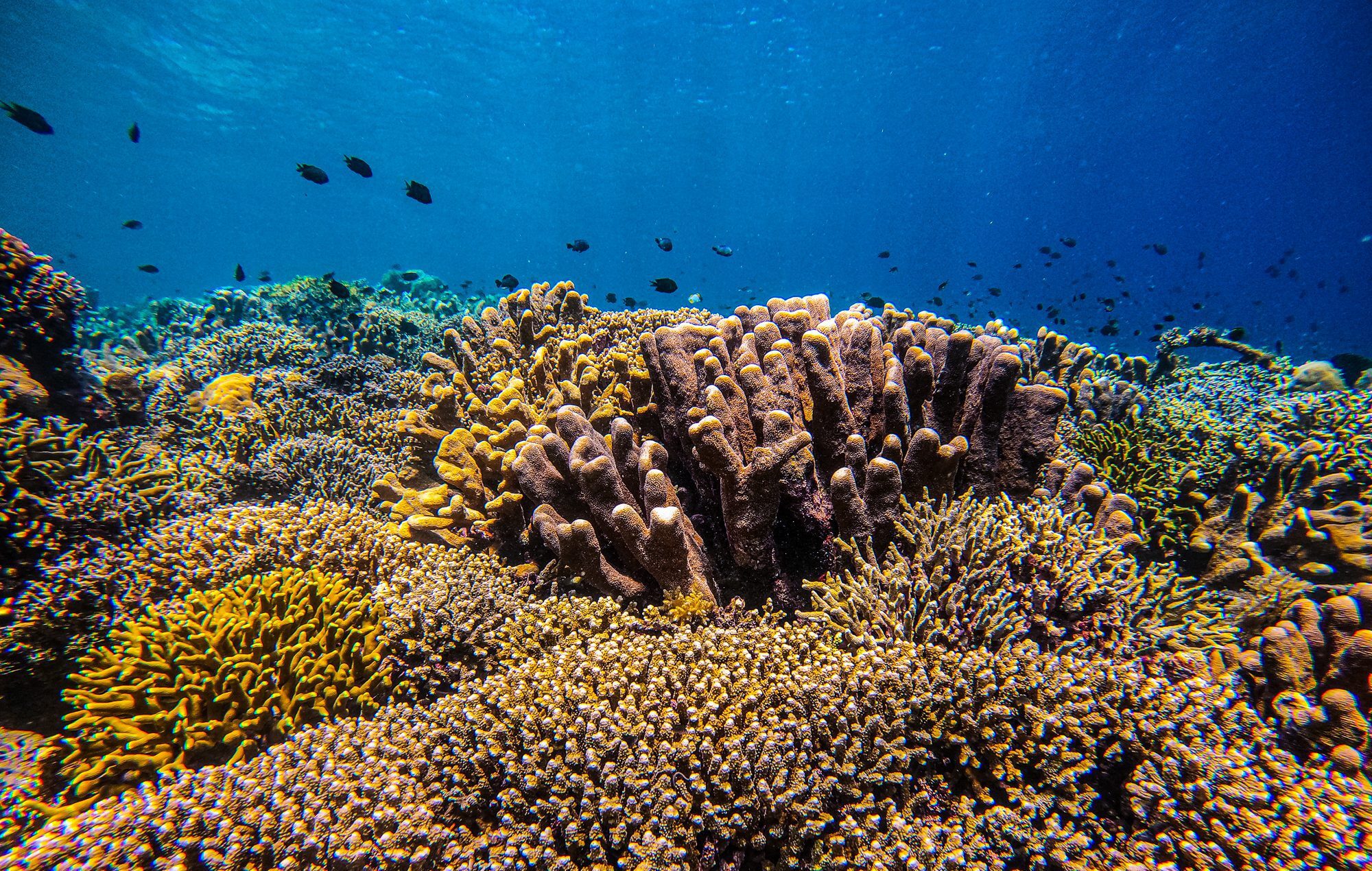 North Sulawesi Coral Survey: with Lead Citizen Scientist Andrew Charlton
This year marks 30 years since Michael Aw stayed at Murex Manado while photographing the coral reefs and walls around Bunaken for his stunning coffee table book, "Beneath Bunaken". Michael returned to Murex Resorts just a few months ago and during his trip he was astounded by the quality of the reefs and the increased number of sea turtles that greeted him.
It occurred to Michael that while the rest of the planet is struggling to fight against coral reef depredation, Bunaken's corals might actually be getting even better!
It's also almost 30 years since the region was surveyed (1993) by Australian Scientist, Dr. Carden Wallace. Carden was the curator/director of the Museum of Tropical Queensland at the time of the survey – a position she held from 1987 to 2003.
With the survey results from 1993 providing a baseline, Michael realized that if Bunaken's corals were surveyed again, it would be possible to scientifically evidence if the reefs were indeed growing stronger or if they too were suffering from climate change and other man-made factors.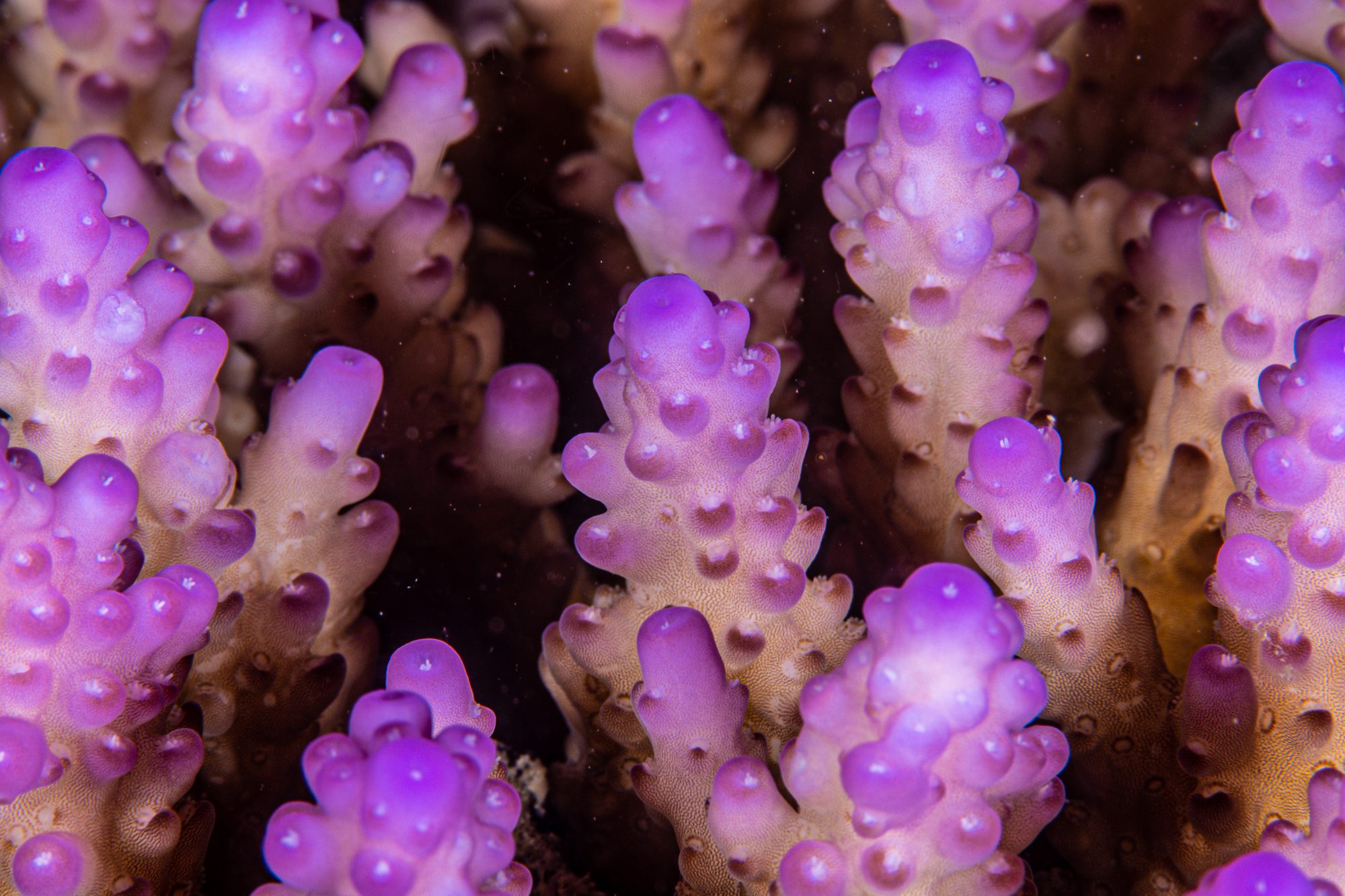 Michael reached out to Dr. Paul Muir (also ex Museum of Tropical Queensland) and a plan was put into place for a fresh survey of the Acropora corals. Along with Dr. Paul Muir, the survey team would include Vincent Chalias, a coral expert (Ocean Gardener) based on Bali, and lead citizen scientist, Andrew Charlton.
Andrew is the son of Murex's owners and as such, has grown up diving around the region and he is also a keen marine scientist – something that he hopes to continue at university where he plans to study marine biology. Andrew has also been selected to be the Indonesian Youth Representative on board the Antarctic Climate Expedition in 2023. Together with world leaders in climate science, research and advocacy, he will be sailing with Dr. Sylvia Earle for 10 days in February 2023. The goals of the expedition are to develop 23 resolutions aimed at stimulating global net-zero carbon emissions by 2050 as well as conducting research and collecting data in the Antarctic. You can read more about Andrew, the expedition, and donate online here.
With the team assembled, it was established that the survey would involve 26 dives around Bunaken, Lembeh, Bangka, Bunaken and Manado Bay over a 10 day period.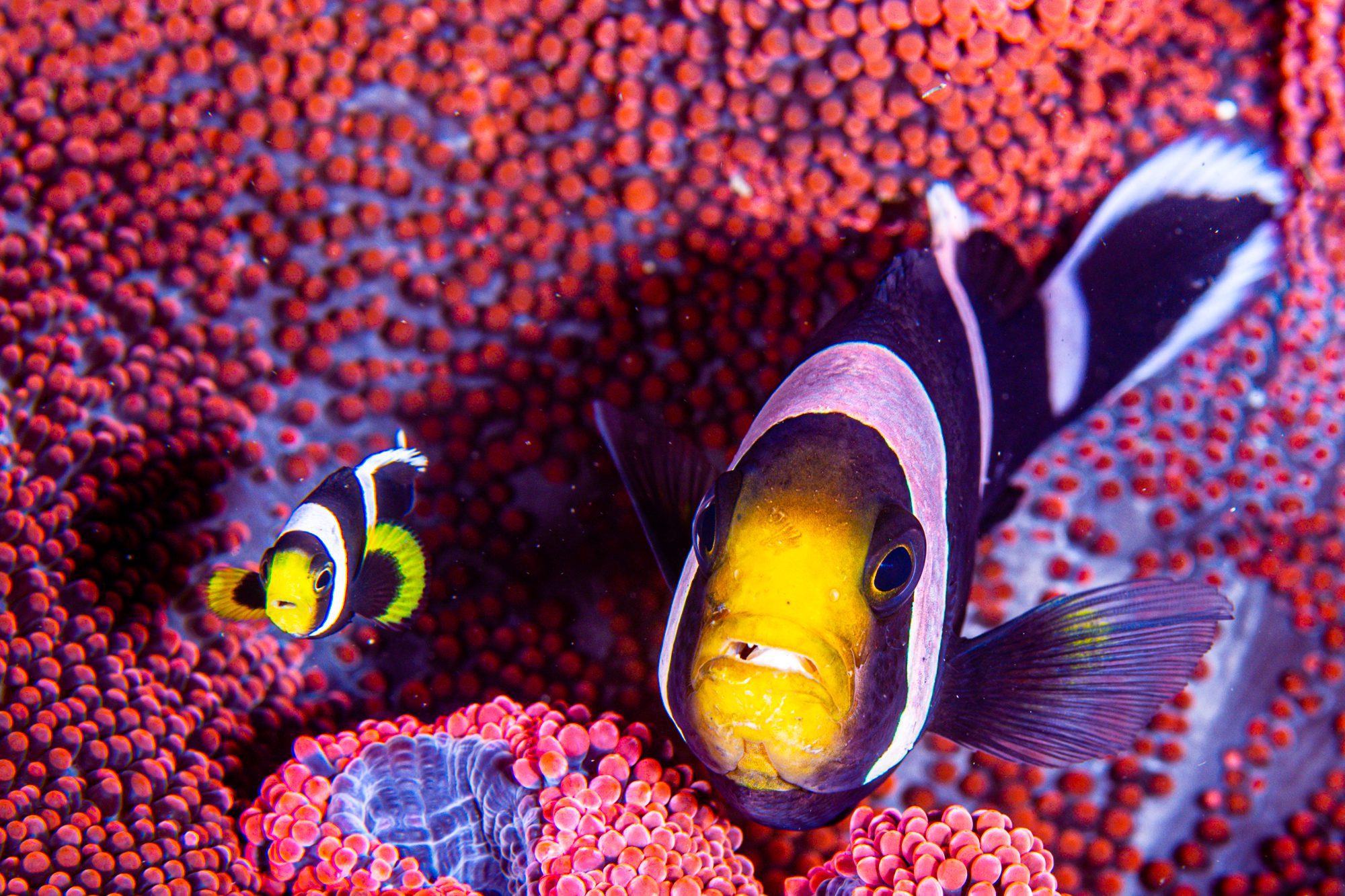 Andrew felt honored to be involved in the survey and for being asked to fill the role of lead citizen scientist, "I was really excited to be doing something to contribute to science. I didn't think I would get this far with coral. I was thrilled and realized this was for real, it was really happening! I was super excited – especially because it's an area that's also my home".
Andrew and the team chose dive sites according to the GPS points given in Dr. Carden Wallace's 1993 survey to allow for direct comparison. Additional sites were selected that were of interest to Andrew and the scientists.
Applying his knowledge of the area, Andrew selected Makawidey 3 in the Lembeh Strait due to the impressive coral colonies of Euphyllia and Galaxia that sit next to each other.
The coral survey was planned to be both quantitive and visual between depths of 5 meters and 25 meters. Experts Dr. Paul Muir and Vincent Chalias would undertake the quantative angle by counting and recording the number of different species of acropora. Vincent would also be visually surveying, taking photographs for the records, and checking for coral health and the presence of Drupella snails. Andrew would visually survey and record other species of corals – both hard and soft.
Andrew was surprised by several of the dive sites surveyed. Batas Kota in Manado Bay and Fukui, off Bunaken Island, were highlights due to the positive amount of coral recorded. Batas Kota even recorded the most amount of soft coral species present. Andrew's variety counts showed that the most species variety was found at Lekuan 2 – one of our favorite dive sites in the Bunaken Marine Park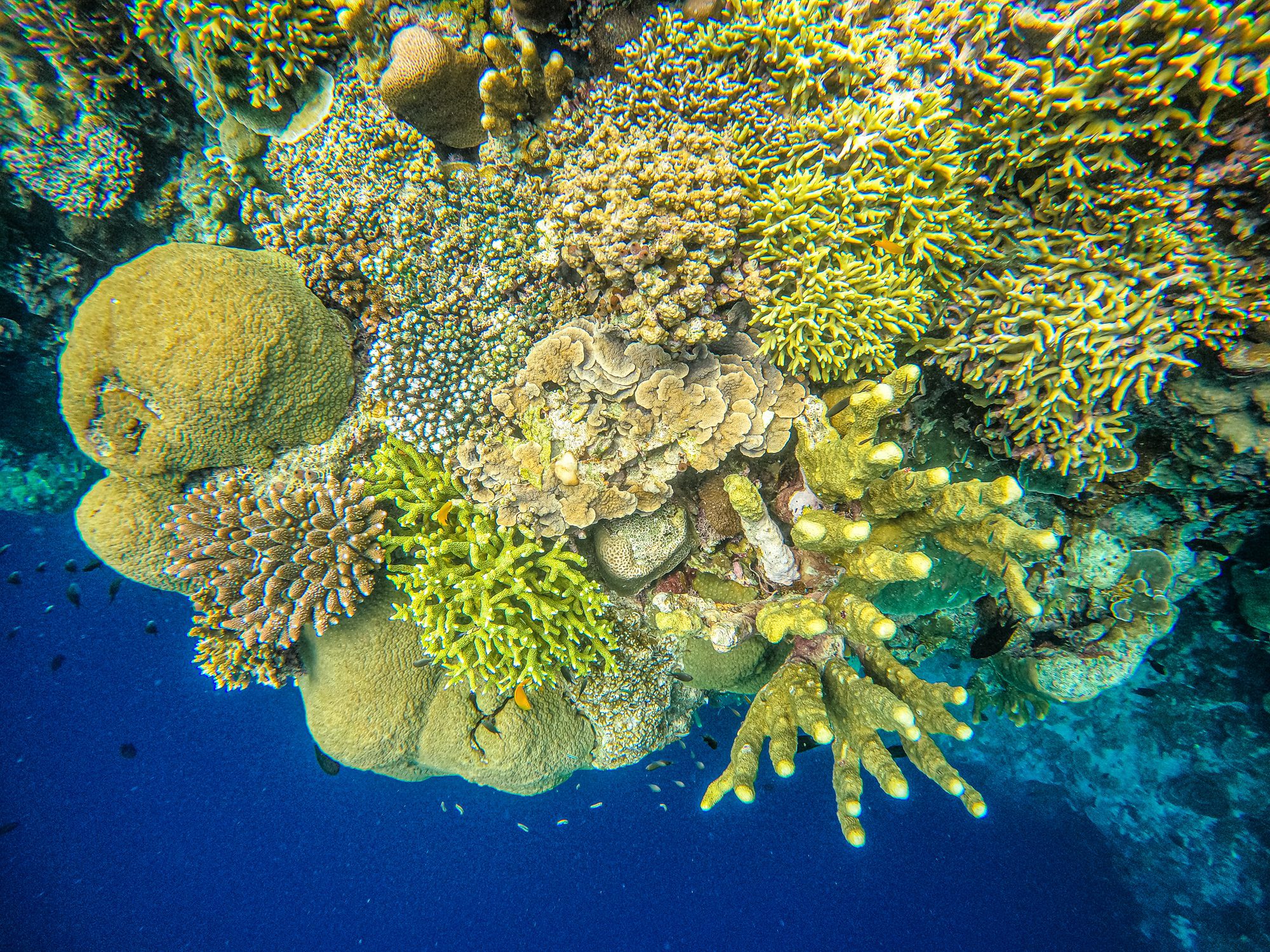 Murex Bangka's Coral Nursery
When surveying Bangka, the team surveyed Mimpi Indah and also included Murex Bangka's coral nursery, which Andrew has been involved in maintaining since its creation in 2017 under the guidance of Vincent Chalias. Both sites were found to be flourishing. Murex Bangka's coral nursery was a stand-out site for overall variety and Mimpi Indah for its Acropora.
Acropora in North Sulawesi
There are over 60 species of Acropora corals in North Sulawesi. The survey found all but 2 and discovered 2 new species that were not identified during the Carden Wallace survey. And, maybe the most exciting news is that (yet to be confirmed) one new undescribed species may have been discovered!
Coral Survey Data and Analysis
After such an investigative survey, data crunching takes time and the full results of the survey will be published by Michael Aw in Ocean Geographic shortly. As soon as the full analysis of the survey results is available, we will also post an update.
Interview with Lead Citizen Scientist Andrew Charlton
While waiting for the data to be processed we caught up with Lead Citizen Scientist, Andrew Charlton, for his initial thoughts on the survey and marine conservation in North Sulawesi.
Andrew's most memorable moment from the survey was his last dive in Manado Bay where there was an impressive amount of euphyllia in an array of colors. When asked about the condition of the reefs in general, Andrew said that, "the initial results of the survey show that there has not been any mass bleaching events in North Sulawesi unlike in other parts of the world. We believe this is due to either the deep water channel between Manado Bay and Bunaken which ensures a constant flow of cooler water – or because the corals in North Sulawesi are more resilient.
One of the highlights of the coral survey was that we were able to give a presentation to the Minister of Tourism (Sandiaga Uno) in Likupang about the corals of North Sulawesi. If we are able to show that our region has this special asset that other regions don't have there will be more of a drive to protect what we have here. We want to drive change and make improvements. There are still other threats to our reefs that we need to handle, such as pollution and mis-management, and a lack of proper water treatment. This makes algae growth prolific and algae smothers corals to the point where they can't survive. Untreated waste water also provides nutrition for the Crown of Thorns and Drupella Snails – both of which feed on corals.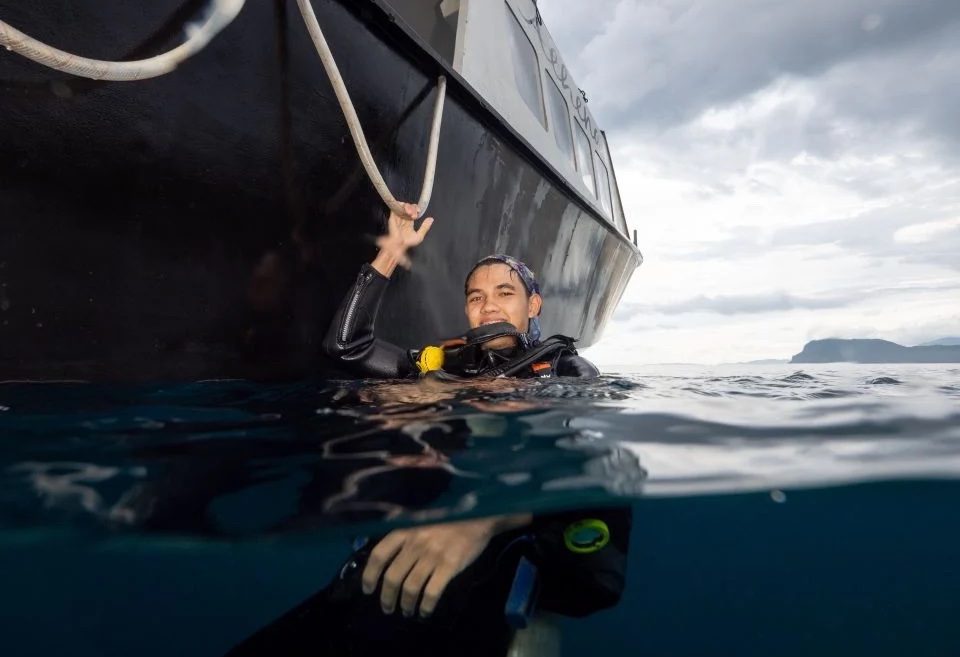 Other positive outcomes from the coral survey that we hope to see realized would be banning plastic bags in Manado and a rise in awareness about the oceans and our need to help them. It's hard to make people care, especially in Manado where many people don't dive so they don't see the effects of what they do, and there's a lack of education.
I want to get more people in the water. Manado is a coastal city and people need to see how beautiful it is. If they can see it, they will appreciate it and people protect what they care about and what they are interested in. People in Manado are also very proud to be Manadonese – I hope that by promoting the unique corals and ecosystems of North Sulawesi, they will want to see what makes being Manadonese even more special.
When the results of the survey are published, we will use them to drive this awareness through social media, ministers, leaders and other stakeholders. If we can inspire changes through raised awareness in Manado, then I would like to think we can get to other regions too".
Are you planning your next diving adventure? Our Passport to Paradise package allows you to dive in each of the areas included in the survey in one phenomenal trip (Bunaken, Manado Bay, Bunaken, and the Lembeh Strait).
For enquiries or reservations, contact us at: [email protected]
And a final reminder – if you'd like to donate to Andrew's expedition, you may do so here!
(Coral and reef images taken during the survey and supplied courtesy of Vincent Chalias)