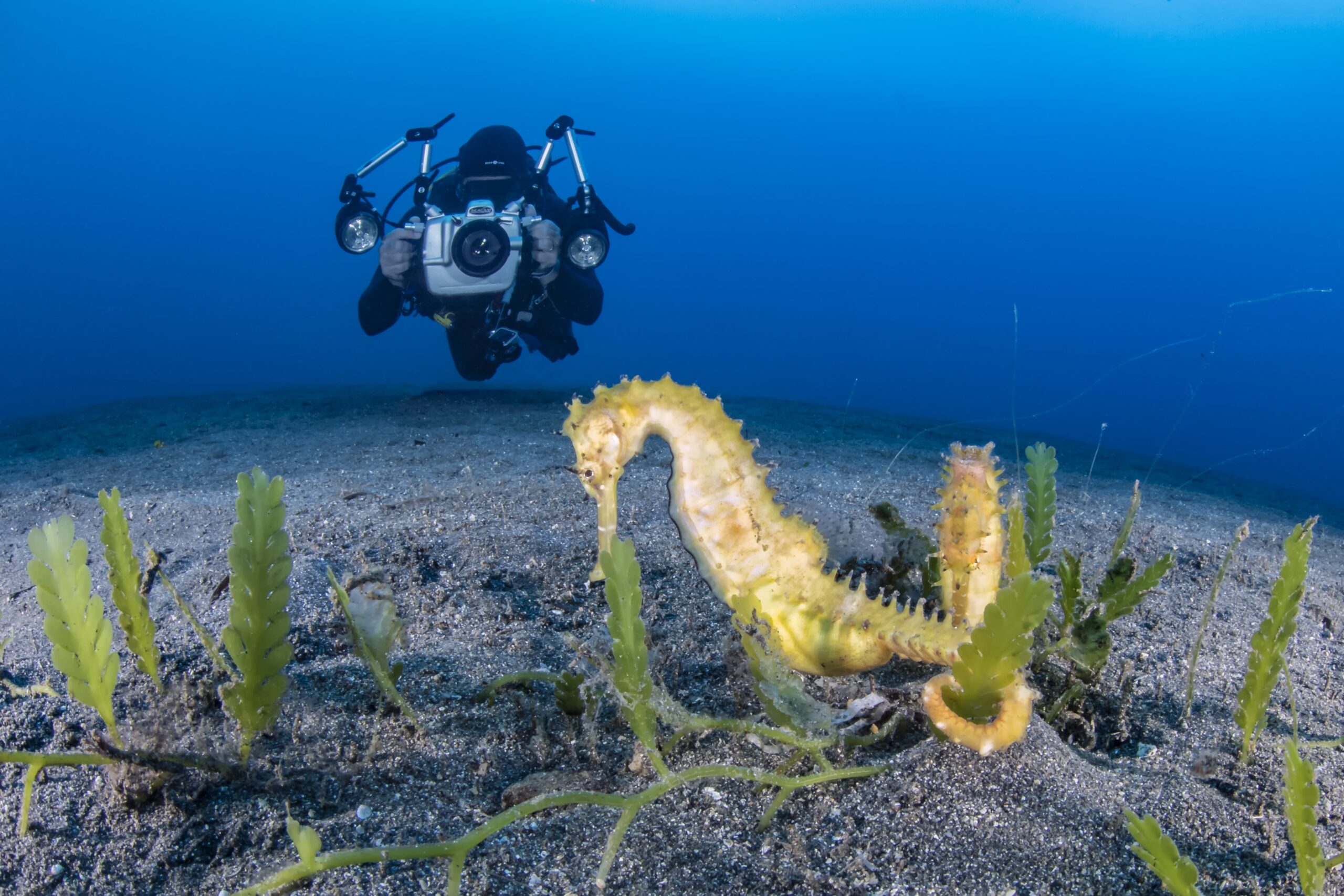 What Makes Diving in Manado Bay Different?
Manado Bay is a totally unique diving destination which showcases incredible diversity in a relatively compact area.
A mixture of coral reef and both black and white sand muck dive sites that are home to some of Indonesia's most unique critters including mimic octopus, flamboyant cuttlefish, seahorses, numerous crustaceans, nudibranch, and frogfish species. Manado Bay's dive sites are treasure troves bursting with spotting opportunities.
Muck Diving in Manado Bay
Have you heard other divers and underwater photographers talking about "muck diving"? Do you know what it is or that Manado Bay is growing in recognition as a muck diving and critter hotspot? 
The term "muck" originates from diving in muddy and murky conditions in an environment where the seafloor consists predominantly of sediment, sand (often black volcanic sand), fine silt, rocks, seagrass or coral rubble. 
At some muck diving sites you'll also find small, sporadic clusters of coral or patches of anemones and many muck diving sites are littered with man made debris ranging from car tires and paint cans through to air conditioning units and beer bottles – ask any experienced muck diver – they will have probably seen them all.
Some of the best muck diving sites in Manado Bay include Circus which is renowned for its incredible critters. The dive site Bethlehem is said to take its name from 'Better-Than-Lembeh' because it's where we find some of the rarest and most sought after species in North Sulawesi. 
Just a step off the beach in front of Murex Manado is our House Reef which offers a mixture of muck diving and reef diving.  Up to a depth of 12m there is a coral slope with beautiful table corals and plenty of critters and fish. Below 12m you will find a sandy slope with patches of corals and several artificial reef balls that are nicely overgrown with corals and sponges. The House Reef offers generally easy conditions and it is suitable for all levels. Several underwater trails make it perfect to explore by yourself or with your buddy. For macro underwater photographers, having the house reef available to dive at any time of day is a dream come true.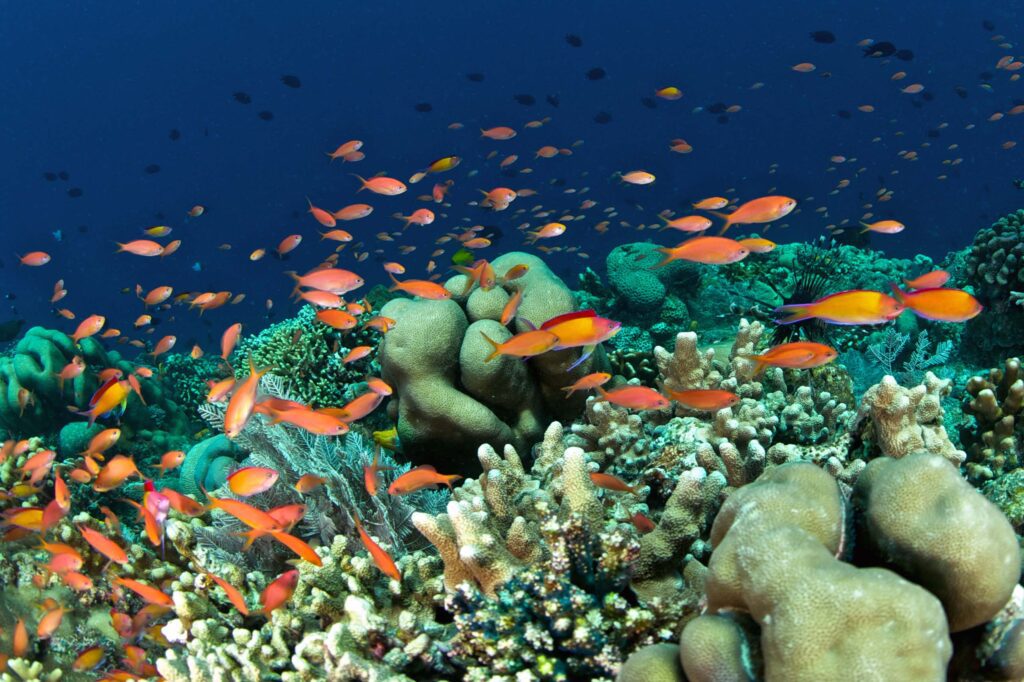 Reef Diving in Manado Bay
Although Bunaken has a reputation for having world-class corals, Manado Bay does not fall short either!
One of our favorite dive sites in the most southerly site in Manado Bay, Tanjung Kelapa offers bright corals and an abundance of fish. A fish count here even recorded the 2nd highest number of different species in one dive in Indonesia!
You find stunning staghorn corals with schools of jewel-like damselfish moving together as one in an underwater ballet, batfish, butterflyfish, parrotfish, cuttlefish, and look out for hawksbill turtles too!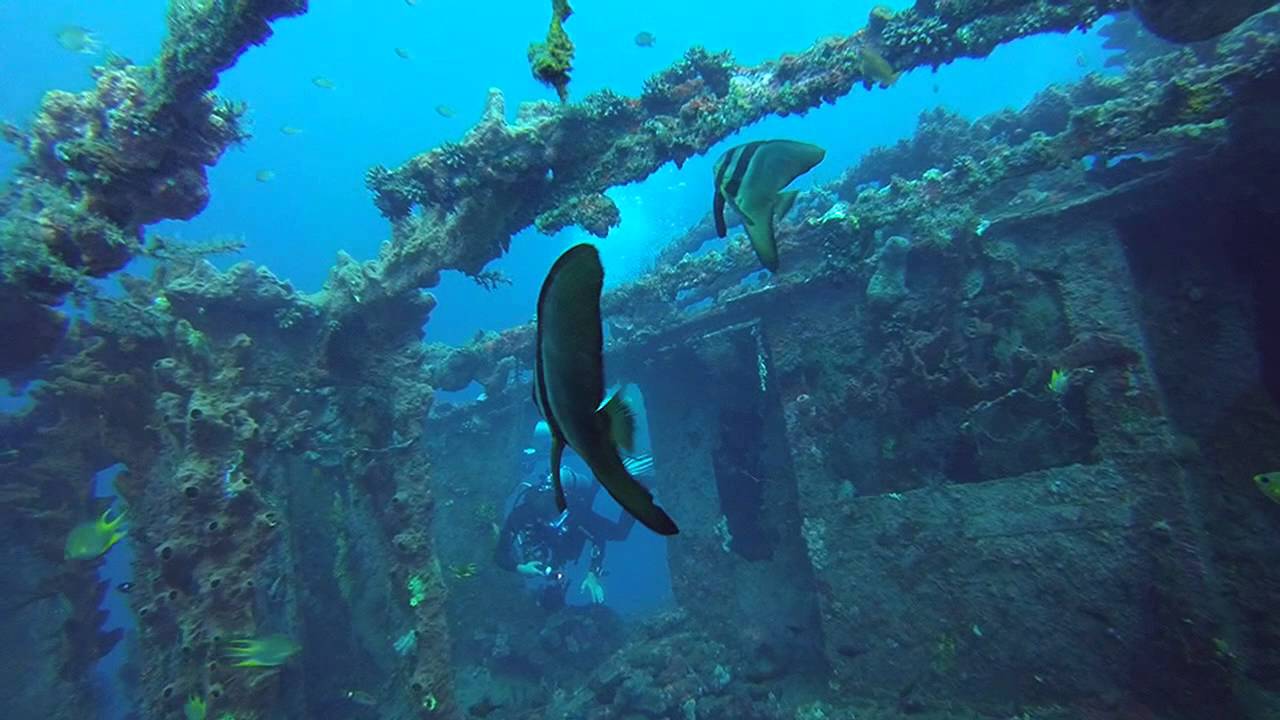 Wreck Diving in Manado Bay
In Manado Bay, there is a cargo shipwreck which is thought to date back to World War II. The Molas Wreck has a steel hull that is still intact and this coral-encrusted wreck is now a thriving living reef. Common sightings here include lionfish hunting, nudibranch and peacock mantis shrimps.
Tanjung Papaya is a wreck diving site (a mixture of sand, coral rubble, and a living reef) with a difference – rows of motorcycles lined up in a parking formation! Why are they here? The police in North Sulawesi confiscate vehicles that are illegal – either not taxed or not licensed and over the years they have accumulated more than they could store. It was decided to park the motorcycles underwater (complete with a no parking sign) to create this wonderfully unique artificial reef. Marine life commonly spotted here includes squid, nudibranch, ribbon eels and scorpionfish.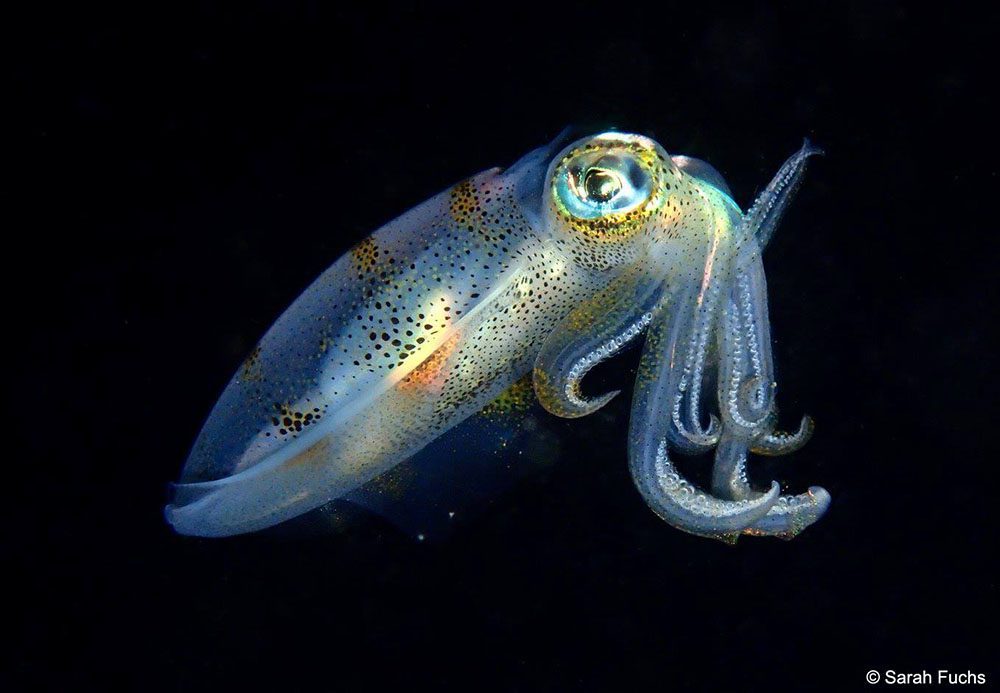 Night Diving in Manado Bay
Night diving in Manado Bay is phenomenal. Heading out after sunset gives you the opportunity to spot some of the nocturnal critters that are hidden away during the day. Our House Reef is one of the best sites to explore at night! We are extremely fortunate to have regular sightings of Spanish dancers as well as a plethora of different octopi, moray eels out hunting, sting rays and squid. Look out for batfish overhead that like to follow divers' underwater torch lights!
Tips for Diving in Manado Bay
Go Slow
Finding concealed animals takes time – remember that this is not a race! Allow your eyes time to catch up and focus on objects rather than just giving them a quick glimpse. Numerous cleaner shrimp and commensal shrimp species conceal themselves in the shaded places at the base of rocks, tree branches, and even trash. Keep a look out for traits like distinguishing fins or eyes and try to peer below detritus. You can afford to move slowly because you will be covering a very small area.
Keep in mind that you should always have control over your buoyancy. At our Manado Bay muck diving areas, a lot of creatures lurk just beneath the sand and can deliver a sting if you accidentally brush up against them. Perfecting your buoyancy will also greatly enhance your underwater photography because you'll be able to hover still and compose your photographs without upsetting the bottom composition or the subject.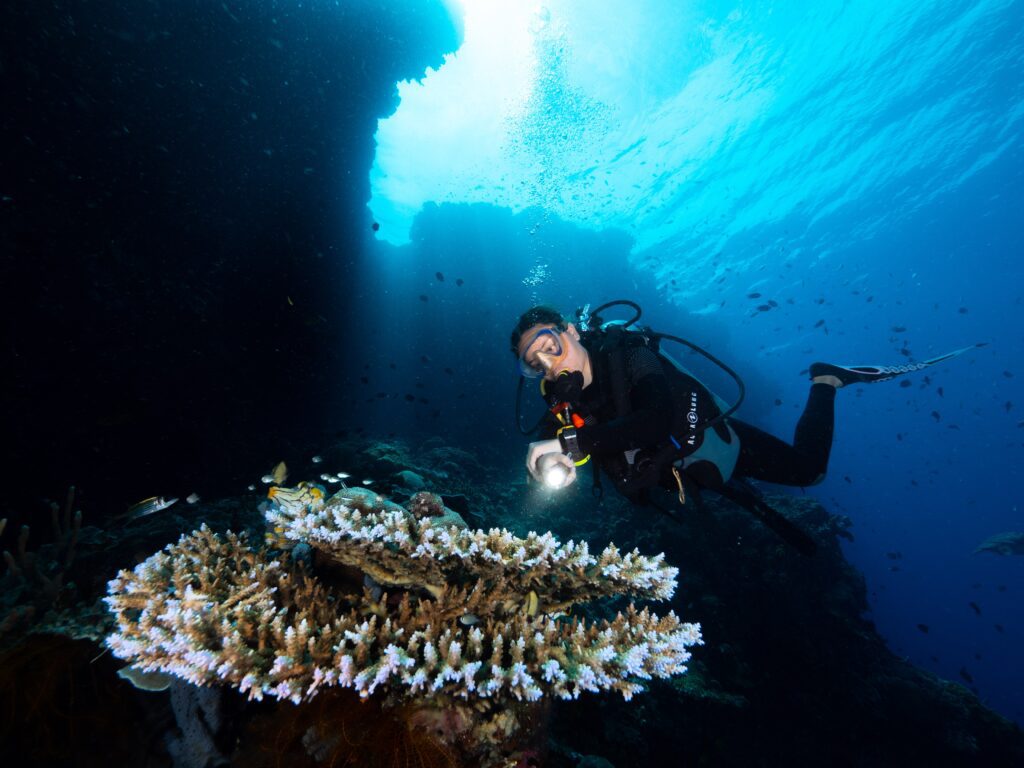 Keep your Fins Up at Muck Sites: A negligent fin kick can cause a silt cloud, which reduces vision and takes longer to settle than sand particles. When finning, kick slowly and with a frog-like motion. Keep your knees bent at a 90-degree angle with your fins elevated behind you, similar to a cave diving alignment. Make sure you are not leaving a silt cloud in your wake by periodically looking back.
Learn About Marine Life
To improve your chances of seeing the marine species you want to see, learn more about them. The knowledgeable dive guides at Murex Resorts are not only skilled divers with keen eyes, but also possess a wealth of expertise in marine life. They can concentrate on locations that are most likely to produce interesting results because they are aware of the varied creature species' preferred habitats and food sources. Our dive guides also host amazing marine life presentations in resorts.
Plan your Shots
Stay neutrally buoyant, consider your composure, limit the number of shots (especially with flash) that you take of each critter. Stop shooting if you can see that the critter is becoming distressed.
Never Manipulate Marine Life
Many of the critters which we find in Manado Bay (and the Lembeh Strait) are extremely sensitive. Manipulating critters to get a closer look or to take a better photograph is not an acceptable dive practice. It is only through respectful diving practices that these intriguing marine species will continue to thrive.
What Next? 
Are you excited to dive into Manado Bay with us? To find out more about diving and staying with us at Murex Manado, contact us on [email protected]