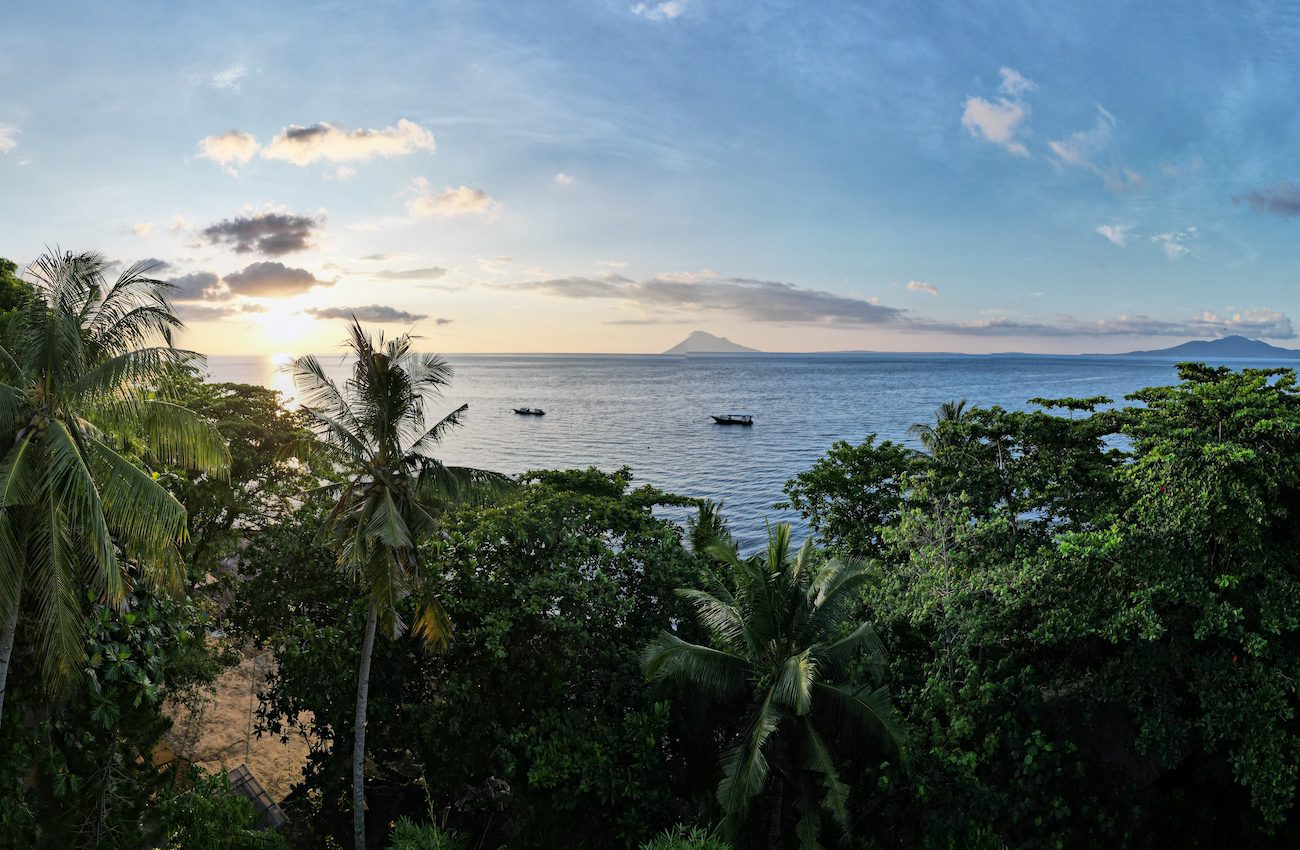 The History of Diving in Bunaken and Manado
How much do you know about diving in Bunaken and Manado? In this Blog we take a look at how it all started, how it has developed, and why it's just as incredible now as it was over 30 years ago.
In many regions in the world, divers hear stories about how the diving isn't as good as it used to be – but that's not the case here in North Sulawesi. Our dive sites are flourishing, turtle numbers are higher than ever, and the effect of an established Marine Protected Area can be seen from the minute you take a look beneath the surface.
We are extremely proud of the history of diving in Manado and Bunaken, as Murex's founder, Dr Hanny Batuna, played such a fundamental role in the first days of diving in the region and its development and conservation efforts thereafter.
Dr Batuna was one of the first scuba divers in North Sulawesi and the first Instructor in the area. His love of the ocean, the reefs and the dive sites of Manado and Bunaken were unparalleled. He immediately wanted to protect what he loved and in 1988 Murex Manado Resort, located on the seafront with views of Bunaken and Manado Tua became one of the first dive resorts in the area. From humble beginnings as the holiday home of Dr. Batuna and his wife Ineke, the property became a dive lodge for visiting expat divers and later it would flourish as a dive resort.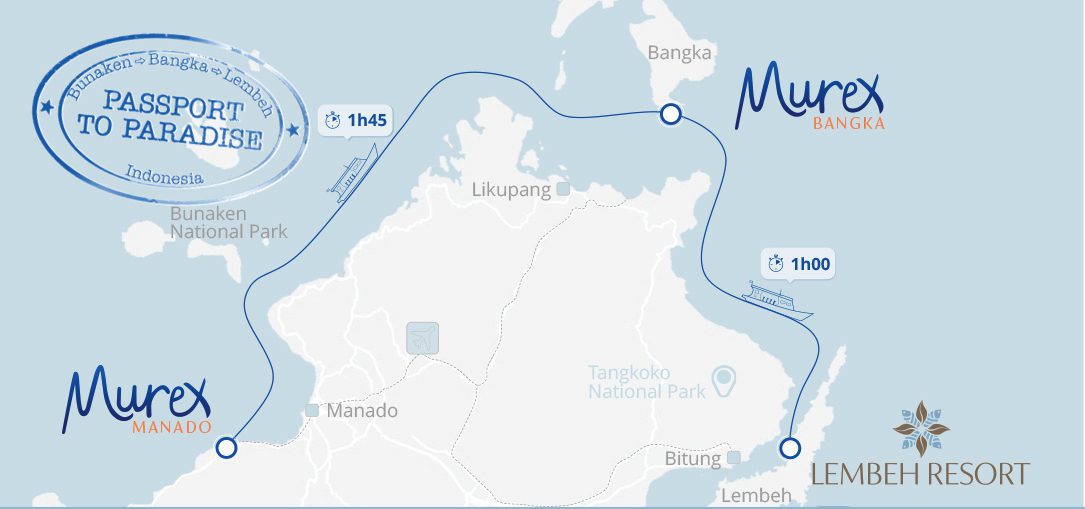 Dr. & Mrs. Batuna also launched one of Indonesia's first live-aboards, the Serenade. Aboard the Serenade, the Batuna family continued pioneering dive sites throughout the entire North Sulawesi region and Sangihe islands. After 20 years of cruising, the Serenade discontinued service, but the family's adventurous spirit has continued. In 2002 they opened Murex Bangka, a tropical island resort which is set on a stunning white sand beach on the southwestern tip of Bangka Island.
Dr. Batuna's daughter, Angelique, and her husband Danny Charlton would eventually take over the management of Murex Resorts (Manado and Bangka) and in 2001 they opened the dive center at Lembeh Resort on Lembeh Island. With three dive centers in operation they were able to launch the flagship Passport to Paradise program which takes divers around these 3 stunning regions – and a dream of Dr. Batuna's became a reality.
In 1991 Dr. Batuna had a pivotal role in the creation of the Bunaken Marine Park – one of Indonesia's first Marine Protected Areas. He has also been awarded for his contributions to recreational scuba diving and marine conservation. At ADEX (Asian Dive Expo) 2014, he was inducted as a board member to the Historical Diving Society and in 2018 he was inducted, posthumously, to the International Scuba Diver's Hall of Fame.
This is Dr Batuna's biography from International Scuba Diving Hall of Fame:
Dr. Batuna was a visionary medical doctor and diver, who over several decades, successfully developed a recreational diving operation and resort in a new location in Indonesia.
"Dr. Batuna was a visionary medical doctor and diver, who over several decades, successfully developed a recreational diving operation and resort in a new location in Indonesia. In fulfilling his vision, he navigated the political and cultural issues of the region, established the training of dive masters, instructors, resort management, administration, domestic staff and local boatbuilding of dive boats, all of which was required to establish a modern diving and eco-tourism destination. Dr. Batuna's vision resulted in the encouragement of other resorts to be formed in the region, which generated sustainable jobs.
From the beginning, Dr. Batuna's vision included sustainable eco-friendly tourism operations that were part of a small local group, which was instrumental in creating the formation of the Bunaken Marine Park in 1991. Dr. Batuna was an exceptional man with a selfless vision, who worked diligently and successfully to not only create a new eco diving destination, but in doing so, he also brought sustainable prosperity to his fellow North Sulawesi citizens".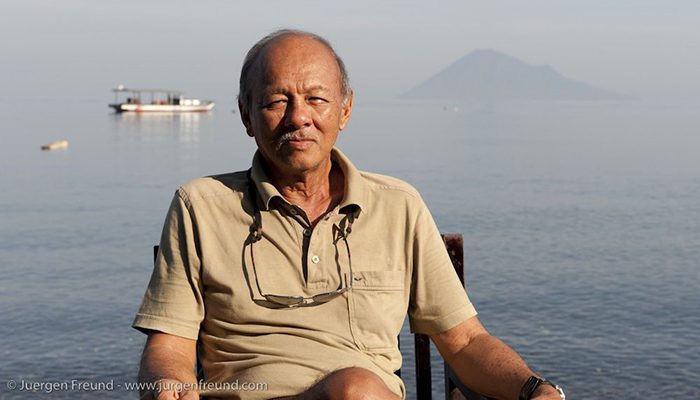 Dr Batuna was as passionate about people as he was about diving. He spent his time training other local divers, boat captains and resort staff. Today, Manado dive centers now employ thousands of local staff as dive guides, captains, resort and restaurant staff, drivers, and a huge number of ancillary roles.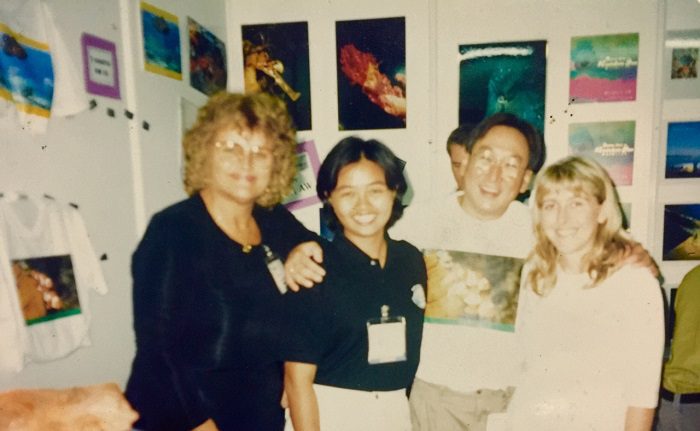 This year (2022) it is exactly 30 years since Michael Aw stayed at Murex Manado where he captured images and wrote the stunning book "Beneath Bunaken". Michael Aw recently re-visited the region and was in amazement at how the reefs were thriving with high fish numbers and a hugely increased turtle population around Bunaken Island.
Nowadays, in addition to the Bunaken Marine Park, there is the North Sulawesi Watersports Association (NSWA) which is a group of twenty dive resorts in North Sulawesi working together with local communities to protect dive sites, reefs and promote sustainability. The NSWA was founded in 1998 by Murex Resorts (Angelique Batuna Charlton) along with marine biologist and renowned fish expert Mark Erdmann and two other Manado dive resorts.
The aims of the NSWA are:
Promote sustainability
Long-term use of the Marine Park requires care. The NSWA invites both divers and local Indonesians to do the same.
Influence local governments
The NSWA can directly influence the management of the marine park, safeguarding conservation efforts in the interests of divers.
Provide Benefits for all involved
Local communities get to directly benefit from diving tourism, getting them involved in reef conservation to boot.
Find out more about the NSWA here: https://divenorthsulawesi.com/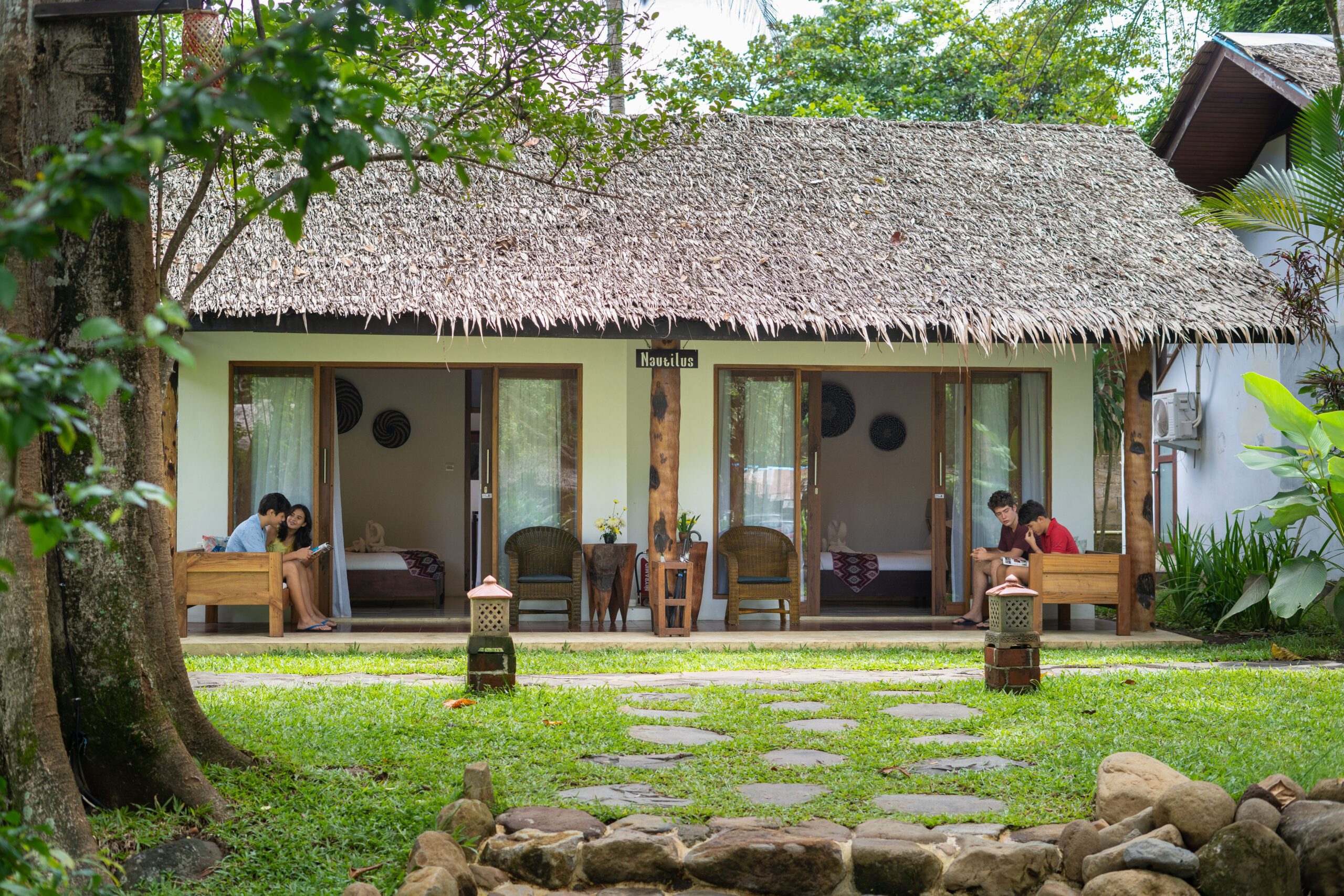 Today Murex Manado Resort is a far cry from its humble beginnings. Whilst the warm hospitality remains unchanged, the resort underwent a full renovation during the COVID-19 pandemic. Instead of closing down, Murex Resorts chose the opposite direction and went into overdrive. Keeping over 60 members of staff employed and training them in building, carpentry, and a range of other skills.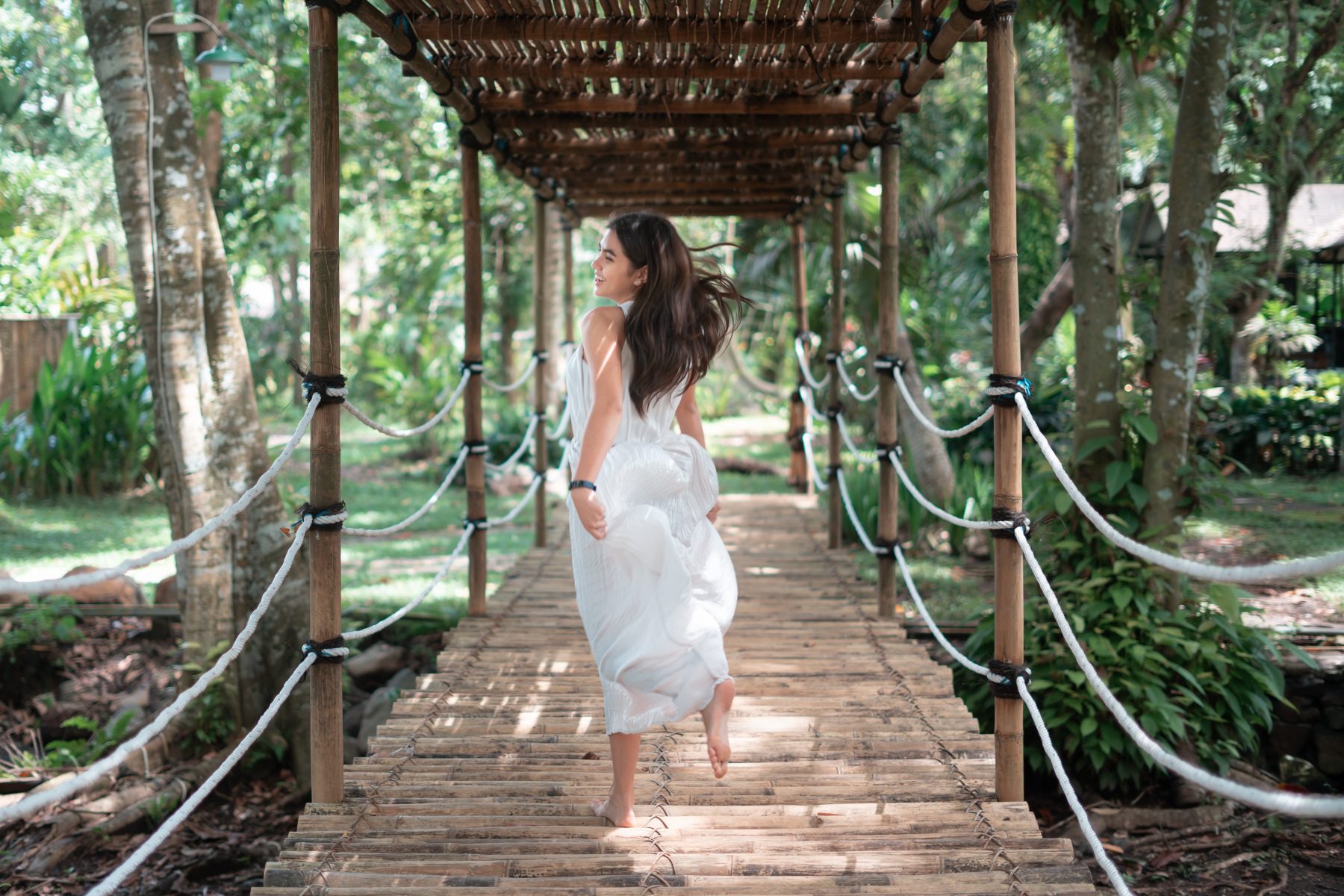 Murex Manado Resort has redeveloped with new modern dining options catered by a new kitchen and menu carefully designed by an external Food and Beverage Consultant. Guest accommodation has been completely overhauled bringing rooms up to modern standards whilst remaining warm and cosy yet light, airy and spacious. A new entrance to the resort was created with a bamboo bridge entrance which highlights the water gardens and the stunning grounds in which the resort is set.
Are you ready for your next diving adventures in North Sulawesi? Contact us today on: [email protected]