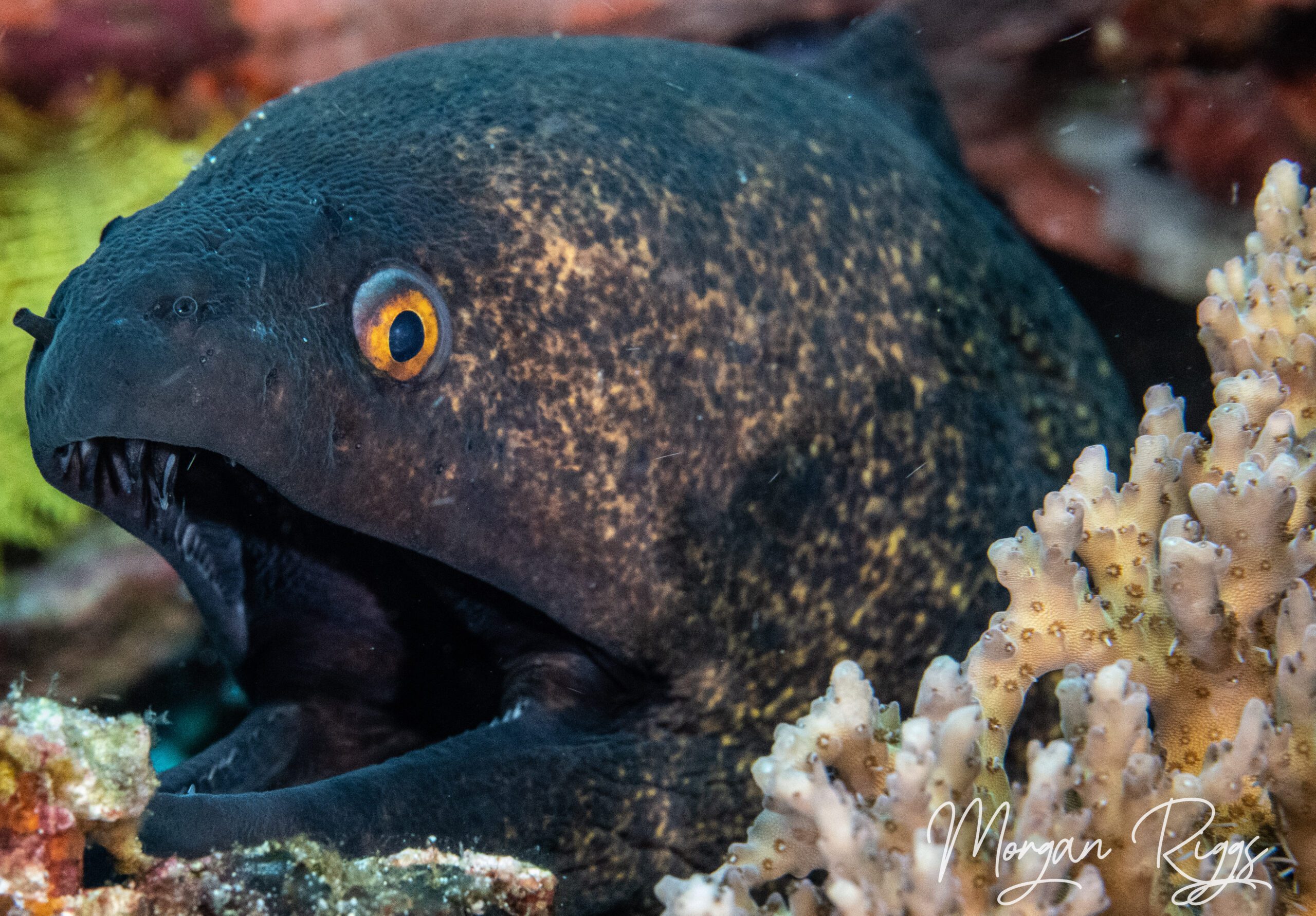 Things You Never Knew: 8 Facts About Moray Eels
Here in North Sulawesi we have numerous species of moray eels, and whilst each one has some unique characteristics there are many common characteristics that apply to all of them. How many of these facts did you know?
1. Threatening Behaviour?
Have you ever noticed the way a moray eel opens and closes its mouth when you are looking at it? Don't be mistaken into thinking that this is threatening behaviour, it's just breathing! Most fish species have bony gill covers on their sides which they constantly open and close to force water over the internal gill chamber allowing them to breathe. Moray eels do not have these covers so they have to use their mouths to orally pump water through the gills.
2. Alien-like Jaws
Moray eels are serious predators and their jaw structure reflects this. Not only do moray eels have the razor sharp teeth which you can see, they have double jaws and double sets of teeth! Just like an alien they have a hidden internal jaw called the "pharyngeal jaw". When feeding they use their outer jaws to firmly gip their prey and then the pharyngeal jaw shoots forward and bites the victim and pulls it into the throat.
3. Sight and Smell
Unlike many predators moray eels have remarkably poor eyesight so they rely largely on their incredible sense of smell when hunting. Have you ever noticed the two small appendages on a moray eels nose? They are its nostrils! Because moray eels rely heavily on smell their food of choice is often weakened or dead as it easier to detect. This also makes them great reef cleaners.
There are some reports of divers feeding moray eels and having their fingers devoured in the process – this is also due to the morays poor eyesight as they cannot see where the food finishes and the fingers begin!
4. Green or Brown?
Green moray eels are actually rarely green – they are usually brown but because they secrete a layer of toxic mucus over their skin which has a yellow hue it makes them appear green! Their mucus membranes also allow them to move fast and freely around the reef with less chance of sustaining abrasions.
5. Up to 66 Pounds
It's true! The largest (and heaviest) of the moray eel species is the giant moray eel (Gymnothorax javanicus) and there have been recorded sightings of individuals measuring up to 8 feet and weighing in at 66 pounds / 30 kilograms!
6. Night Dive?
Most moray eels are nocturnal species so the best time to spot them out swimming and hunting is on night dives. During the day moray eels are less active and most commonly seen hiding in holes and crevices with just their heads protruding. Our Murex Manado House Reef is an excellent dive site for seeing moray eels swimming at night.
7. Symbiosis
Cleaner shrimp – moray eels carry a large number of parasites on their skin so one of their best friends are cleaner shrimp. Moray eels will search out a "cleaning station" or place where cleaner shrimp accumulate and wait for the shrimp to "clean" them. This is a mutualistic relationship – the moray eels gets rid of its parasites and the cleaner shrimp get an easy meal. When wall diving in Bunaken check in every nook and crevice – if you find the cleaner shrimp you may well find a moray!
8. Moray Eels Species
There are around 200 species of moray eels world-wide. Here in North Sulawesi, the species which we encounter most often are the giant moray (Gymnothorax javanicus), snowflake moray (Echidna nebulosa), white-eyed moray (Gymnothorax thyrsoideus), whitemouth moray (Gymnothorax meleagris), yellowmargin moray (Gymnothorax flavimarginatus), fimbriated moray (Gymnothorax fimbriatus) and zebra morays (Gymnomuraena zebra). The reefs around Bangka, Bunaken and Manado are extremely rich and diverse so we are often fortunate enough to see a few different species on a single dive.
Our Murex Dive Guides are experts at finding and identifying the marine life of North Sulawesi and they love sharing their finds with other divers. When you are here in resort there will always be one of our team available to help you with marine life identification and answer any questions.
If you'd like to maximise your North Sulawesi trip why not take a Passport to Paradise and explore three distinct dive destinations (Bunaken –Bangka – Lembeh) in one trip? With over 150 dive sites, 1,500 species of fish and seamless boat diving transfers from resort to resort it really is the dive trip of a lifetime! For more information contact our friendly team: [email protected]. We look forward to welcoming you to North Sulawesi soon.