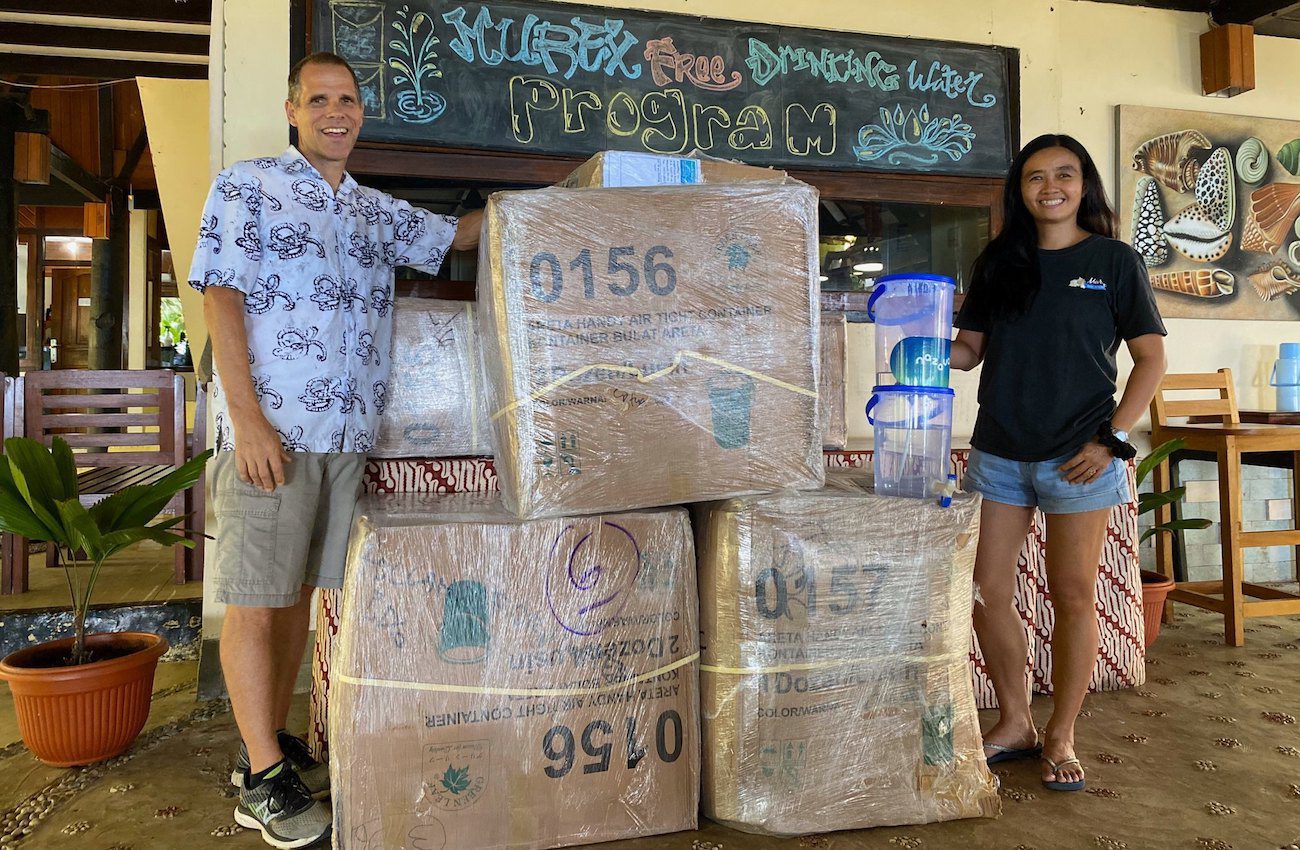 Murex Community Safe Water Initiative in North Sulawesi
During this challenging time, at Murex Dive Resorts we are looking for ways to help both our local staff and our local communities. Our main priority is to ensure that our local villages have access to clean and safe drinking water.
Safe Water in North Sulawesi
It is common in Indonesia that households have 'gallon' (19 liter) water bottles and dispensers in their houses, similar to what we have in our resorts. These bottles cost around ID75,000 per month for a small family which is a sizeable expense. As a sustainable and ongoing affordable solution, Murex's Safe Water Initiative aims to roll out Nazava water filtration systems in our local communities.
Why are the Filters Needed During COVID-19?
The major concern we have in North Sulawesi is that as finances become tighter for the local population (which they inevitably will continue to do so), people historically have tried to save money by using unfiltered water. We are very fortunate that in our region people can fish and there are large amounts of fruits and vegetables grown locally but safe water is a different issue.
There is a lack of understanding about what water is safe and what is not, and people often do not boil water for long enough to kill all bacteria. If there is a cholera or typhoid outbreak then there is little defense against this – especially now at a time when medical services are stretched beyond their means.
Murex owners have already privately funded the first 100 filter units and as soon as they are received we will begin distribution, but many more units are needed to ensure that everyone in our local communities has ongoing access to fresh, safe drinking water. The filter systems can be used for up to two years before the filter needs changing which means that as the economy and situation here deteriorate, access to safe water will not.
This is a link to a video from Social ImpaKt about the Nazava filter which explains more about how it works:
How You Can Help
If you would like to help us to help our local communities at this time we are grateful for all donations.
The easiest way to donate is through the Lembeh Foundation Donation Center: https://www.lembehfoundation.org/donation-center 
In the Donation Center you can donate for water filter units, or purchase family packs that contain filters and other essential items.
Donations may also be made by bank transfer to the following account, please state "Water Filter" or "Navaza" on your transfer: (for donations from the United States, please contact us for alternate bank details)
Bank: BANK CENTRAL ASIA (BCA)
Bank Address:
Kawasan Mega Mas Blok E No.8.
Jalan Pierre Tendean,
Manado
95113
Indonesia
Beneficiary / Account Name : Manado Underwater Explorations
Account No : 8295.9595.48
Account Currency: Euro
Swift Code : CENAIDJA
---
Please inform us by email at: [email protected] once you have made a donation transfer and we will let you know once it has been received and keep you to up to date on our progress. Thank you in advance to anyone who makes a donation, all donations are very greatly appreciated.
May we also take this opportunity to wish you all well in your respective countries and we look forward to being able to welcome you back to Murex Dive Resorts. If you have any questions regarding future travel to North Sulawesi, or about an existing reservation, please contact us on: [email protected].