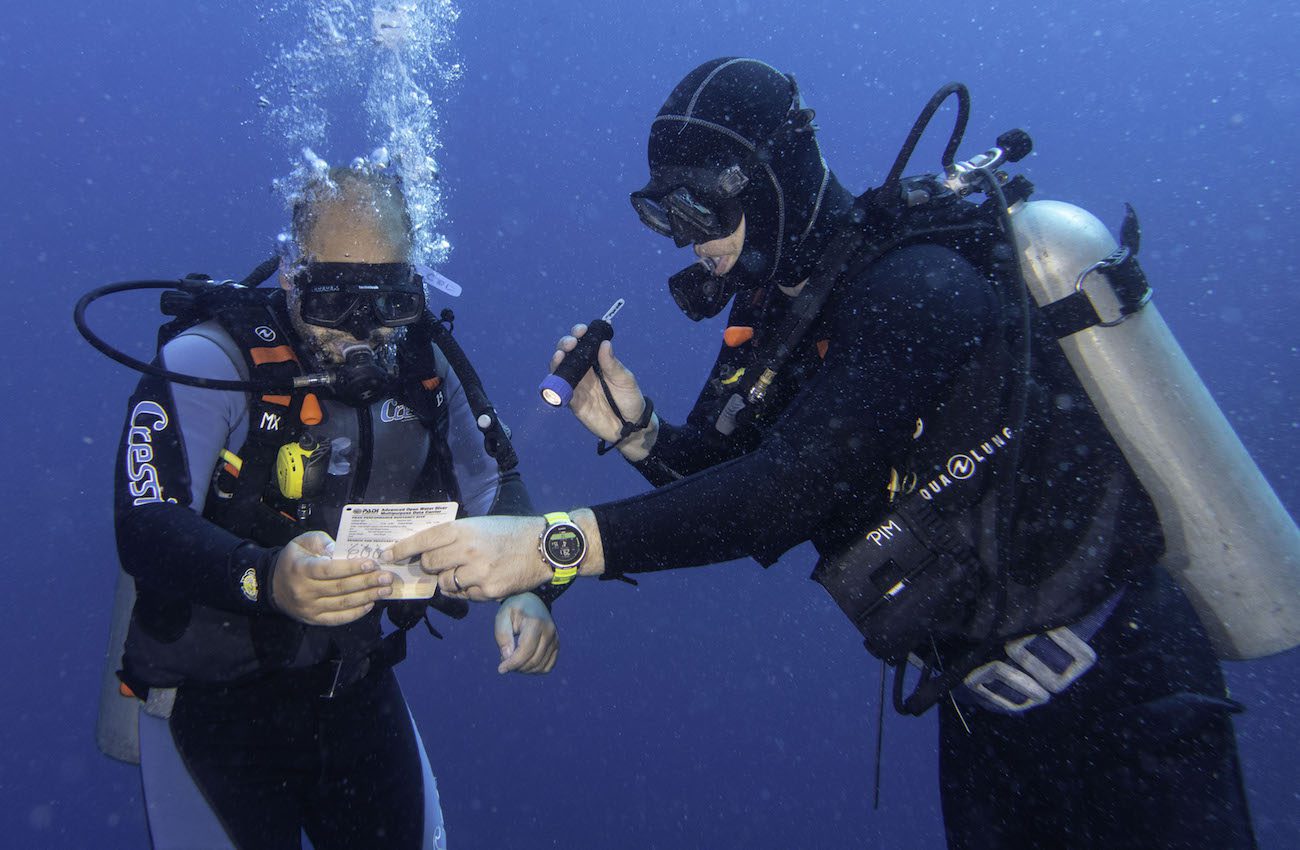 PADI Advanced Open Water Course in Bunaken and Bangka
The PADI Advanced Open Water Course is your chance to develop your dive skills and experiment with new types of diving – it's exciting and there are a lot of awesome dives to choose from. Imagine drift diving over pristine coral reefs, diving at night or even diving on a shipwreck! It's all possible and North Sulawesi is one of the only places on earth that gives you access to such a broad diversity of sites that you can really experience the types of diving that you want to.
It's possible to take your PADI Advanced Open Water Course while diving in Bunaken and Manado Bay or by taking your dives at our Murex Bangka resort. If you are visiting both resorts, you also have the option of starting the course in one location and completing it in the other.
How Much Studying is Involved in the Advanced Open Water Course?
During the PADI Advanced Open Water Course you learn by doing – and by doing, we mean diving! The PADI Advanced Open Water Course includes 5 dives, 2 of which are mandatory (Deep Diving and Underwater Navigation) and 3 are for you to choose. This is a great opportunity to make 5 more dives under the careful eye of your PADI Instructor.  There is a student manual to read, but you only need to read the 5 chapters which relate to the 5 dives you intend to make. Once you have completed each chapter there is a small knowledge review which you will go through with your Instructor – there is no final exam.
What Dives Can I Do in North Sulawesi?
Below is some information about the two mandatory dives and the most popular optional dives to take as part of your PADI Advanced Open Water Course in Bunaken or Bangka…
Deep Diving (Mandatory)
Advanced Open Water Divers are certified to dive to 30 meters/100 feet, so during your course, you'll need to make a Deep Dive. Diving Bunaken's walls and Bangka's coral reefs both offer phenomenal deep diving and as your depth increases, so do your chances of seeing some larger marine species including reef sharks, schooling fish, and eagle rays. During your deep dive, your instructor will be by your side and you'll learn more about the effects of pressure with depth, as well as carrying out checks for nitrogen narcosis.
Underwater Navigation (Mandatory)
We usually conduct navigation dives over a sandy bottom and whether that's in Bangka or Manado Bay, our sandy sites are never boring. Make sure you stay focused on the task at hand – the unusual critters can be quite distracting!
Drift Diving
Imagine gliding over pristine coral reefs and through clouds of colorful reef fish. Drift diving is one of the easiest ways to dive. Simply relax and literally 'go with the flow'. Drift diving does not require you to swim into the current and being able to drift dive will open up countless new dive sites to you. You'll also learn how to plan a drift dive, drift diving entries and exits, how to assess currents, techniques for handling currents underwater and how to signal a boat while underwater and on the surface.
Peak Performance Buoyancy
Do you go up and down more than you would like to? Do you seem to be constantly adjusting the air in your BCD? The Peak Performance Buoyancy dive will fine-tune your buoyancy skills until you are hovering in mid-water like a pro. Having control over your buoyancy builds confidence, leads to safer and more comfortable dives, improves your underwater photography and air consumption and helps to prevent damage to the underwater environment.
Night Diving
This is a must when you are diving North Sulawesi!! Rediscover the reef under the cover of darkness. You'll see an entirely different underwater environment as well as many of North Sulawesi's rarest and most unusual nocturnal species. You'll learn how to plan a night dive, night diving equipment requirements and how to navigate and communicate in the dark – this is a lot of fun!

AWARE Fish Identification
Located at the heart of the Coral Triangle, North Sulawesi is home to literally hundreds of species of reef fish – there is no better place to practice Fish Identification. You'll learn from your marine biology trained Instructor how to distinguish between different families of fish, how to effectively use fish identification books, how to record fish sightings and underwater hand signals for different genera.
Digital Underwater Photographer
When you're diving North Sulawesi's world-class reefs you might want to capture some of your memories on camera. Taking pictures underwater has some additional considerations compared to taking images on land. You'll learn about underwater photography equipment including cameras, housings, and strobes; how to prepare your equipment; how to compensate for light and color loss due to depth, white balance, photographic composition and selecting your subjects. For anyone with an interest in photography, this is a must-do dive! If you do not have your own underwater camera, we have camera/housing/strobe packages available to rent (subject to availability – first come, first served).
Wreck Diving
In Manado Bay, there is a cargo shipwreck which is thought to date back to World War II. The Molas Wreck has a steel hull that is still intact and this coral-encrusted wreck is now a thriving living reef. You'll learn how to plan a wreck dive, safety precautions for wreck diving, mapping points of interest on a wreck and how to avoid wreck diving related hazards. If you have an interest in maritime history this is a great way to get started in wreck diving, but be warned – it's addictive!
Other Optional Dives
We won't list every possible option here but a few other possibilities include…
Search and Recovery:  If you're observant and like using a compass then this one is for you. You'll learn how to efficiently search for objects underwater as well as how to 'rig and lift' in order to safely bring a negatively buoyant object to the surface using a lift bag.
Boat Diving: Have your dives to date all been from the shore? Do you know your port from your starboard or the difference between the Captain and the Head? You'll also learn valuable entry and exit techniques for different styles of boats.
Multi-Level and Computer Diving: If you are interested in dive tables, dive computers and decompression theory the computer and multi-level dive allows you to explore these in more depth. This is a great option for anyone who is becoming familiar with their dive computer or who is new to using a dive computer.
How Many Days Does the Advanced Open Water Course Take?
We aim to complete your course in two days: Two morning dives each day plus one afternoon dive.
How Much Does It Cost?
Our PADI Advanced Open Water Course is IDR 6,500,000 and this includes:
PADI Student Diver Materials
PADI Registration and Certification Card
All dives and theory sessions
All Tuition from a Professional PADI Instructor
Are you ready to take the plunge and become a PADI Advanced Open Water Diver in Bunaken or Bangka? For more information or to make a reservation, email us on [email protected] and we'll get right back to you.
We look forward to welcoming you to our tropical Indonesian dive resorts soon!