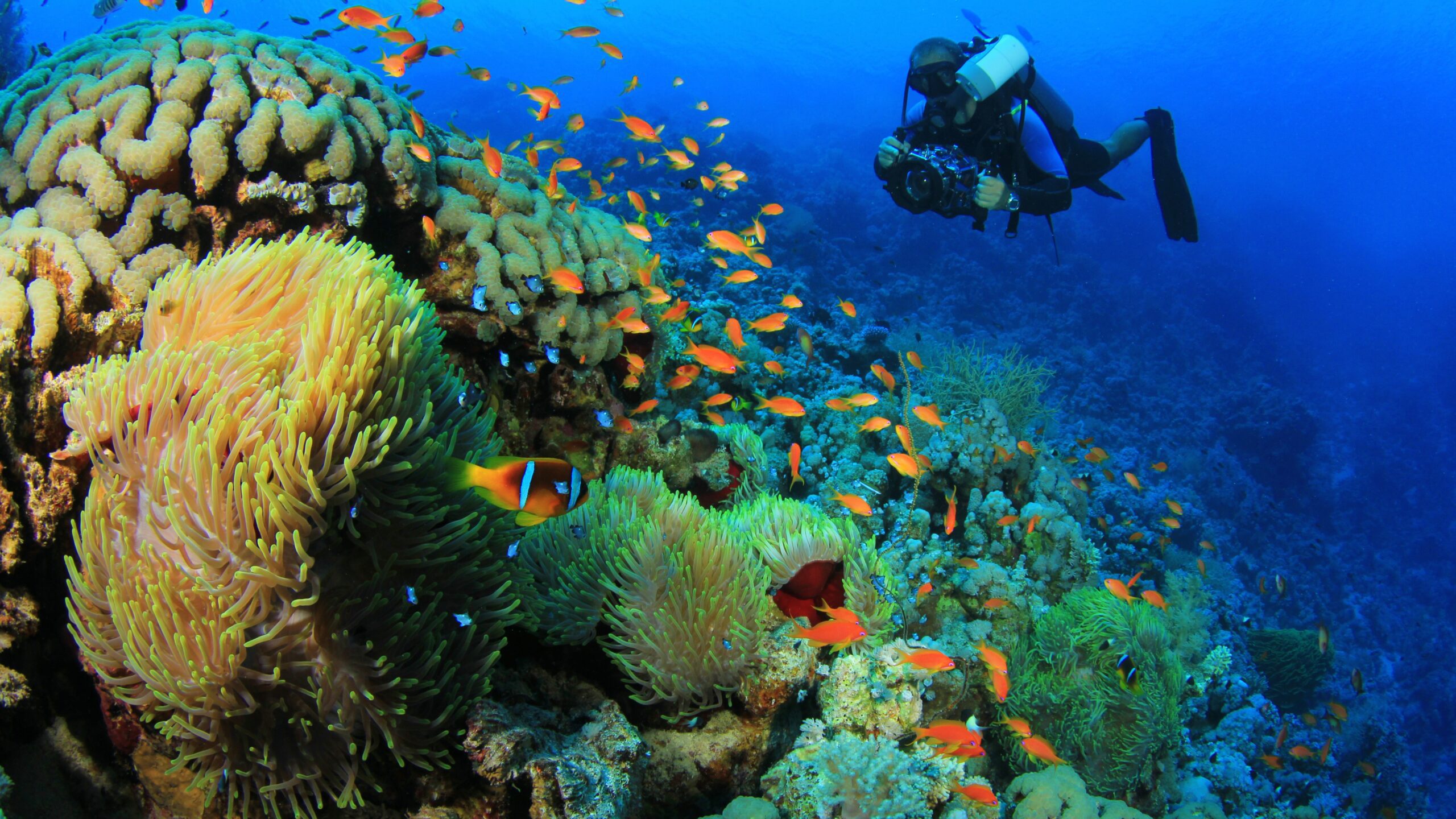 8 Tips For Improving Your Underwater Photography
Here in North Sulawesi we are extremely fortunate to have stunning reefs and incredible marine life – it's the perfect location for underwater photography. Whether you are shooting with a compact camera or a large DSLR set up, there are some basic principles which we all need to remember to get the best quality images possible.
1. Think About Lighting
The deeper you dive the less natural light you have which results in images which seem "blued-out". Using a single strobe will help add color back into your images and using two is even better and essential if you are planning to shoot wide angle.
Dedicated underwater strobes have adjustable arms that will let you position your flash and avoid backscatter. Strobes add much more light than your camera's internal flash but it is possible to dive without them if shooting macro very close up (see below). If you'd like to try adding a strobe to your camera while you are here, we have a rental strobe and rental video lights for shooting with continuous light.
2. Get Closer
The closer you get to your subject the better the contrast and clarity will be. This happens because close proximity limits how much water is between your camera and the subject you want to photograph. It will also cut down the backscatter.
When you are looking at the subject through the camera it can be difficult to gauge how close you are so remember to take a look over the top too. Avoid getting so close that you may touch the subject or appear to be threatening it.
3. Patience Is A Virtue
Take your time with your underwater photography – especially if you are trying to capture an image of a fish or critter which is skittish. If you approach some marine species too fast, they will either swim away or turn away, try to edge slowly closer to the critter, giving it time to get comfortable with you being in it's space.
4. Control Your Buoyancy and Breathe
Good buoyancy is essential for underwater photography to ensure that you don't damage the reef or kick up the sand. Remember to fine tune your buoyancy by using your breathing and aim to take your picture as you breathe out.
5. Control Your Exposure
In underwater, auto exposure modes usually over expose the background, and underexpose the foreground. If your camera doesn't have a manual exposure mode, us the "P" mode (program auto) and set your ISO to 100. Use exposure compensation (the +/- button on the camera) to darken the background and create better contrast. If an image is under exposed it's often possible to improve it during editing but if if an image is over exposed it's much more difficult to correct.
6. Stay Macro
Digital cameras can't focus closer than 18 inches / 45 cm, most of them anyway, unless you're using macro mode. A lens with a wide angle will make things appear much closer than they actually are so you will need to stay macro mode most of the time.
7. Take Photos in Raw Mode
RAW files are uncompressed files that capture over 4000 color tones, unlike JPEG/JPG formats that have 256 color tones. If you use RAW files, the images will have a better color depth and smooth gradients, especially when your background is as blue as the waters around North Sulawesi! If you have to shoot in JPG, use the highest quality and largest file size you can.
8. It's All About The Fish
In underwater, you are a visitor – avoid touching or breaking coral and remember that some critters live under the sand. Never risk damaging or disturbing the marine environment. Always leave the reef in the same condition that you found it – to be enjoyed by others too!
For those who enjoy underwater photography both of our Murex Resorts (Manado and Bangka) have dedicated camera rooms with individual camera stations, towels, sockets and an air gun. All Murex Dive Guides are trained in underwater photography to help guide you to taking the best possible images while you are here.
If you don't have your own camera but would like to take some pictures during your dives we have 3 Olympus TG5 cameras available as well as 2 Canon G7X cameras available for rental – ask in the dive centre for more information or let us know in advance.
To maximize your underwater photography opportunities while you are here we recommend taking our Passport to Paradise program – you'll dive in three distinct diving destinations in one incredible trip. Discover the staggering coral walls of the Bunaken Marine Park, explore Bangka Island's kaleidoscopic reefs and see some of the world's rarest and most unusual marine life in the Lembeh Strait.
Bunaken -> Bangka -> Lembeh, why choose when you can do it all? With boat diving transfers from resort to resort there is no gear drying, packing or wasted transfer days, we take care of the logistics so you don't need to – you just dive, dive, dive! We hope to see you (and your camera) in North Sulawesi soon…