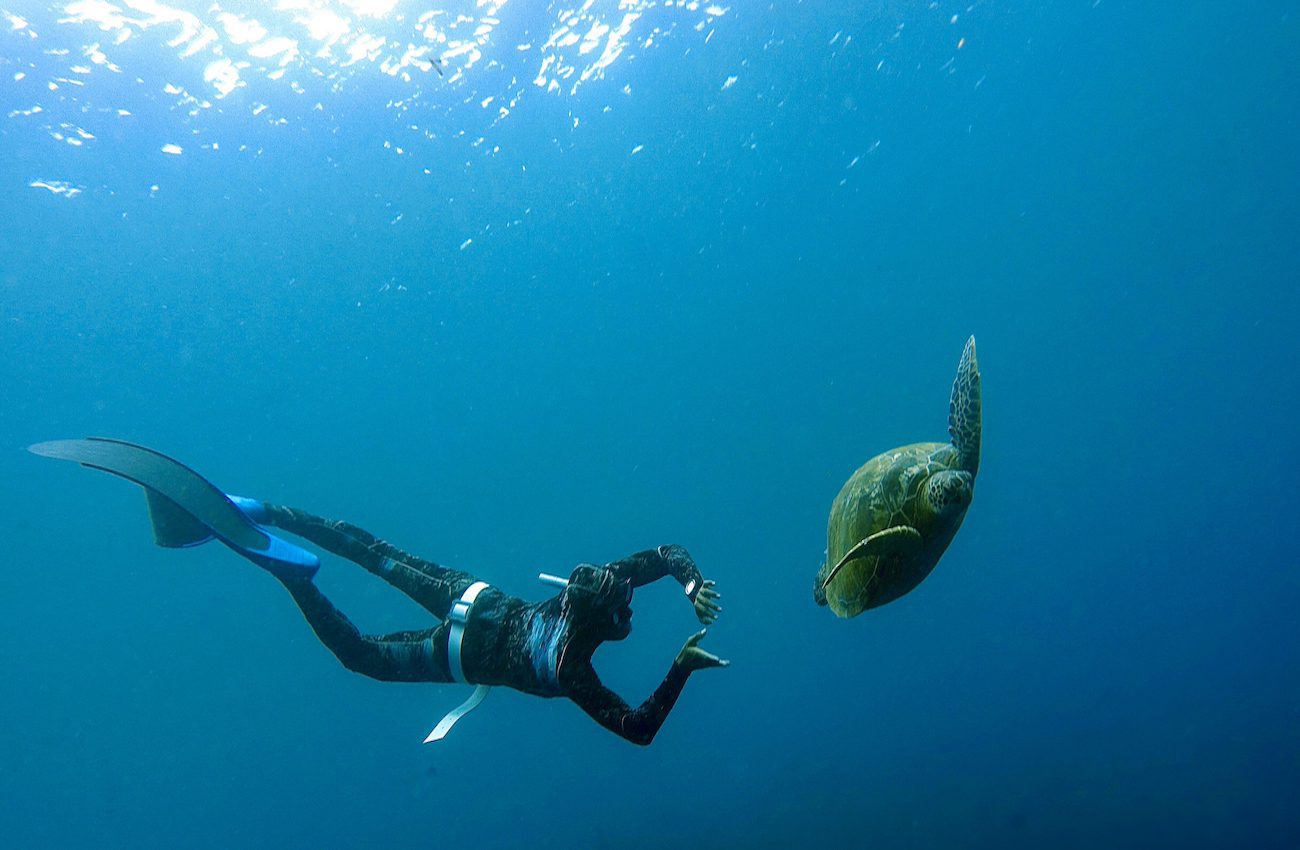 Apnea Murex: Freediving and AIDA Courses in North Sulawesi
We are delighted to announce Apnea Murex is the latest addition to the Murex family of resorts and dive centers. Guests staying with us in North Sulawesi can now enjoy another way of exploring underwater! Whether scuba diving isn't your thing, or you just want a new challenge, freediving is an incredible way to discover world-class dive sites and marine life, challenge yourself, and immerse yourself in another world.
Freediving is fast emerging as an accessible way to experience the underwater realm with little equipment – especially in regions like North Sulawesi which has near pristine freediving sites just a few steps off the beach.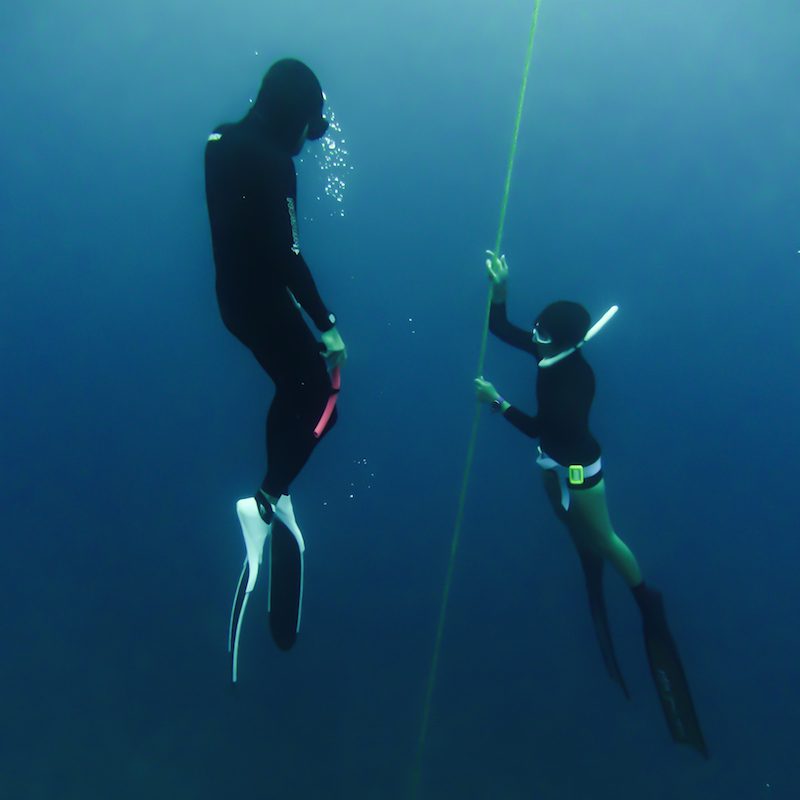 Apnea Murex is a collaboration between Murex Dive Resorts and Stanley Sradaputta who is a renowned Indonesian freediver, best known for setting the Indonesian freediving record during the 2018 Asian Freediving Cup in the Philippines, where he reached a depth of 81 meters for 3 minutes. Stanley, who is originally from Java, is now a veteran freediver who opened his first center in Makassar, South Sulawesi before moving to Manado, where he has been freediving extensively around the mainland, Bunaken Marine Park, and the outlying islands.
Apnea Murex will offer both freediving trips and AIDA freediving courses for all levels from beginner upwards! Our AIDA certified Freediving Instructor Jiman Toro, like Stanley, is an award-winning freediver with both bronze and gold medals to his name.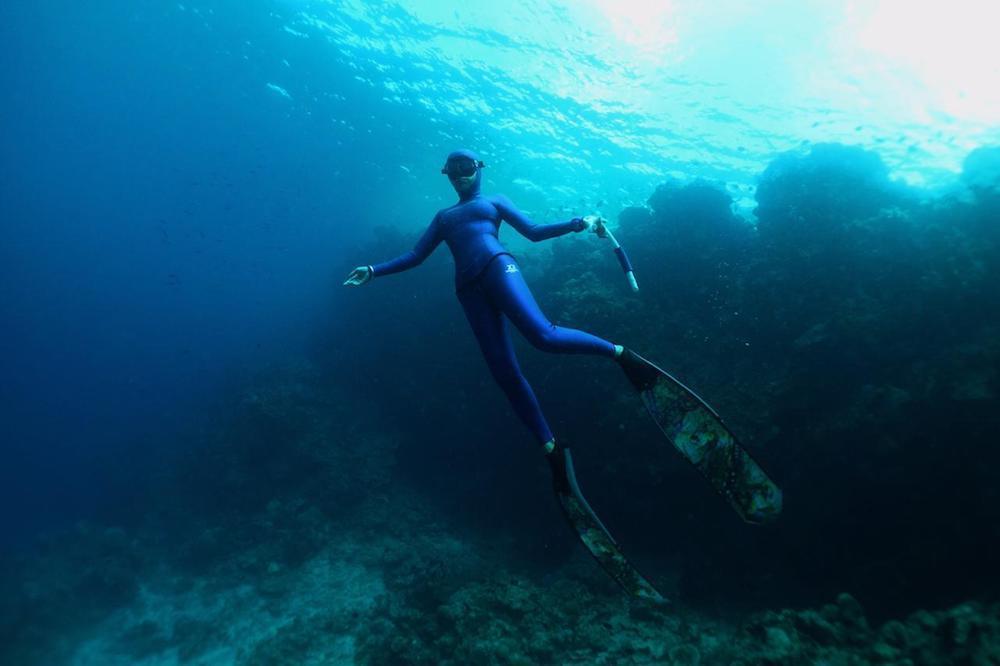 AIDA Freediver training in the pool at Murex Manado
Jiman teachers AIDA Levels 1, 2, and 3 (freediving introduction course, basic certification and advanced certification) to anyone who is in good health and over 16 years of age. Jiman says, "I am extremely excited about the opportunity to join Apnea Murex with Stanley and the team at Murex. From Murex Manado there are amazing freediving sites, literally just a step off the beach. Murex House Reef is ideal for freediving as it has a dropoff to around 200 meters not far from the shore. For day trips, we are just 30 to 40 minutes from the Bunaken Marine Park which offers some of the richest wall diving sites in the Indonesian Archipelago, diverse marine life, huge turtles and even passing reef sharks".
Apnea Murex also offers full equipment hire for those wishing to give freediving a try. "We are looking forward to introducing people to another way to see the underwater world of North Sulawesi. With three resorts in three different locations, freedivers can explore a range of topographies including coral reefs, walls and pinnacles, as well as an equally diverse range of marine life. Although Apnea Murex will be based at Murex Manado, we'll be able to take freediving trips and courses at all three locations and guests will also be able to take a freediving Passport to Paradise. Passport to Paradise includes staying and freediving at all three resorts (Murex Manado, Murex Bangka and Lembeh Resort) with transfers by boat and the opportunity to freedive along the way. It's a great way to move around and explore more – no cars and no wasted travel days, just beautiful cruising around North Sulawesi!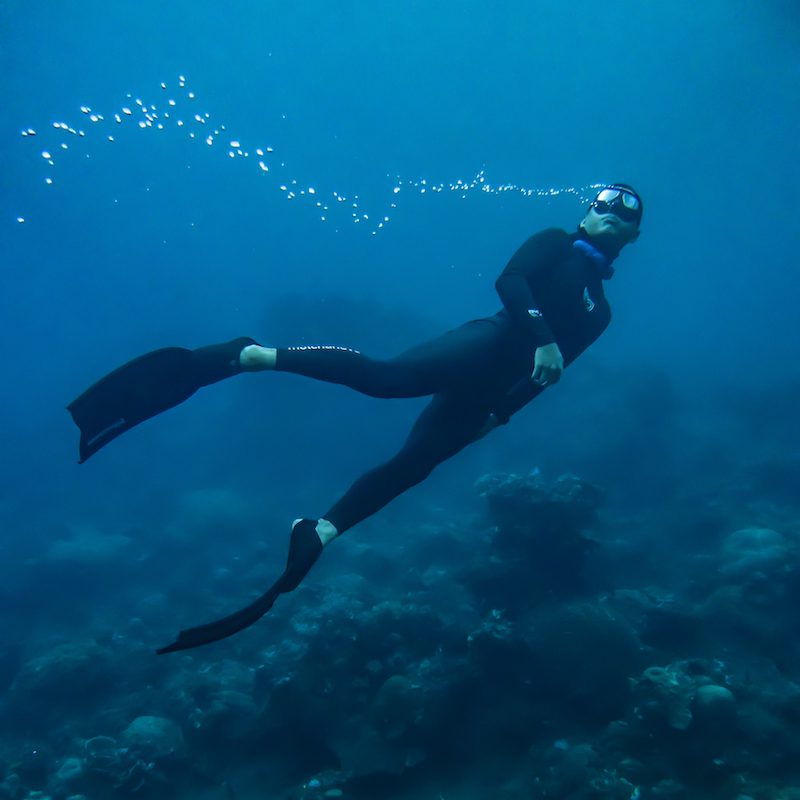 Murex Manado's pool is purpose-built for training with a 4m deep area
Stanley says that he is delighted to team up with Murex, "Murex offers a high standard of service and safety as well as a phenomenal wealth of local knowledge. For freedivers it's important to have other activities available, and Murex has a range of land tours, activities and experiences to keep them entertained and exploring on land when they are not underwater!"
Angelique Batuna, co-owner of Murex Dive Resorts is looking forward to the soft launch of Murex Apnea on April 1st. "We've already tried the freediving and we loved it. It's a great activity for families. It creates bonding because you're together in the ocean and as you learn to stay underwater for longer, it's just so serene. No noise, just you and the fish. Our teenage kids developed better focus during the program because to enable yourself to stay longer underwater you have to be in a calm and focused state. For children under the age of 16, there are youth certifications too".
Here at Murex we are definitely excited! We can offer a new experience to our guests which is safe, challenging, and a lot of fun. We are looking forward to sharing our marine environments with even more travelers from around the world".
For more information about freediving, diving, snorkeling or exploring North Sulawesi with us, contact us for more information, alternatively, What's App: +62 811 4390 0091! We look forward to hearing from you.