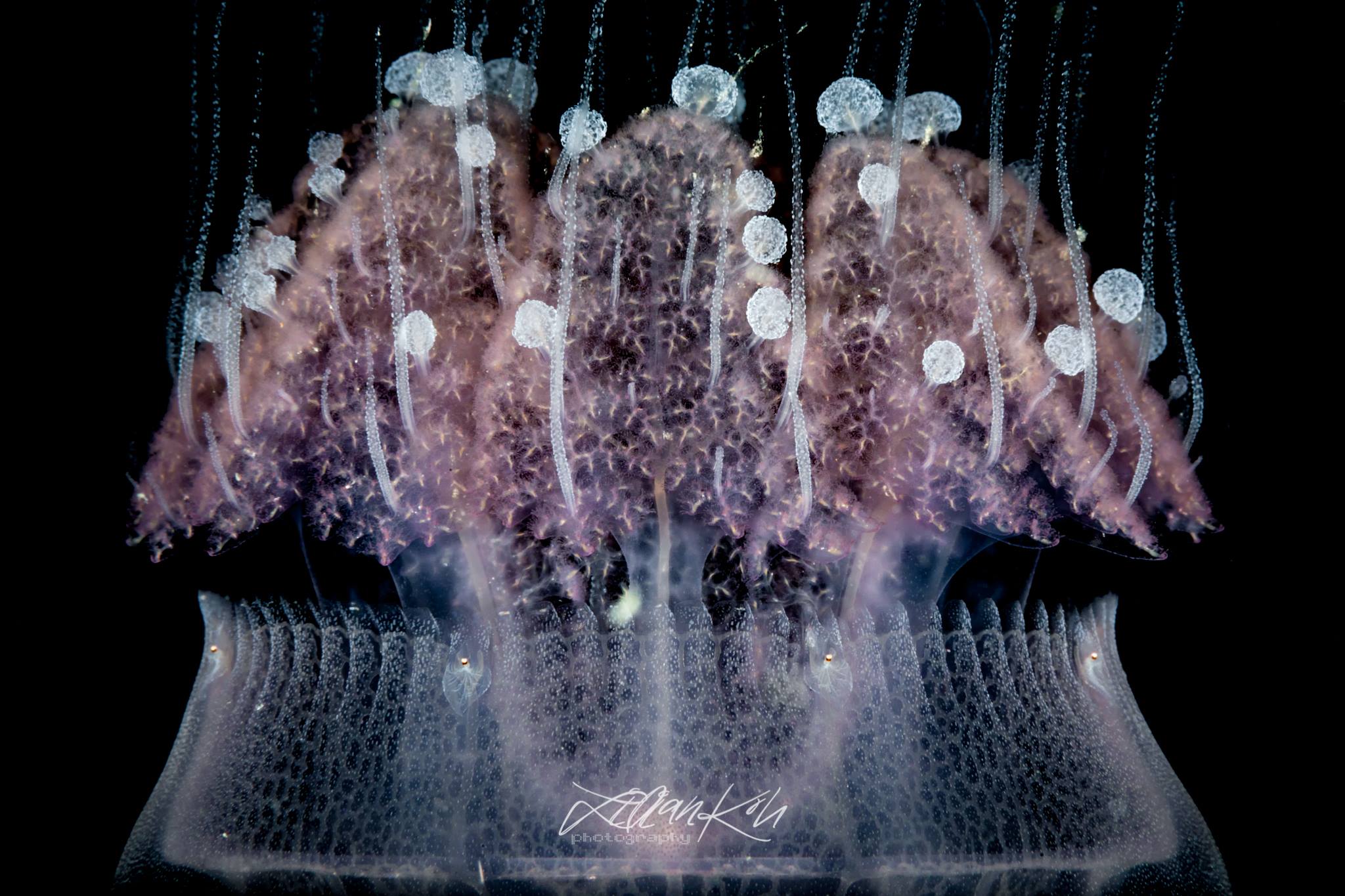 Bonfire and Blackwater Diving in North Sulawesi
Dive into the Deep, discover, and be amazed!
Have you heard of blackwater diving or bonfire diving? Do you know what they are? These are exciting dives that reveal some incredible critters in their larvae stages – many of which are not seen, or even known, by the majority of divers.
As the original pioneers of diving and exploring in North Sulawesi, we continue to be at the forefront of diving developments in our region – and blackwater diving and bonfire dives are the latest addition to our offerings. We have been blown away by some of the marine life sightings that these dives have revealed – from nautilus through to fish hiding inside jellyfish – the waters that surround us continue to amaze us!
It All Begins with Plankton
There are two types of plankton; zooplankton (which is animal based) and phytoplankton (which is plant based). These two forms of plankton drift with the ocean currents and are the source of all marine life. The word "Plankton" is derived from the Greek word "Planktos" which translates into English as "drifter" or "wanderer". Did you know that in one teaspoon of seawater, there are literally billions of life forms?
What is Bonfire and Blackwater Diving?
Blackwater diving takes place over deep water, away from the reef. From Murex Manado and Murex Bangka we usually head out from the resorts into the open ocean. Bright lights are suspended in the water column at 5 meter intervals, up to 20 meters. The lights attract plankton in the water column which in turn attracts intriguing and rarely seen larvae stage critters.
Our Bonfire dives take place at shallower depths on the reef or sandy slope – at both resorts we have no shortage of suitable dive sites. Bonfire diving is also based according to the use of bright lights to attract plankton and larvae stage and more mature critters.
Blackwater Diving Underwater Photography Subjects
The most iconic blackwater and bonfire dive critters include crustacean and cephalopod larvae. Other common subjects include jellyfish and other critters which drift freely in the open ocean. Many of the larvae stage critters are often translucent because they are in the early stages of development. Both types of diving feature a lot of critter behavior spotting and imaging opportunities.
Best Times for Bonfire and Blackwater Diving
It's possible to blackwater and bonfire dive at any time but the most abundant dives are around the new moon – up to 4 days before and 3 days after. Around the new moon, there is little moonlight so the bright dive lights become a more active light source. When there is a full moon (because there is already light on the surface) the level of activity is dispersed and less centered around the dive lights.
During blackwater diving, we aim to leave the resort at around 6.30pm. Once we arrive at the site we drop the lights into the water and we enter the water 20-30 minutes later. Because we want you to have a productive experience, this waiting period gives marine life time to travel to the lights and ensures that you have the most active experiences possible.
Ready to explore the depths with us? You can reserve these captivating dives in advance or right at the resort – simply reach out to your dive guide for all the details. Why not experience the best of both worlds with both blackwater and bonfire dives at each of our outstanding resorts?
Are you considering embarking on the Passport to Paradise adventure? Uncover the treasures of three remarkable diving destinations in North Sulawesi, all in one extraordinary journey: Bunaken, Bangka, and Lembeh. Immerse yourself in the majesty of epic walls in the Bunaken Marine Park, the vivid reefs surrounding Bangka Island, and the world-renowned muck diving in Lembeh. With seamless boat diving transfers between resorts, you'll have no wasted transfer days, no gear drying, and no packing – just dive your way around North Sulawesi!
For more information or to secure your booking, contact us at [email protected]. We can't wait to extend a warm welcome to you at our North Sulawesi Dive Resorts. Dive into the adventure soon! Don't forget to explore Murex Resorts Rates and get ready for your Passport to Paradise, an unforgettable underwater odyssey!