Bunaken Island: An Underwater Paradise with Diverse Marine Life
Have you heard about the incredible wall diving and marine life that can be found in the Bunaken Marine Park? Bunaken Island is just one of the 5 islands that make up the park (Bunaken, Manado Tua, Montehage, Siladan and Nain). These islands are located off the east coast of the tip of mainland North Sulawesi in Indonesia. The Marine Park was one of the first Marine Protected Areas created by the Indonesian Government and in this article we take a look at the stunning diving in this region in more detail.
Highlights of Diving in Bunaken
Crystal Clear Waters
Enter the water and take a look down! Bunaken's deep blue depths offer phenomenal visibility that at times stretches to in excess of 40 meters. The excellent visibility makes this a fantastic region for beginners and those who are learning to dive as well as deep divers and technical divers too!
Bunaken's World Class Walls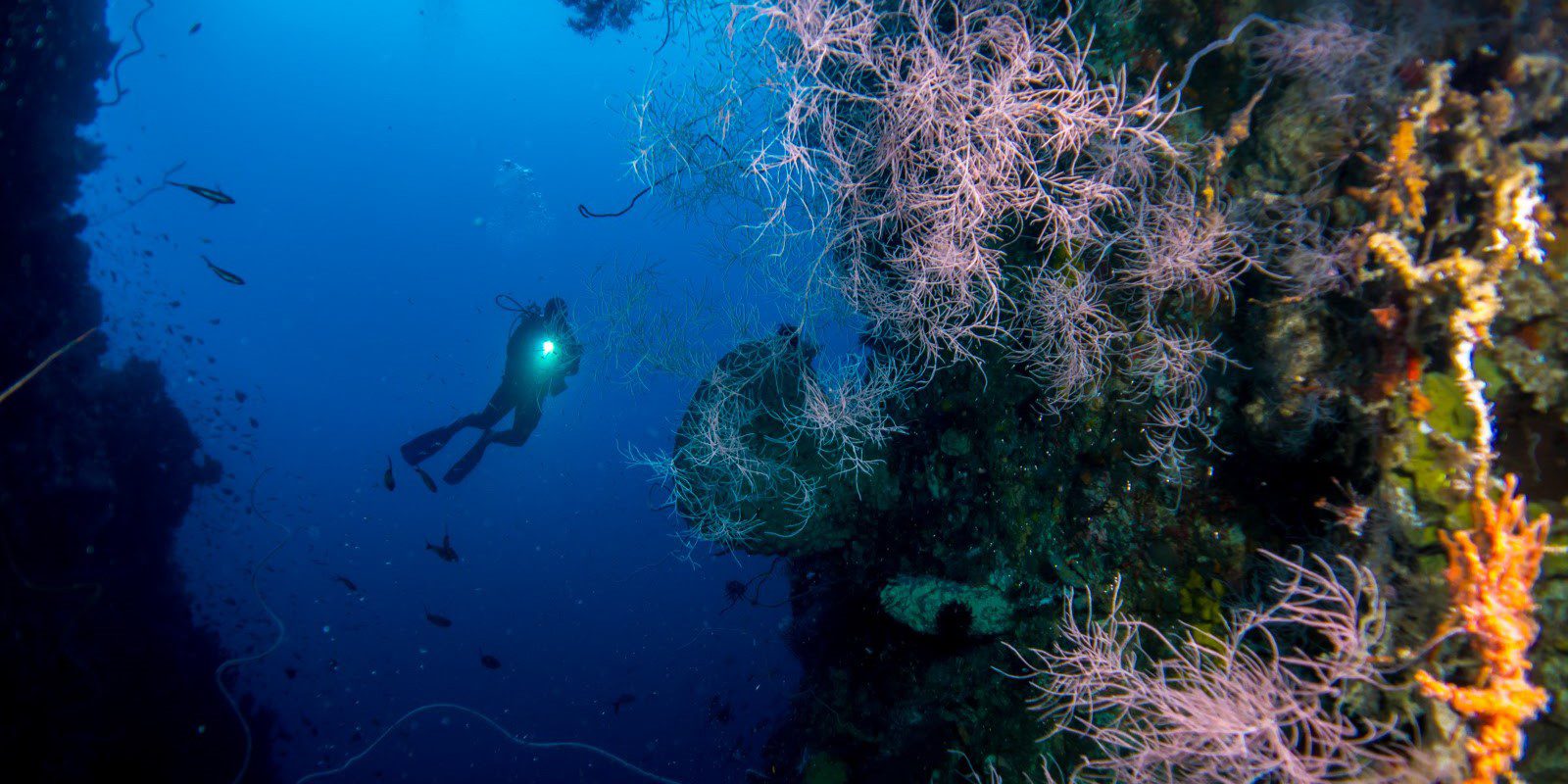 Bunaken is renowned for its world class wall diving – and the walls here are staggering! Separating Bunaken Island from mainland Sulawesi is a huge ocean trench which not only results in Bunaken's walls but also upwellings of cooler water which keeps reefs thriving and there is remarkably little coral bleaching compared to other regions in Southeast Asia. 
Dive with turtles – and lots of them!
Bunaken is home to a huge population of green sea turtles (Chelonia mydas) that continues to thrive – and grow in numbers over the years. Thanks to turtle egg protection projects that pay islanders to report eggs rather than selling them, numbers are increasing. It's not unusual to see more than 20 turtles in a single dive at Bunaken.
Once these turtles reach maturity they are huge and have very few predators, which is perhaps why they allow divers to have incredible close up encounters.
Bunaken: Critters and Macro Life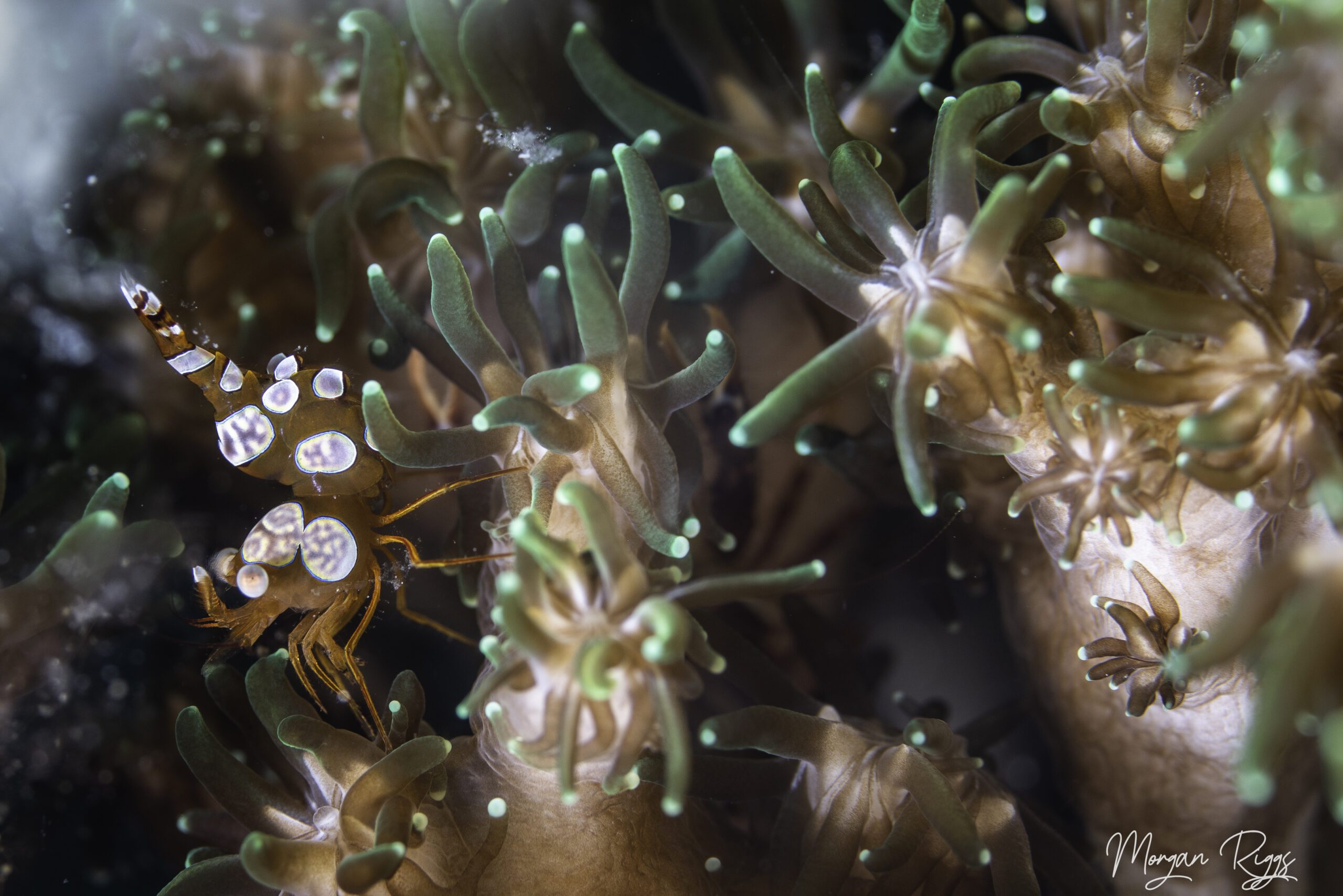 Bunaken's walls are adorned with vibrant gorgonian sea fans – the perfect place to look for pygmy seahorses! The reef tops and walls are packed with other critters and macro life. Look out for ghost pipefish, nudibranch, sexy shrimps, porcelain crabs, blind shrimps with gobies, reef octopus, squid and cuttlefish.
This is just a small selection of the critters we see every day. If you are planning to pack your macro lenses, there's plenty to see!
Other Marine Life Highlights
Some of the most special marine life moments happen before we even get in the water. Pods of dolphins love to play in the boats' wave stream and we've even had sightings of pilot whale pods and sperm whales!
While these are certainly by no means guaranteed, other possible marine life encounters include white tip reef sharks, passing spotted eagle rays, sting rays, banded sea snakes, a variety of moray eel species, Napoleon wrasse, and schools of pyramid butterflyfish and red toothed triggerfish occupying the blue.
Family Activities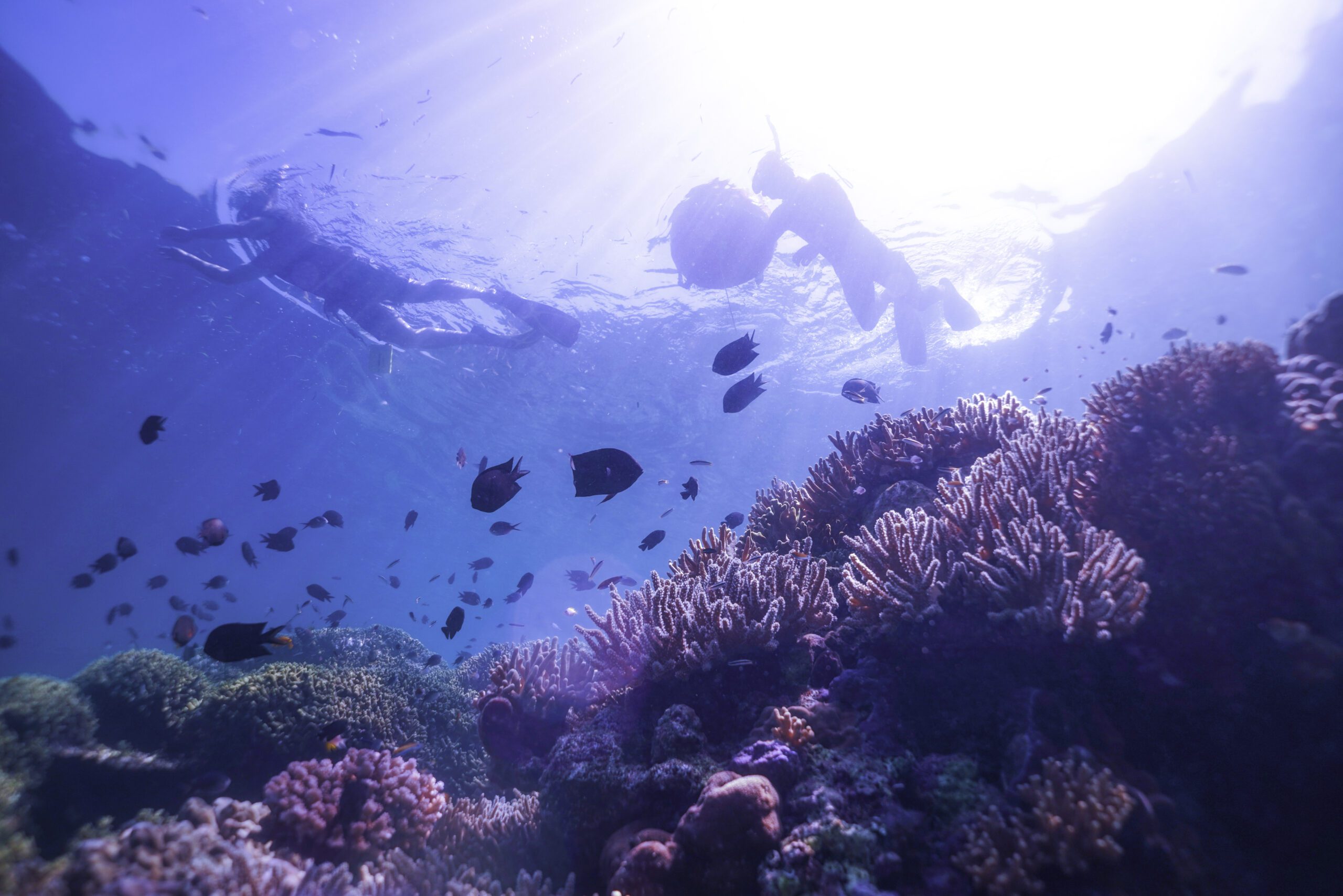 If you are planning to travel with kids there are plenty of activities to keep them active. If they are not yet divers, the snorkeling around Bunaken is exceptional. The shallow reef tops offer beautiful coral gardens and the opportunity to see an impressive array of marine life.
If your children prefer being on the water rather than in it, we have sea kayaks available which provide another way to explore the ocean and mangrove forests. If you prefer something more thrilling, ask us to arrange a white water rafting excursion for you! We also have a range of land tours available (see below) that can be enjoyed as a family.
If your children are aged 8-10 years old, they can take part in a PADI Bubblemaker program to try out scuba diving in our pool. If they are aged 10 years or more, they can try a PADI Discover Scuba Diving experience which includes a pool session and an ocean dive. If they are interested in learning to dive, children aged 10 years or more can also sign up for the PADI Open Water Course and get certified during your stay!
Land Tours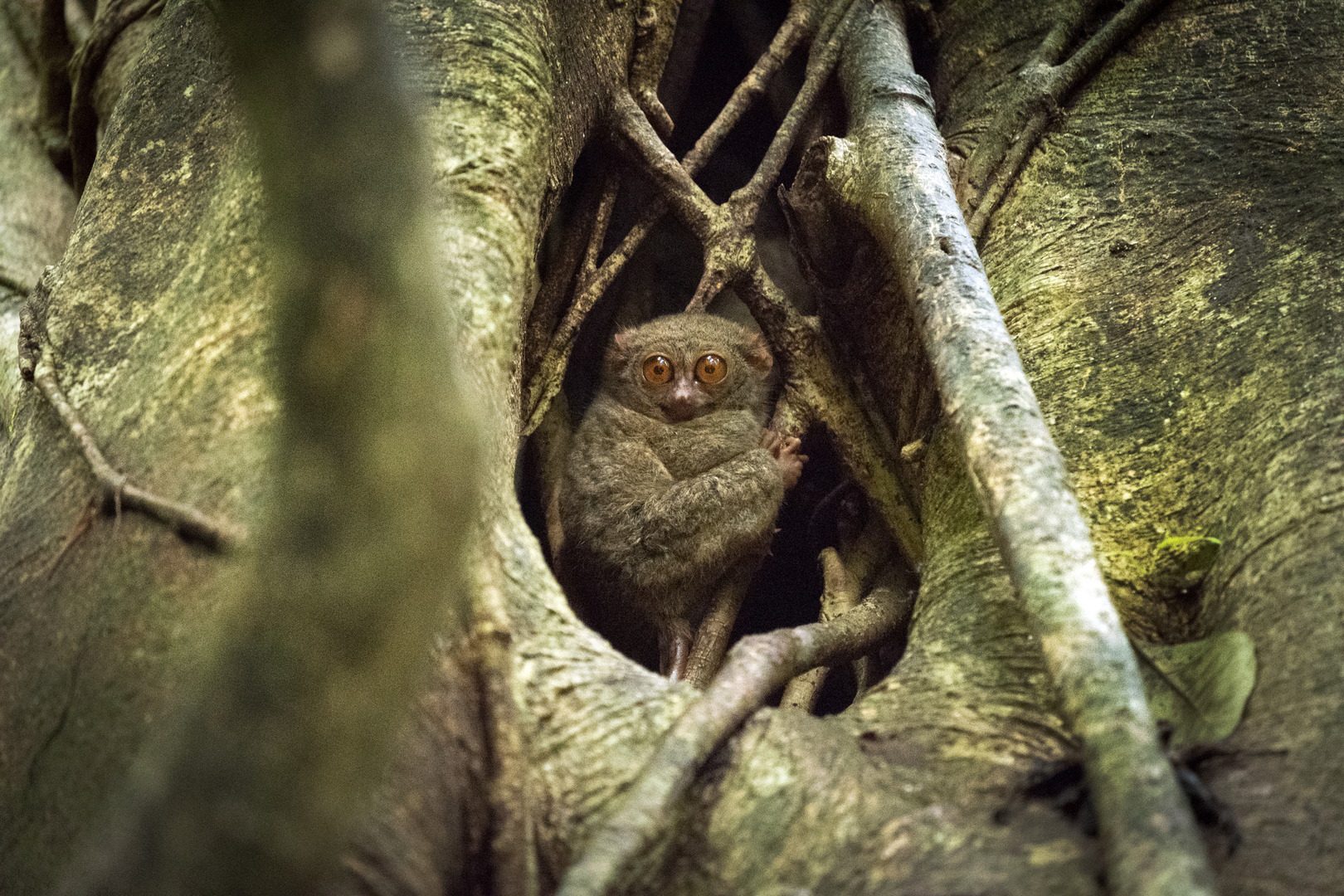 If you want to explore North Sulawesi on land you'll find stunning natural beauty, endemic wildlife species, rich history and a colorful culture. Whether you want to trek the rim of a volcano, visit geothermal hot springs, take a trip to a traditional market or discover unusual and rare wildlife in the Tangkoko Nature Reserve, our tours are all guided by English speaking guides who love to share their knowledge of our region
Our Team at Murex Manado
The people of North Sulawesi are incredibly welcoming and our team is no exception. Whatever your wants and needs during your stay, just let us know. Our team is passionate about service and ensuring that guests take home memories that will last a lifetime. If you are traveling with little ones, they are also amazing with children and will be happy to step in should you want to enjoy some "Mom and Dad time" together!
Where Is Murex Manado?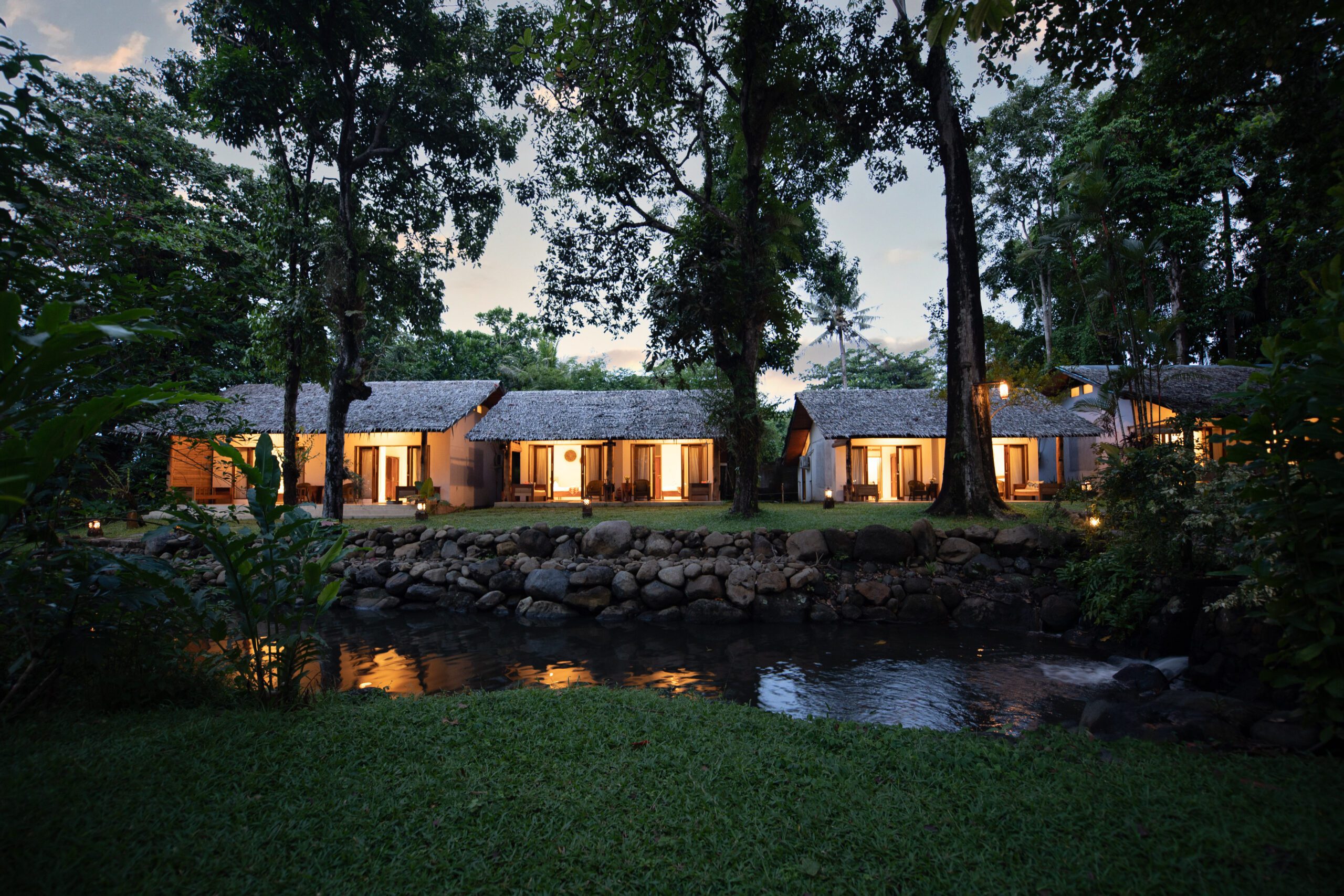 Murex Manado Resort is located around one hour by car from Manado International Airport. If you'd like to explore more than one location during your holiday it's just 1 hour 45 minutes to our Murex Bangka Island Resort.
Our flagship Passport to Paradise program allows you explore even further and stay at three distinct destinations in one trip (Bunaken -> Bangka -> Lembeh). You'll have over 150 different dive and snorkel spots to explore from Bunaken's stunning walls and Bangka's reefs through to the best muck diving in the world in the Lembeh Strait.
Stay with us!
Are you dreaming about diving the Bunaken Marine Park with us while staying at Murex Manado? Get in touch and email your enquiry to: [email protected]. We are looking forward to welcoming you to North Sulawesi soon!
Further Reading
If you enjoyed reading this article, you may also be interested in some of the following…