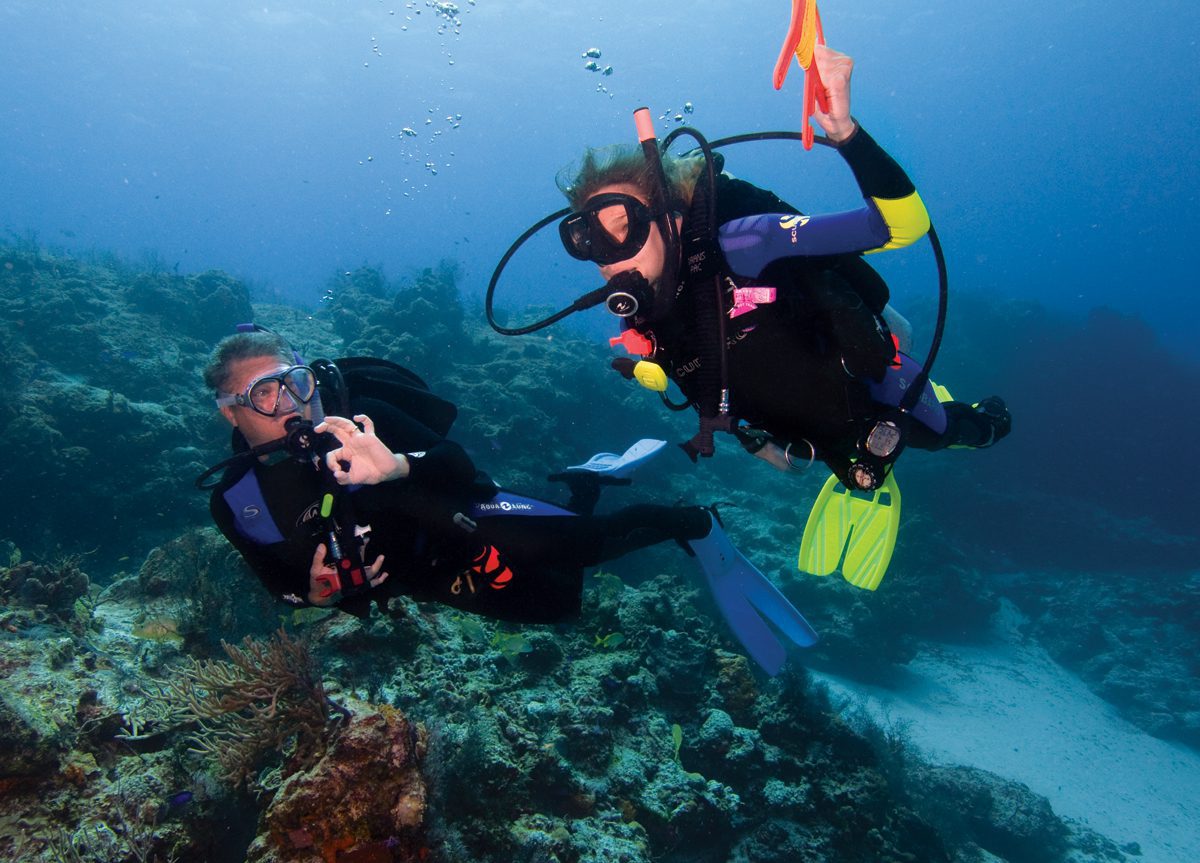 Stay Safe and Sound Underwater: Essential Scuba Diving Safety Tips
There's no denying that scuba diving comes with some inherent risks – as humans, we weren't designed to breathe underwater! In this Blog we take a look at some of the advancements in scuba diving safety as well as detailing essential tips for every diver to follow to maximise your scuba diving safety.
Scuba Diving Safety Records
When compared to other 'extreme' sports, scuba diving has an excellent safety record – and it's one that continues to go from strength to strength. However, maintaining a good safety record depends on various factors, including an individual's diver training level and quality of training, experience, equipment maintenance, environmental conditions, and a divers willingness and preparedness to follow established safety protocols.
The safety record of scuba diving has improved significantly over the years due to advancements in equipment, training standards, and increased awareness of safety practices. Diving organizations and certification agencies, such as PADI (Professional Association of Diving Instructors), who Murex is affiliated with, have established rigorous training programs and scuba diving tips guidelines to ensure safe diving practices.
Diver Safety at Murex Resorts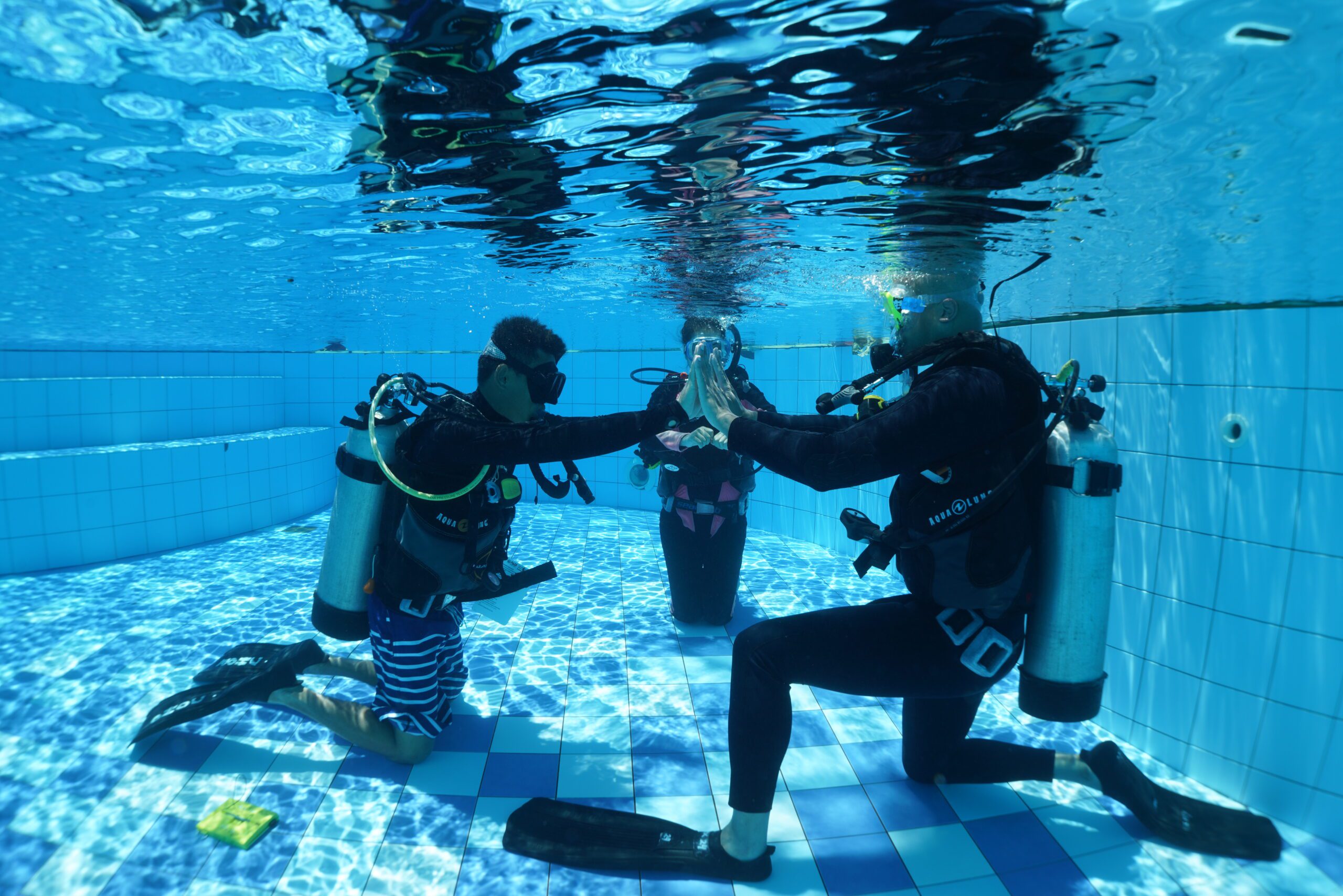 All courses taught at Murex Resorts follow PADI's strict standards and all divers completing PADI courses with us are trained in all aspects of dive safety.
Our team of Dive Guides follow not only PADI Guidelines but also (and additionally) our own safety protocols which relate directly to our boats, equipment, dive sites, and diving conditions here in North Sulawesi.
To ensure that we maintain our own high standards of safety, all members of our teams (dive crew, resort team, and office staff) undergo annual rescue, first aid, and CPR training. 
10 Scuba Diving Tips for Safety
As scuba divers, we are all aware of the potential hazards of scuba diving, but all divers can take simple steps to minimize risk and enhance their own personal safety. Here are our top 10 scuba diving tips to increase your own level of personal safety when going underwater:
1. Train with the best
At Murex Resorts we have chosen to affiliate with PADI – the world's leading scuba diving training agency. PADI certifies more divers a year than any other organisation and they are a driving force behind improving divers safety. All of our PADI Instructors follow PADI Standards to ensure that you receive fully comprehensive training – regardless of the certification level you are taking. PADI has also awarded us with PADI 5 Star Dive Resort status!!
2. More fun with friends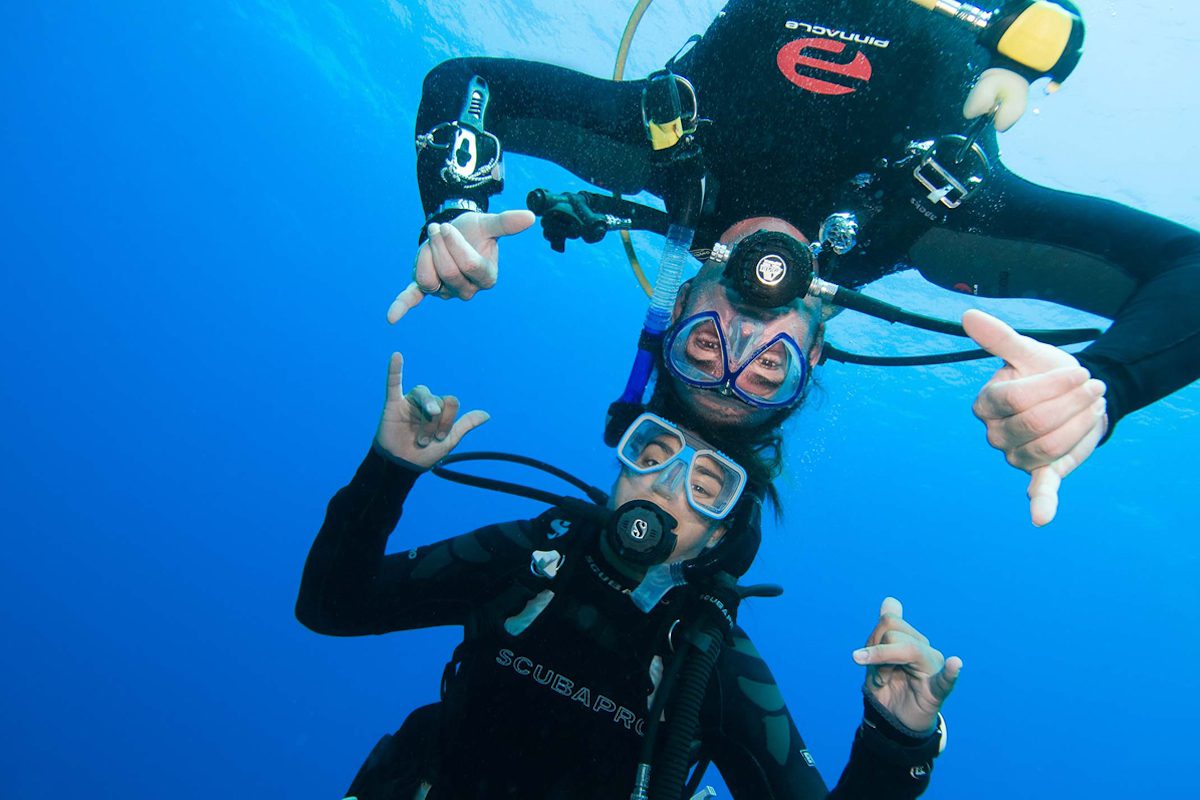 This is often referred to as the number one rule in scuba diving – always dive with a buddy and never dive alone. Diving with a buddy massively increases the chances of a positive outcome in the event of a diving accident underwater as you have an alternate air source available – your buddy's. Diving is also a lot more fun when diving in pairs or groups.
Traveling solo? Not a problem, at Murex Resorts we pair up solo travelers with other divers who are also in need of a buddy, or we will buddy you with one of our incredible dive guides!
3. Plan your dive and dive your plan
Remember the rule of the 5 P's? Proper Preparation Prevents Poor Performance? This golden rule applies to diving too. Prepare for your dives by making a dive plan, be sure that you and your buddy are familiar and comfortable with the plan, and then execute it – as planned. Some key elements to include in your plan include the maximum intended depth, the dive duration according to time and tank pressure, and any decompression limits. 
4. BWRAF (Predive safety check)
BWRAF is the acronym suggested by PADI for performing your predive safety checks you're your buddy. BWRAF refers to:
B

CD: Check that your buddy's BCD inflates and deflates

W

eights: Check that your buddy is wearing a weight belt or that any integrated weight pockets are secure and that you know how to release your buddy's weights in an emergency.

R

eleases: Check that your buddy's BCD is secure, all clips are fastened, and the tank band is also secure. 

A

ir: Take some test breaths from your buddy's regulator and alternate air source – while watching the needle on the pressure gauge to ensure that it does not fluctuate. Make sure that your buddy's tank valve is fully open (and turned back half a turn).

F

inal okay: Check that your buddy has any accessories required, for example, a pointer stick, surface marker buoy, slate etc. Make sure that all gauges and hoses are tucked away and not dangling.
Do you have trouble remembering the order of 'BWRAF'? Try using one of these mnemonics to help – Breakfast with Rice And Fish, Big Whales Really are Fast, Begin With Review and Friend, or how about, Breathing Water Really Ain't Fun?!
5. Ascend slowly and make a safety stop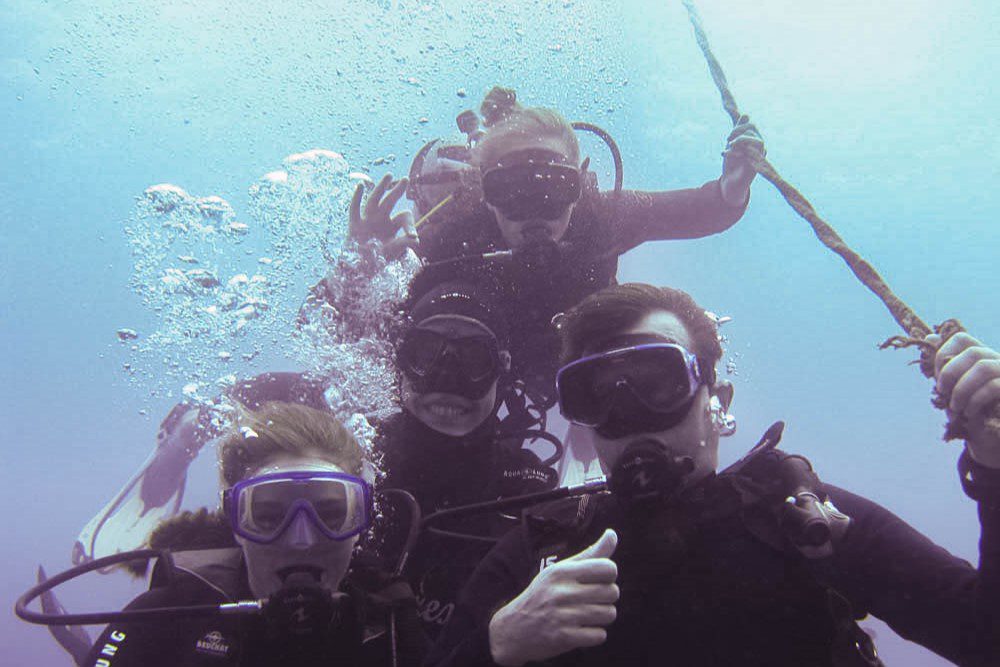 Did you know that the maximum recommended rate of ascent is 9 meters (30 feet) per minute? Ascend slowly, and as a rule of thumb, do not ascend faster than your bubbles. By following these guidelines you allow your body to off-gas and avoid decompression sickness. Make a safety stop for 3 minutes at 5 meters at the end of every dive – or longer, if indicated by your dive computer. If you have over reached your limits, make a safety stop for 15 minutes at 5 meters, or for as long as your air supply will allow.
6. Maintain proper buoyancy
We've all had struggles with buoyancy and it's undeniable that achieving neutral buoyancy leads to more comfortable dives – but it's also essential to safety. Uncontrollable descents and ascents can lead to overstaying your decompression limits, panic attacks, decompression sickness, and even boat related injuries.
7. Communication is key
Before making your dive, agree with your buddy / Dive Guide how you will communicate underwater and review hand signals together. Make sure you include communication in your dive planning as well as how to handle a lost buddy situation – ideally, look around for one minute and if you have not located your buddy head to the surface to be reunited. 
8. Check, check and check again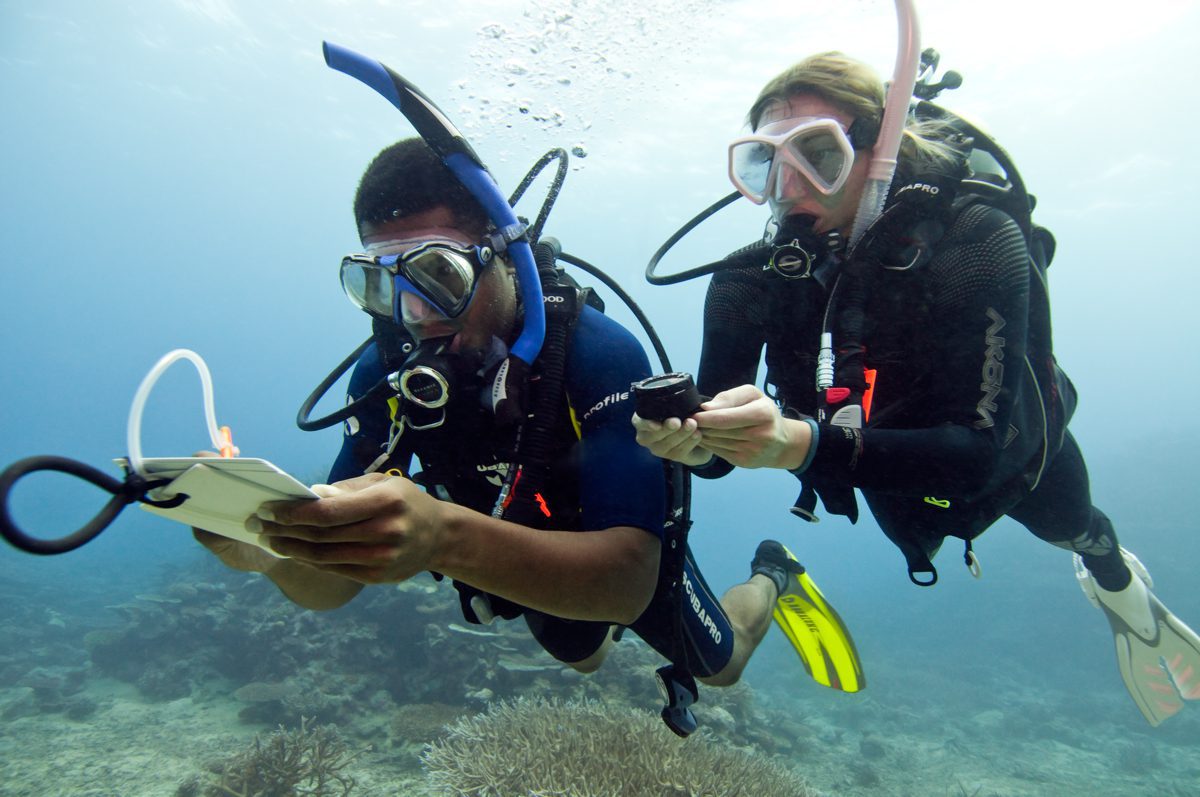 Remember to monitor your air supply throughout your dive and communicate it to your buddy and dive guide. Aim to make your safety stop with 50 bar / 750 psi remaining in your tank, and never push the limits of your air supply.
At Murex Resorts our dive guides will regularly check in with you, remind you to check your gauges, and ask your tank pressure.
9. Maintain personal fitness and wellbeing
Maintaining your own personal fitness increases your safety and your enjoyment. It's important to ensure that you are well hydrated and properly rested. Dehydration can be a significant factor in decompression sickness – especially when diving in the tropics. 
10. Know your limits
It can be easy to get carried away in a moment, but being aware of your limits – and staying within them is essential for safe diving.
Consider your depth level in accordance with your certification and confidence level. If you are planning to try a new type of diving such as drift or wreck diving, do so under the supervision of an Instructor. You may also want to consider your tolerance to cooler environments, the water temperature, and your choice of wet or dry suit. 
Finally, once your dive is underway, if you feel overwhelmed, be prepared to end your dive early – there is no shame in acknowledging your limits.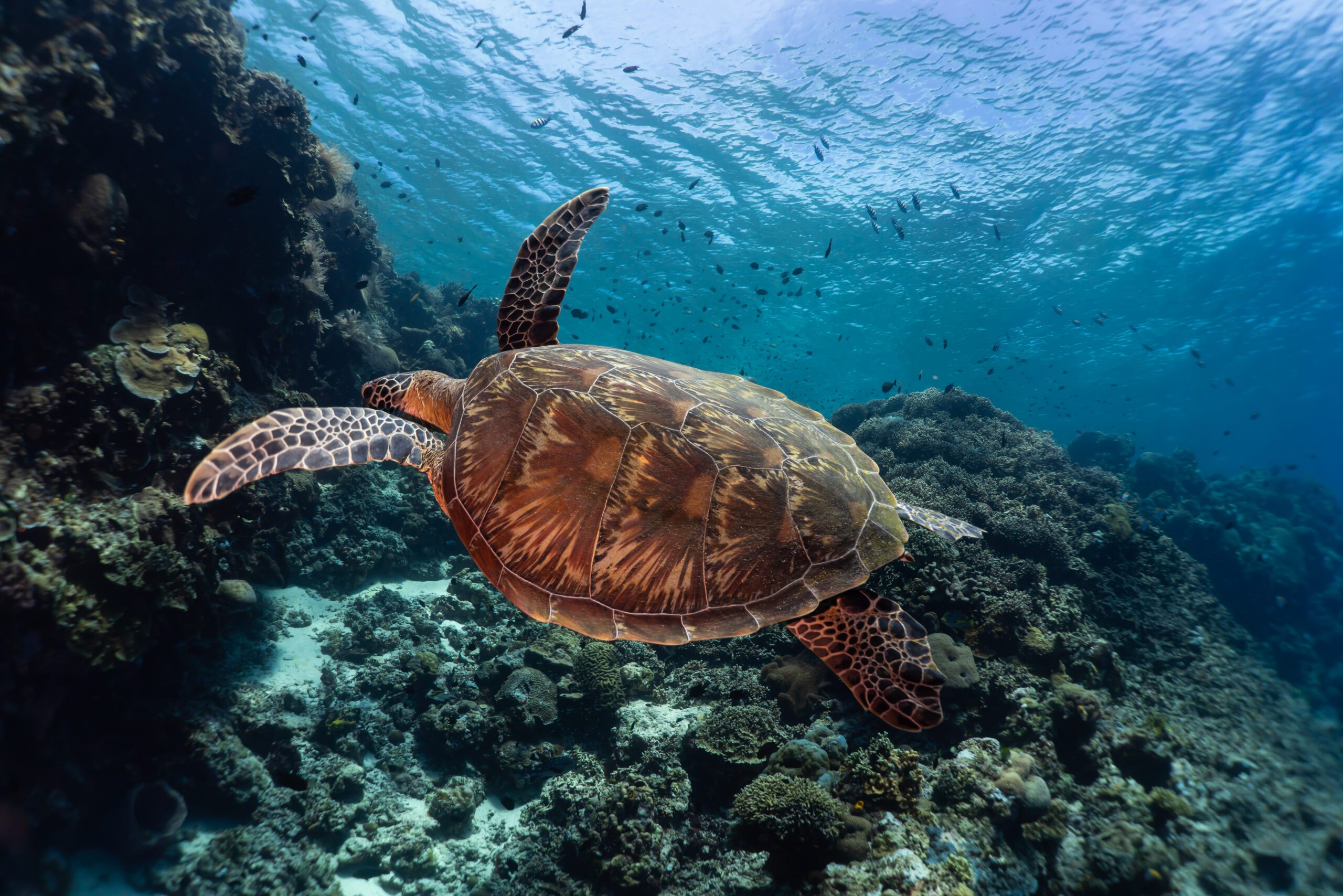 If you are planning your next vacation, keep these scuba diving tips in mind and while at it, why not join us to take your next level of PADI course and develop your dive skills (and safety) even further? Or join us for a combination stay and explore both of our resorts, Murex Manado and Murex Bangka, here in North Sulawesi. Our boat transfers from resort to resort include two dives on route so you don't miss out on valuable time underwater while transferring.
For details or reservations, please contact us at [email protected]. We're looking forward to welcoming you to our North Sulawesi resorts for an unforgettable adventure.
Explore our Murex Resort rates and dive packages, including the Passport to Paradise trip. Reserve your spot today and get ready to dive into the beauty of North Sulawesi!
FURTHER READING
If you enjoyed reading this diver safety Blog, you may also enjoy: