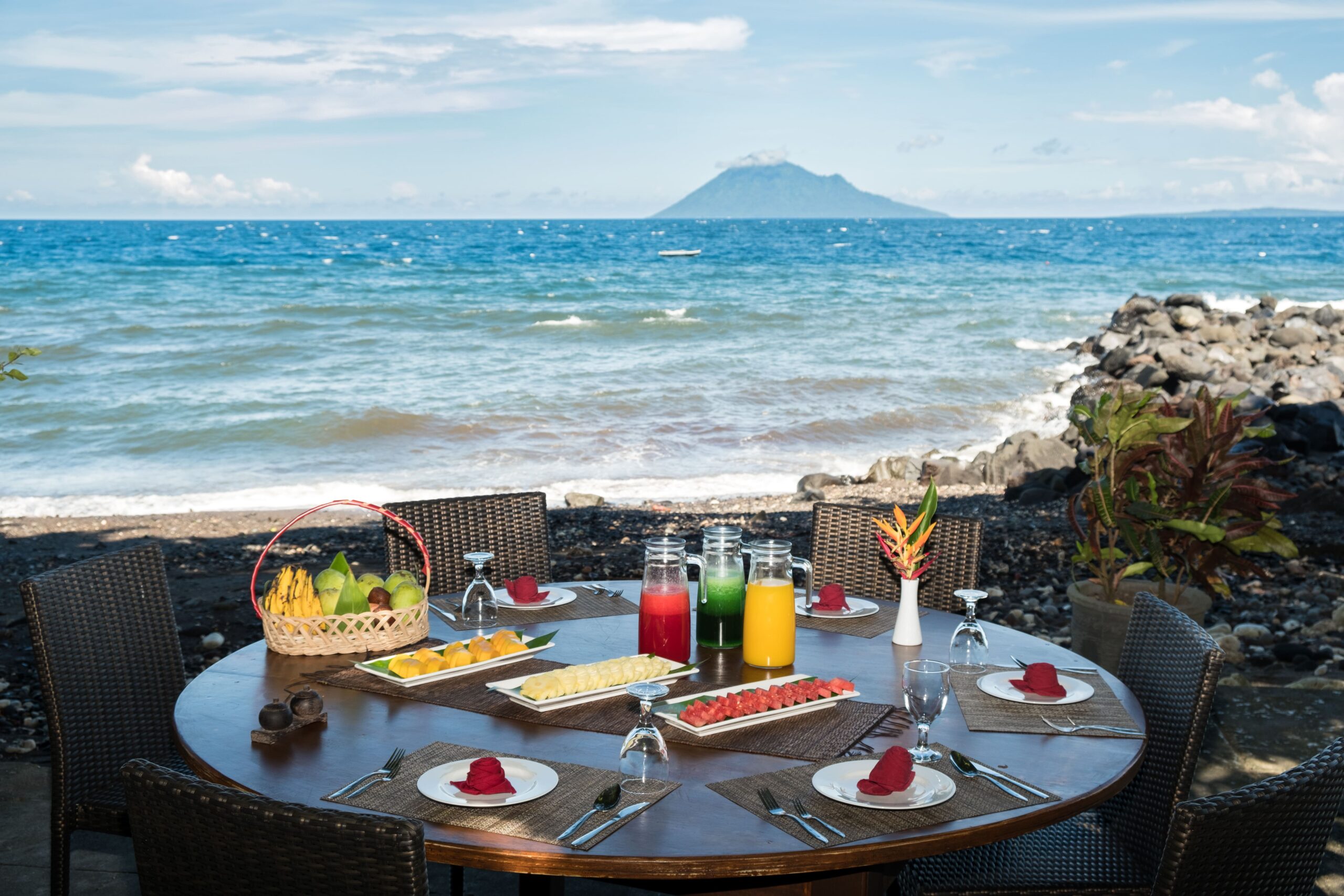 Indonesian Cuisine and Cooking
The Spice of Indonesia
With over 17,000 islands in the Indonesian Archipelago it is hardly surprising that Indonesian cuisine offers such a broad range of flavors. The fertile lands of North Sulawesi offer ideal growing conditions for many aromats such as lemon grass, ginger, a variety of chili peppers, cloves, turmeric, cinnamon, kaffir lime, peppercorns, coriander and basil to name but a few.
This array of rich and colorful spices is used in many dishes to create a depth of flavor rather than heat. The spice factor in Indonesian dishes comes from condiments, mainly "sambals", which are served alongside. If you like it hot then a good helping of sambal will certainly meet your needs!
Cooking techniques in Indonesia have not changed in hundreds of years and you'll still find people (including our staff) grilling traditional satay sticks over the embers of burning coconut husks – it can get a little smoky but the flavors are delicious.
If you have a sweet tooth then you'll love Indonesian desserts which range from cakes and donuts to vivid green pandan pancakes stuffed with shredded coconut marinated in sticky sweet palm sugar. One is never enough!
Indonesian Tropical Fruits
A holiday to the tropics wouldn't be complete without tropical fruits and there is no shortage of choice in North Sulawesi. Fresh pineapple, watermelon, mangos, rambutan (a close relative to the lychee), papaya, mangosteens and dragon fruit are all grown locally in the highlands and are served at Murex after lunch and used to make freshly squeezed juice at breakfast. Why not kick back, relax on the sea front and enjoy the sunset with a fresh juice cocktail?
Creating Flavors at Murex
If you're a foodie and you'd like to learn more about Indonesian cooking, ingredients and techniques we also offer cooking classes. Learn from our team of chefs at either Murex Bangka or Murex Manado, how they use locally sourced herbs and spices to develop incredible Indonesian flavors. Many of their recipes are traditional family "secrets" which have been passed down through generations. Learn how to make your favorite Indonesian dish and take a piece of North Sulawesi home with you.
Booking a cooking class can be done in advance or when you are here in resort but please note we will need 24 hours notice to prepare ingredients. [email protected]
We are looking forward to welcoming you to Murex Resorts soon.