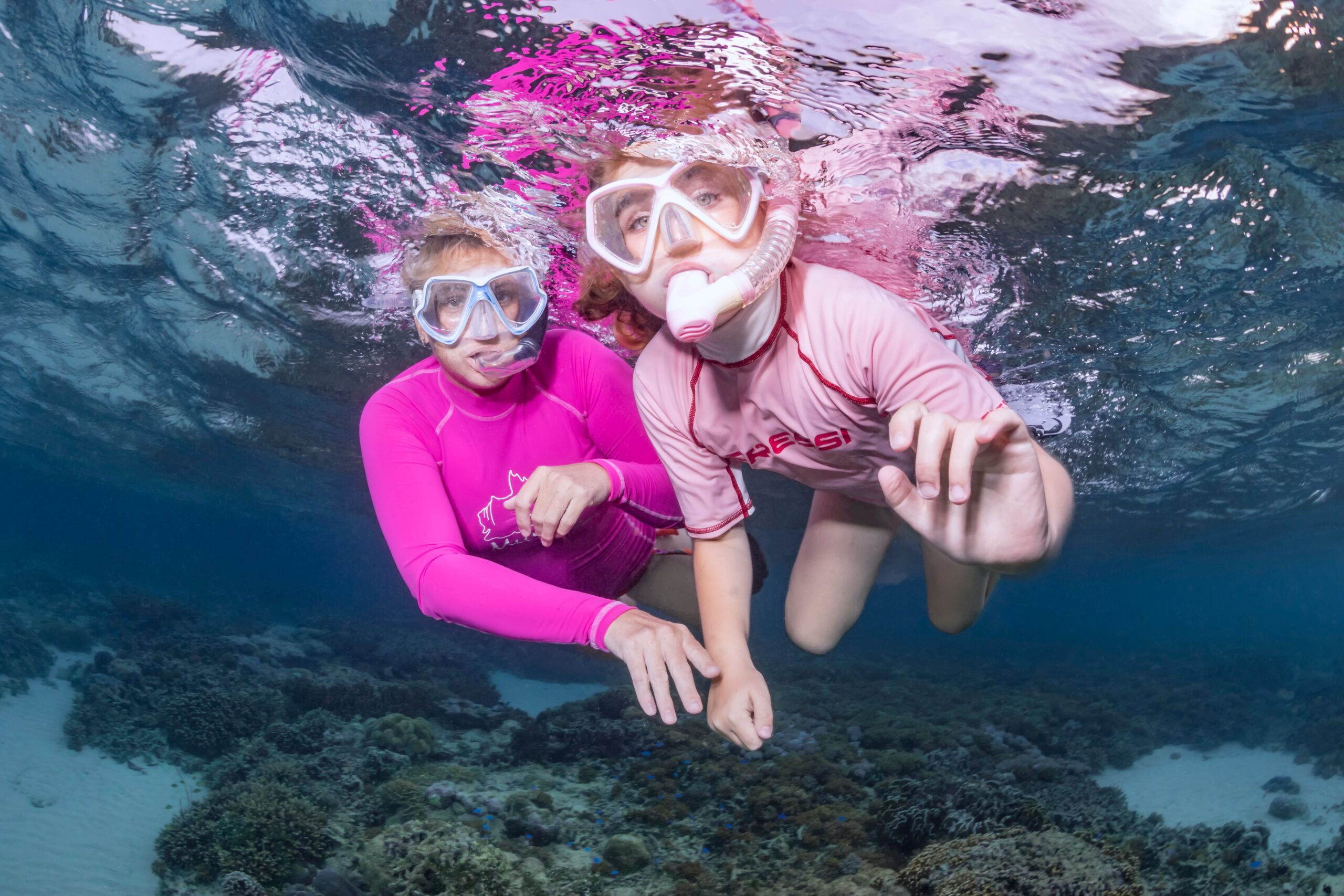 10 BEST SITES FOR SNORKELING IN NORTH SULAWESI
North Sulawesi is a snorkeler's paradise with extreme marine biodiversity, stunning coral reefs, warm water, and excellent year-round visibility.
Some of the best snorkeling sites are found in the Manado Bay area, Bunaken Marine Park, and around Bangka Island. In this Blog, we take a look at the best sites for snorkelers in each of these phenomenal regions of North Sulawesi.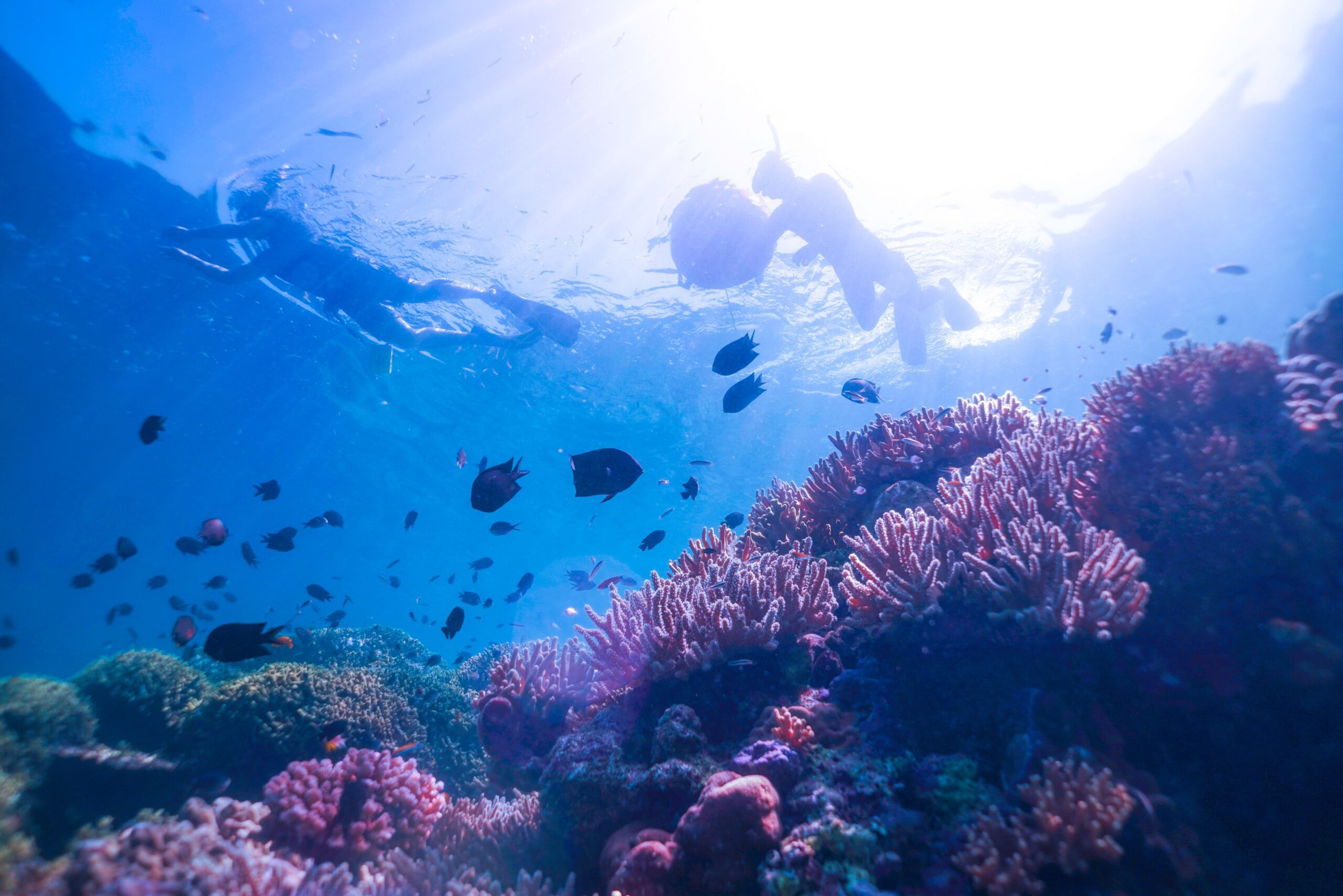 SNORKELING MANADO BAY
Although best known for its dive sites, Manado Bay is an excellent area for snorkelers who are interested in some of the region's more interesting critters.
A mixture of healthy coral reefs and both black and white sand slopes are home to some of Indonesia's most unique marine species including octopus, cuttlefish, ribbon eels, numerous crustaceans, colorful nudibranch, and look out for schools of batfish. Manado Bay offers relaxing snorkeling conditions close to the resort and you never know what you are going to see next!
#1 SNORKELING MUREX HOUSE REEF
We are extremely fortunate that the Murex House Reef is just a step off our beach in front of the resort – and it's an amazing spot for snorkeling. The shallow reef offers huge table corals, anemones, brain corals, and a selection of bommies – all of which attract a lot of fish.
The House Reef offers generally easy conditions and it is suitable for all levels including kids – who will love the brightly colored clownfish!
Night snorkeling is especially interesting on the House Reef and common sightings include Spanish dancers, octopuses, and a host of crustaceans.
#2 TANJUNG PAPAYA
Tanjung Papaya is a muck snorkeling site (a mixture of sand, coral rubble, and a living reef). It's rich in critters of all shapes and colors but also corals, sponges, and fish.
At between 3 and 6 meters (easily seen by snorkelers) there is a huge rich patch of Euphyllia coral that attracts fish-like metal to a magnet.
#3 TANJUNG KELAPA
The most southerly of our North Sulawesi snorkeling sites located at the far end of Manado Bay, Tanjung Kelapa offers bright corals and an abundance of fish. A fish count here even recorded the 2nd highest number of different species in one dive in Indonesia!
You find stunning staghorn corals with schools of jewel-like damselfish moving together as one.
SNORKELING AT BUNAKEN MARINE PARK
The world-famous Bunaken Marine Park is just a 25-minute boat ride from Murex Manado. For snorkelers, the shallow-water coral gardens offer an explosion of color and the steep coral walls that descend into the blue are simply mesmerizing. Bunaken is also one region where snorkelers are able to see huge green sea turtles as they laze in the shallows. Look out for schooling butterflyfish, moray eels, clownfish and anemones, lionfish, and stingrays on the sandy patches. Resident dolphins and pilot whale pods often swim alongside the boat, and there are the occasional dugong and seasonal sperm whale sightings.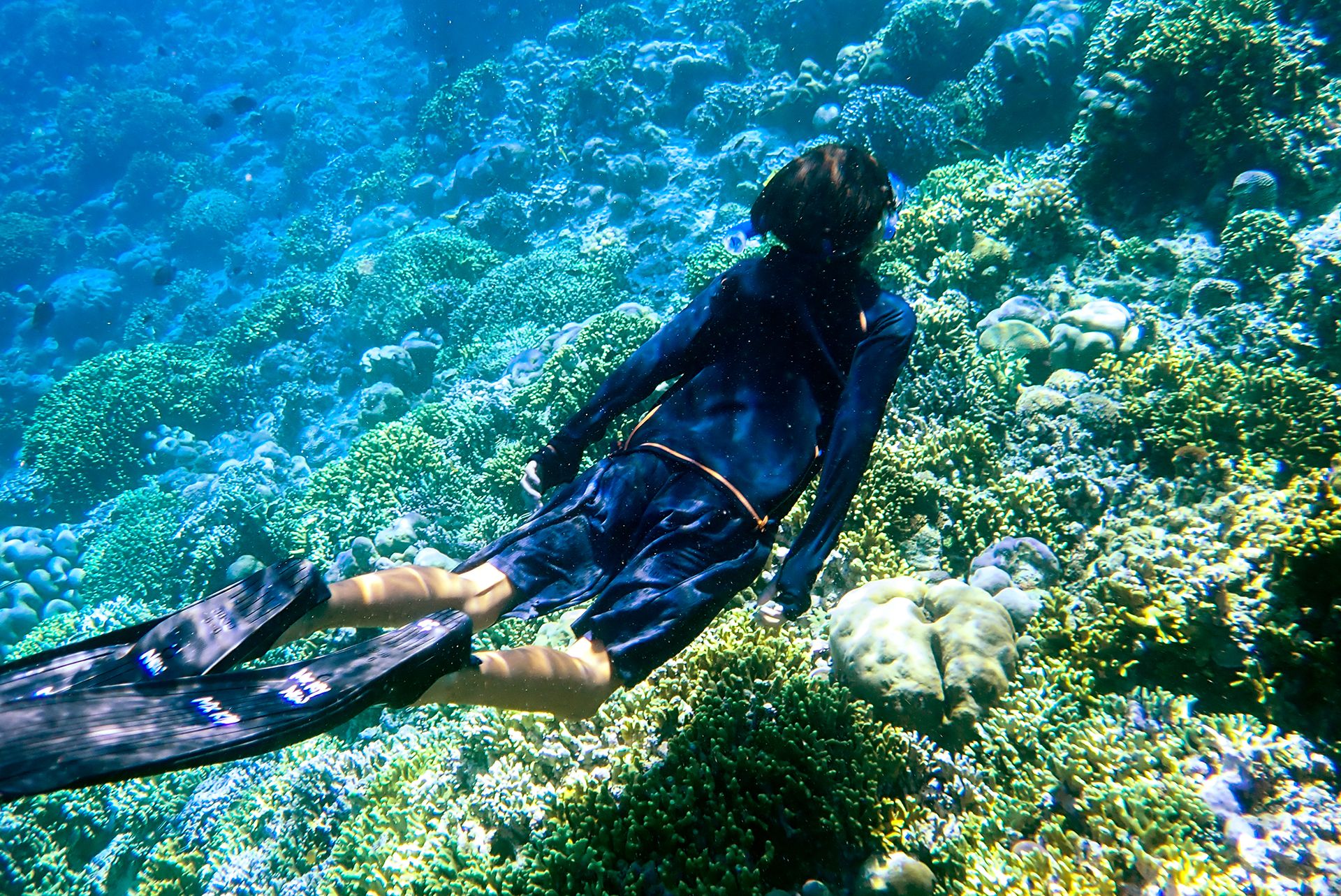 #1 LEKUAN 1, 2 AND 3
Lekuan dive sites are the most famous dive sites in Bunaken Marine Park. These huge walls are topped by shallow-water coral gardens which are bursting with color and teeming with fish. You will find swarms of pyramid butterfly fish and huge turtles swimming past in the blue. Other highlights include colorful hard corals, barrel sponges, and soft corals.
#2 SACHIKO'S – BUNAKEN ISLAND
Sachiko's Point is a beautiful area on the north side of Bunaken Island. It is covered with gorgonian sea fans and we often spot barracudas, jacks, and Napoleon wrasses in the blue water. The reef shallows are perfect for snorkellers and a group of bump-head parrotfish is often seen feeding on the hard corals.
#3 SILADEN
The tiny circular island of Siladen is surrounded by shallow coral gardens and gently sloping reefs which are awash with color and teeming with marine life. Turtle sightings here are extremely common and the resident green turtles are known to lay their eggs on Siladen's beaches. Look out for parrotfish, numerous species of angelfish, clownfish, damselfish, batfish, and elegant Moorish idols.
SNORKELING BANGKA ISLAND
Bangka Island is surrounded by kaleidoscopic soft coral reefs which are teeming with life and bursting with color. Snorkeling sites around Bangka are like heaven on earth and you'll see a multitude of marine species as you discover this incredible underwater world.
Our professional snorkel guides will accompany you over some of South East Asia's most stunning coral gardens and point out some of the rare and unusual marine life that we see on a daily basis. They will ensure that you see the best reefs this region has to offer and you'll be mesmerized by the abundance of fish that surround you.
Snorkeling the reefs of Bangka is an unforgettable experience. Whether you are visiting with friends, and family, or on your own, you'll be creating memories that last a lifetime.
#1 SNORKELING MUREX BANGKA HOUSE REEF
We know how freeing it is to know that you can snorkel whenever you want for as long or a shorter time as you want – and that's why we love our House Reef. Just step off the beach whenever the urge takes you and immerse yourself in a world of color! The huge field of staghorn coral occupies the entire inner lagoon before meeting the ridge of the reef where it finally drops away to deeper water. Among the staghorn, you'll also find bright white sandy patches and sporadic bommies.  If you like hunting for critters you'll find blue ribbon eels, mantis shrimps, cuttlefish, and blue-spotted stingrays.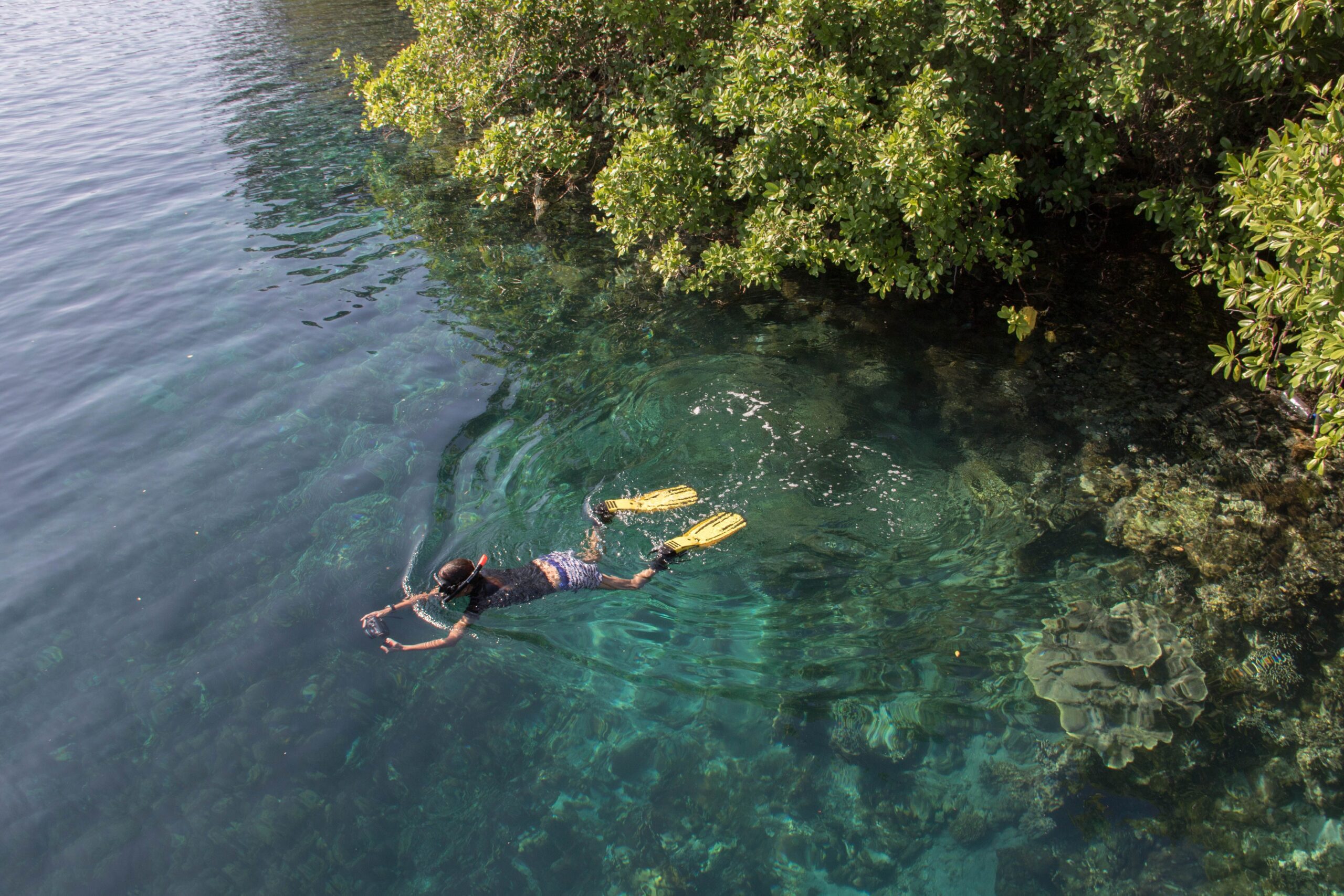 #2 SAHAUNG
Snorkel around these staggering rock pinnacles and you'll see huge table corals, kaleidoscopic soft corals, diverse reef life, and schooling yellow snapper, and look out for white tip reef sharks cruising the reef in Sahaung.
#3 PETER'S SPONGE
This is one of our favorite spots for the chance of a dugong sighting. Dugongs are known to frequent here and rest in the shallows. This white sand slope is punctuated by small coral bommies which are home to schools of glassfish and frogfish looking for an easy lunch. This is also a great spot for swimming around in the shallows and looking out for stingrays on the sand.
#4 BATU MANDI
This site is located across the water from Murex Bangka Resort on the northern tip of the Sulawesi mainland. The site is in front of a stunning white sand beach that you can also swim to and we often stop here to enjoy lunch or refreshments! Snorkeling here reveals an abundance of hard and soft corals and numerous reef fish including small schools. Ask us about our options to bring our sea kayaks on board the board too. They are a great way to explore between snorkeling and for those who want to join but prefer to stay above the water.
ARE YOU READY TO BOOK YOUR NEXT SNORKELING ADVENTURE IN NORTH SULAWESI? 
Our commitment to environmental sustainability is paramount. We actively reduce single-use plastic and drive ongoing green initiatives. In addition to our Dive Guides collecting submerged plastic, we regularly clean our shoreline. Youth groups join us, learning about plastic hazards. To keep plastics out of the ocean, we cleanse the resort-flowing river. Collaborating with a local temple, we rescue and release sea turtles from our beach. Explore our house reef, adorned with artificial structures, and nearby, a vibrant coral farm thrives.
Learn about Murex rates and the exclusive "Passport to Paradise" package on our website. Ready to make a positive impact? Reserve your spot now and be part of our sustainable journey toward a cleaner environment.