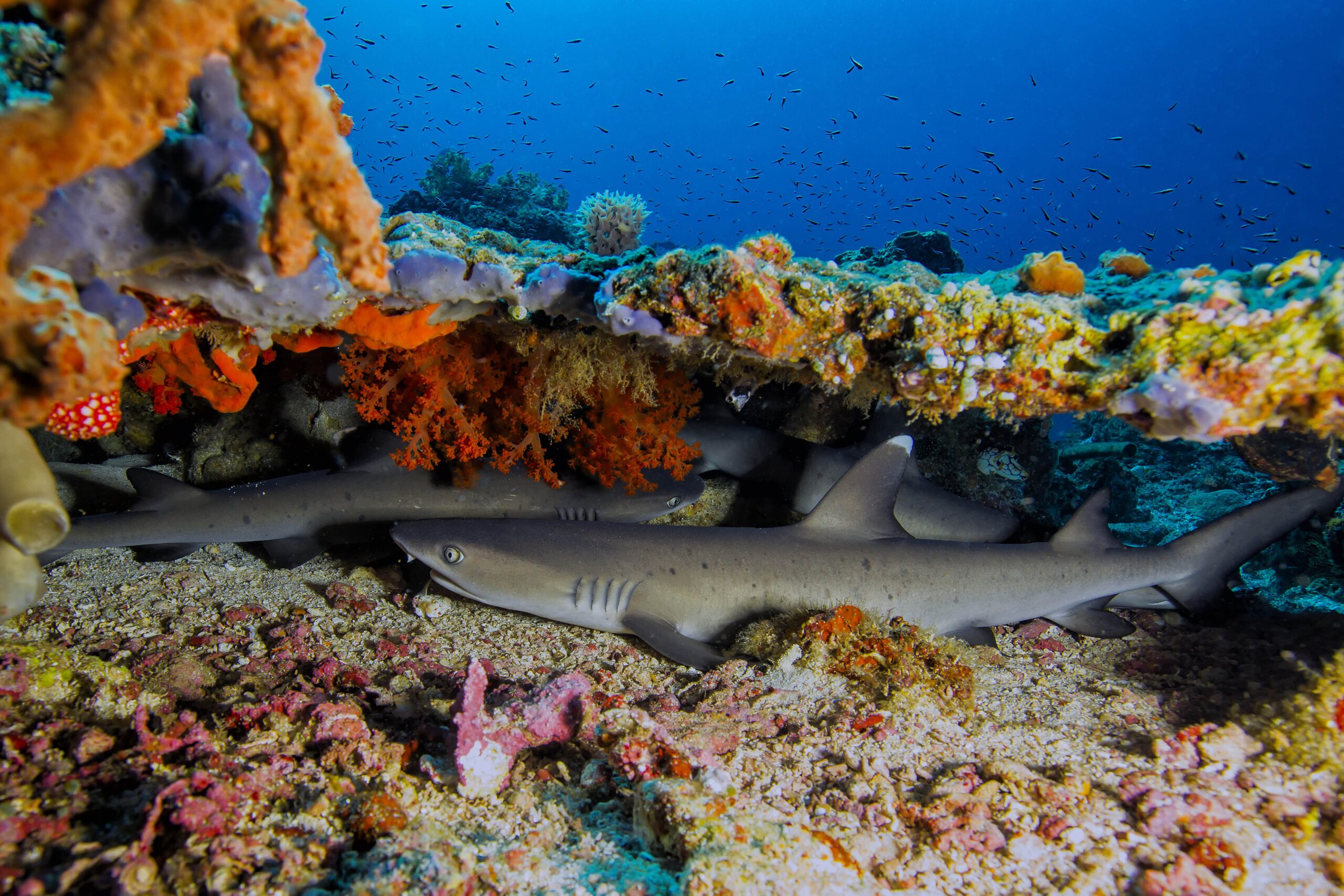 The 5 Top Spots to Dive in Bangka
If you are planning your next dive trip and are searching for world class coral reefs, impressive marine life, and a tropical island resort, then look no further than Murex Bangka Resort in North Sulawesi!
Bangka Diving Conditions
Diving around Bangka Island offers something for all experience levels from beginners to seasoned professionals, there is no shortage of dive sites. 
Sites are located along the coast of Bangka Island, the North Sulawesi mainland, and there are a number of sites around Gangga Island. Dive sites are incredibly diverse and range in both topography and conditions. Bangka diving sites are a mixture of sloping reefs, open sea pinnacles and sea mounts which make for some great drift diving. 
Around Bangka Island, the sites are awash with color and there is the opportunity to see larger marine life and pelagics including white tip reef sharks, schooling snappers and even dugongs! The sites that are located along the coastline of mainland North Sulawesi offer more protected conditions and include secluded coves with white sand beaches. You'll find a wealth of critters at these sites as well as underwater thermal hot springs. 
The most commonly spotted species on Bangka diving spots include resident dugongs, dolphins and pilot whales, several species of pygmy seahorse, harlequin and tiger shrimps, blue-ring, mimic, reef and wunderpus octopus, ghost pipefish, Ambon scorpionfish, frogfishes, turtles, reef sharks, eagle rays, tuna, great barracuda, schooling fish including snappers, fusiliers, cardinals, and mackerel.
Coming up are 5 of our favorite spots to dive when staying at Murex Bangka…
1. Murex Bangka House Reef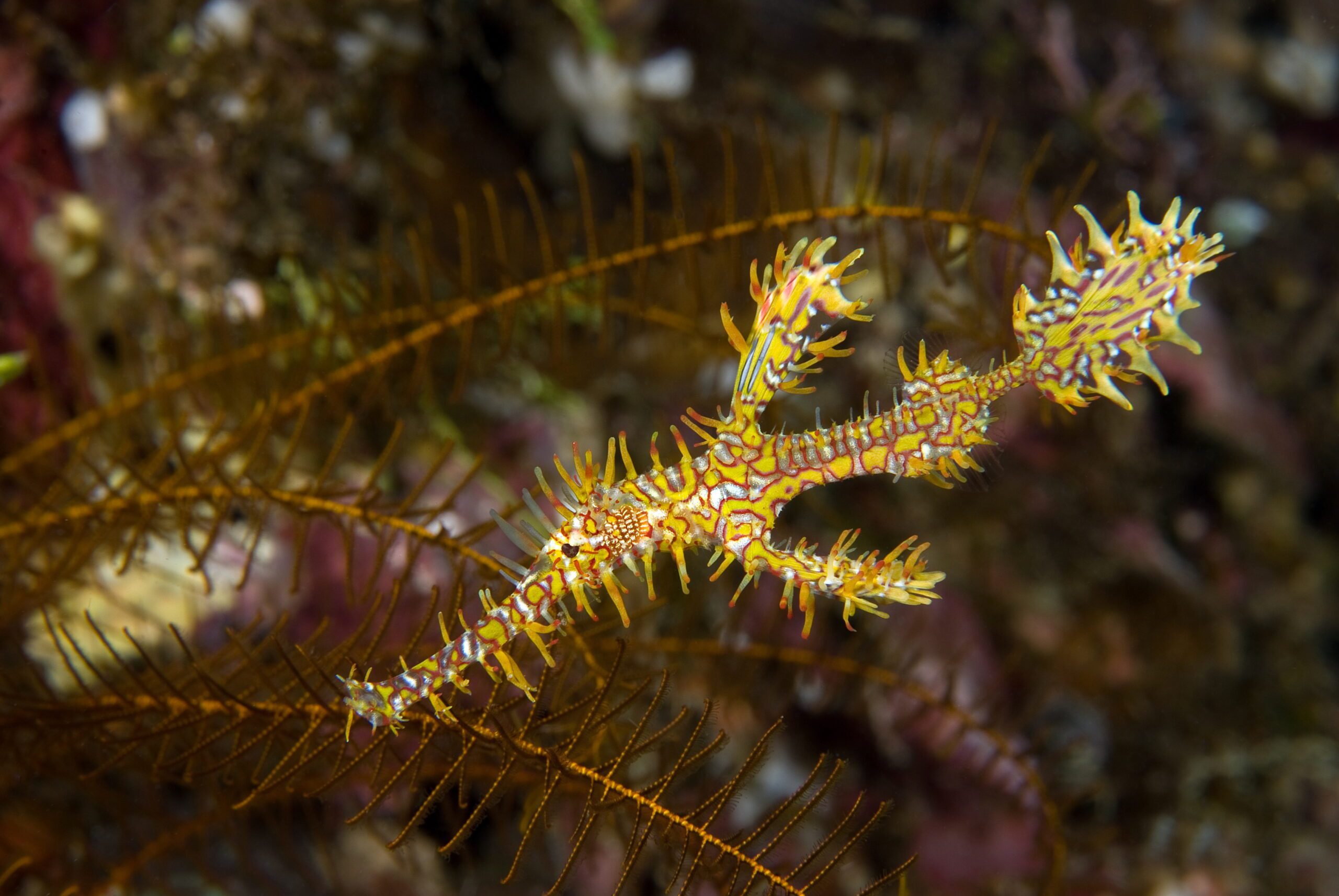 Now, we may be slightly biased, but our very own Murex Bangka House Reef is one of our favorites! The House Reef is literally just a step off the white sand beach and you'll immediately be amazed by the bright colors, wealth of coral and the sheer abundance of marine life found so close to the shore. 
The shallow water staghorn corals gently give way to this sloping reef site that descends down to around 25 meters where it gives way to a white sand bottom. As you swim along the slope there is a healthy and vibrant mix of hard and soft corals, bommies and sand patches (look out for blue spotted stingrays). If you enjoy looking for critters, or are a macro underwater photographer, there are plenty of subjects to look out for. Common sightings here include ribbon eels, mantis shrimps, moray eels, reef octopus, broadclub cuttlefish, and from time to time we also spot ghost pipefish and frogfishes.
The House Reef can have current so we time our dives with the tides to ensure an easy dive that's suitable for all levels. This is also one of our favorite spots for night diving and snorkeling!
2. Batu Goso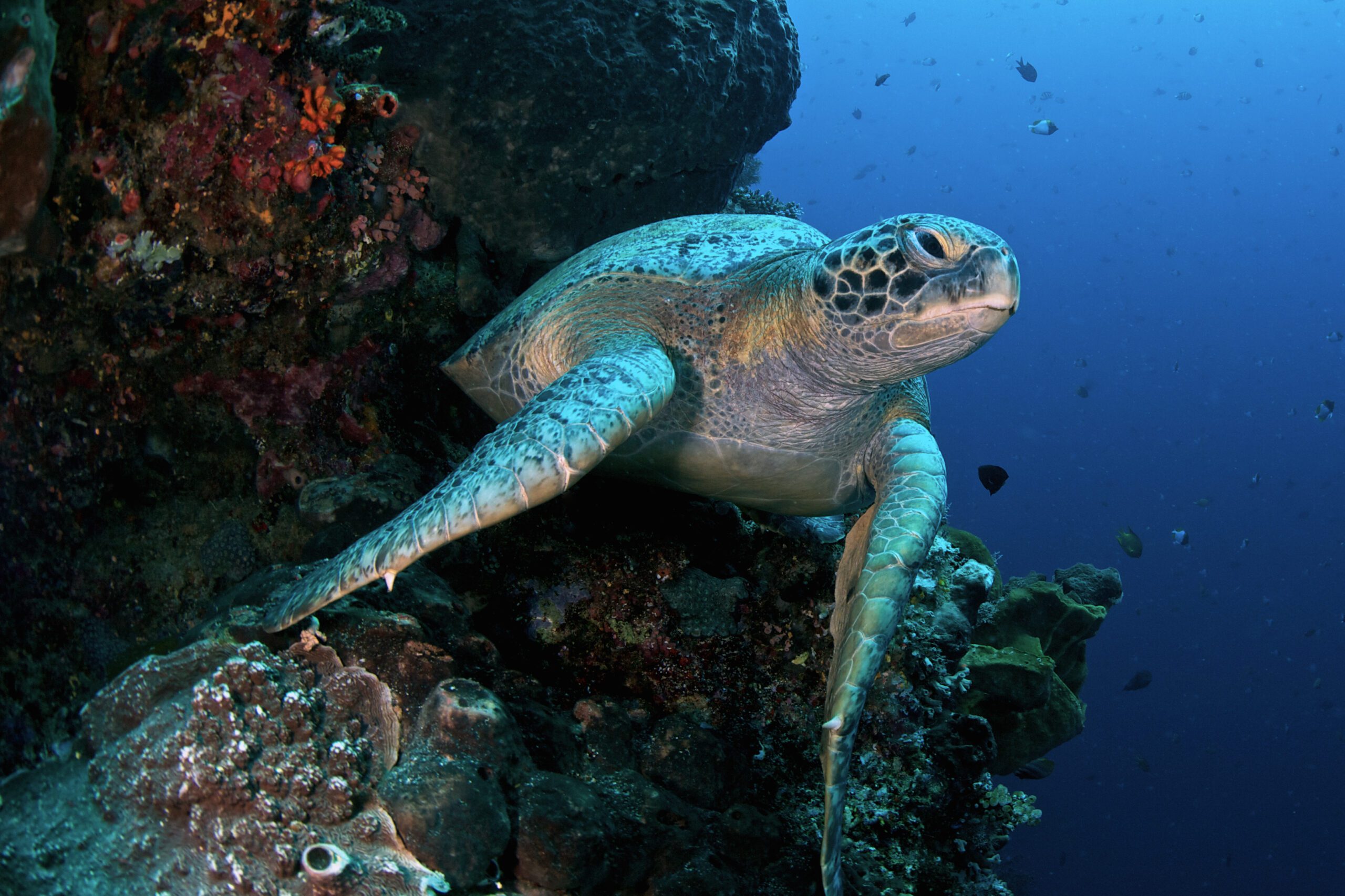 Batu Goso is a stunning site that is best suited to divers who have some prior experience in drift diving as there can be currents at this pinnacle site. Located just off Bangka Island, Batu Goso is a boat dive that ranges in depth between 5 meters and 35 meters, making it an ideal site for those with an Advanced Open Water certification (or above).
The impressive soft corals are a real highlight here – especially when the currents are running and causing the corals to open up and feed in the plankton rich water. There are several breaks in the reef which are sheltered from the current and provide a great opportunity to take a break and look out to the blue. Look out for white and  black tip reef sharks, hawksbill and green sea turtles, barracuda, and groupers.
3. Sahaung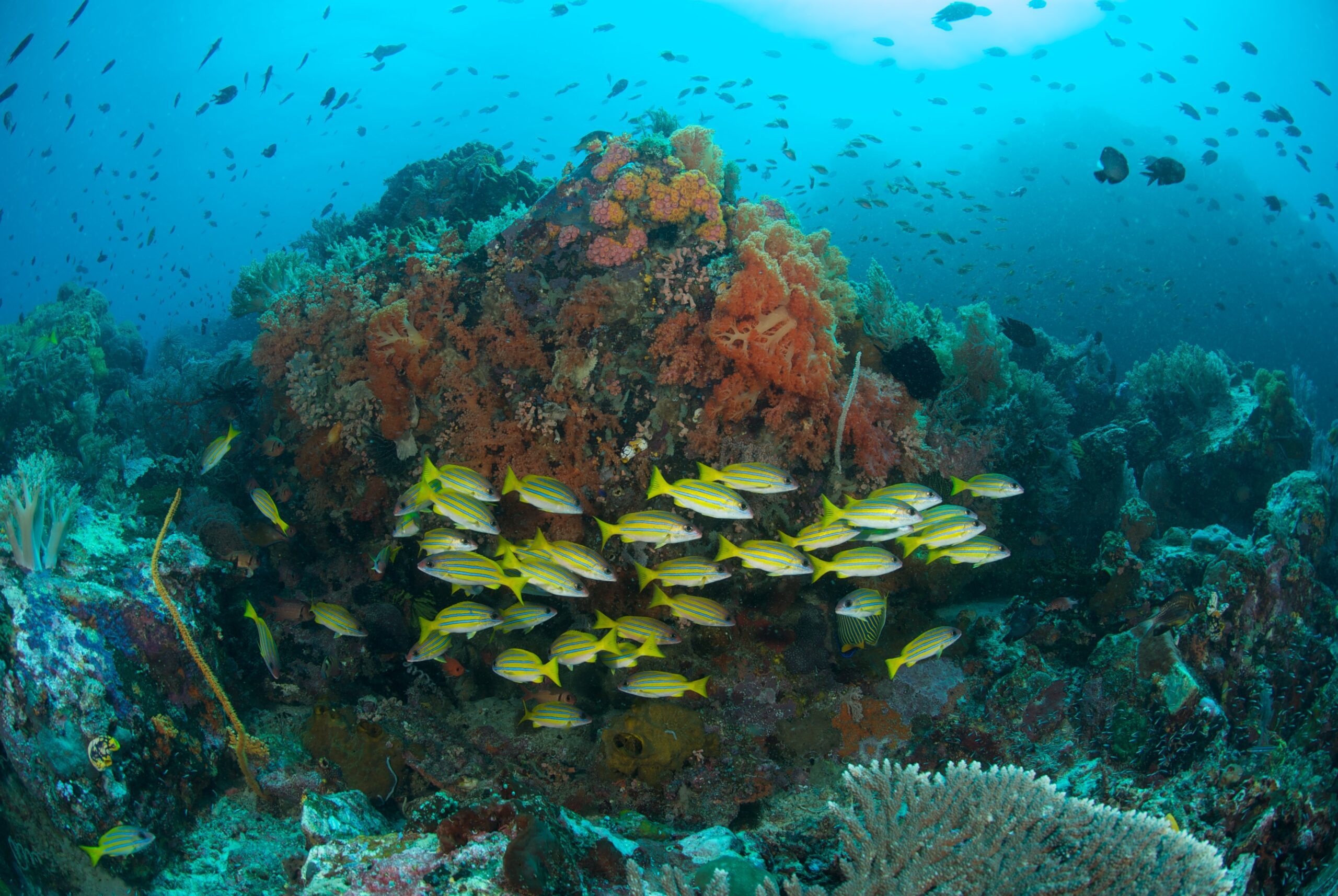 Colorful, vibrant and teeming with life is the best way to describe Sahaung. It's a favorite site with many of our guests – and our own dive team too. Sahaung is an intriguing mix of boulders and pinnacles and it can be dived in a number of ways according to the conditions on any given day. 
The pinnacles have boulder-formed shelves and these shelves are wonderful for exploring. Dives here are between 5 meters and 35 meters depending on your certification level – and there is plenty to see at all depths. Some of the highlights include huge table corals (often with white tip reef sharks resting beneath them), incredible soft corals, schooling fish and passing pelagics out in the blue.
4. Peter's Sponge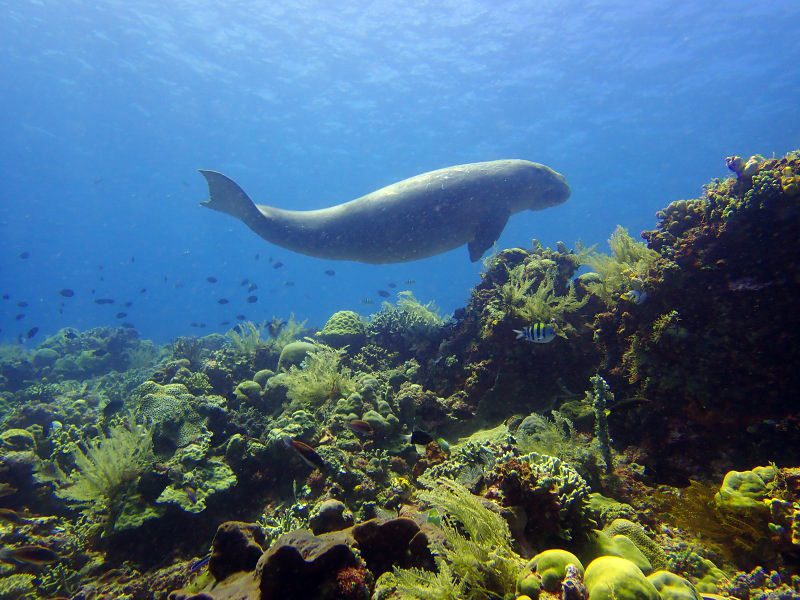 Located off the coast of Bangka Island, Peter's Sponge has a protected location and little to no current. This is an excellent dive site for macro underwater photographers, critter aficionados, beginners and those who prefer easy conditions and relaxing dives. 
Peter's Sponge is a white sand slope which is punctuated with small coral bommies that are home to schools of glassfish. It's also the site where we most frequently spot dugongs. Other common sightings here include blue-ring octopus, flamboyant cuttlefish, Ambon scorpionfish and ghost pipefish. 
5. Batu Mandi
Located off the shore of Pulisan on the mainland coast of North Sulawesi this site is suitable for all levels of divers and offers both stunning coral reefs as well as an array of critters. The topography here features a collection of pinnacles that rise up from a white sand and scattered coral bottom – at around 25 meters. 
Marine life highlights here include the chance to see up to three species of pygmy seahorse (Bargibante, Denise and Pontohi), giant frogfish, warty frogfish, moray eels, ribbon eels, and broadclub cuttlefish.
Are you planning your next dive trip?
Have you been inspired to come and join us at Murex Bangka? For more information, or to make a booking, contact us at: reservations@murexresorts.com. We look forward to welcoming you to North Sulawesi!
If you enjoyed reading this Blog, you may also like: