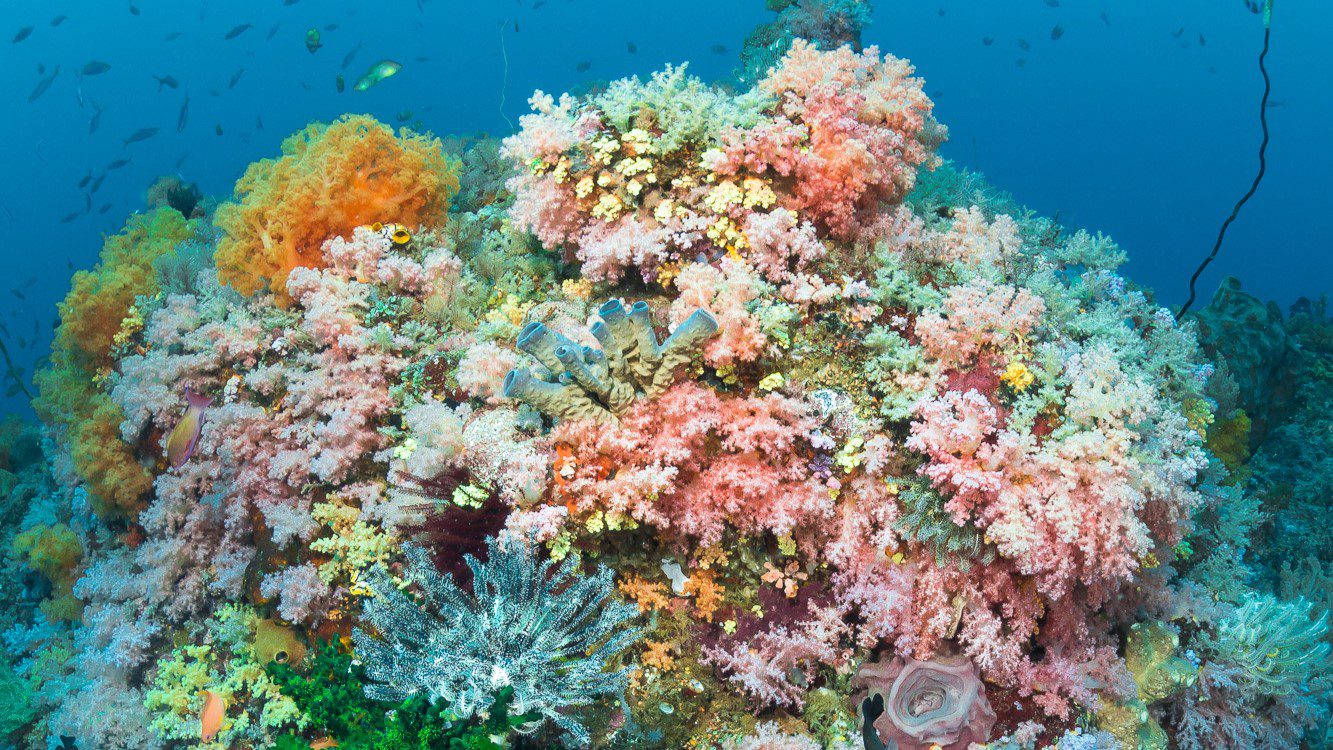 Bangka Island – A Jewel in the Crown of North Sulawesi
Bangka Island is located off the northern most tip of North Sulawesi (not to be confused with Bangka (Belitung) Island off mainland Sumatra) and offers stunning natural beauty both underwater and on land. You'll find white sand beaches, little tourism, few roads and a very traditional way of life. If you are looking to get away from it all then Bangka Island should be on your bucket list.
Here are some of the highlights of Bangka Island
Picture Postcard
Travelling to Indonesia conjures up visions of remote far flung islands, white sand beaches and bowing palm trees and that's exactly what you'll experience when you visit our Bangka Resort. There can't be a more peaceful place to be than swaying in a hammock, listening to the waves break after an incredible day of diving or snorkeling. Bangka Island is the perfect place to switch off and unwind but don't worry, if you need to check on things back home there is phone coverage and we do have Wi-Fi.
Bangka Island House Reef – A Reef to Dive For
Murex Bangka House Reef really is just a step off the beach and it's not your average house reef. The stunning shallow water branching corals give way to an abundant sloping reef. There is a diverse range of both hard and soft corals which are home to an array of critters and fish. You'll find frogfish, ribbon eels, scorpionfish, ghost pipefish and other macro treats among the reef as well as a plethora of reef fish. Look out to the blue for passing schools of silver fishes and even an occasional eagle ray.
Bangka Island Coral Reefs
Bangka's dive sites and snorkelling spots are famous for their world-class corals reefs. The soft corals at sites such as Sahaung, Batu Mandi and Batu Pendeta offer an explosion of color – especially when there is a gentle current and the polyps are open. You'll find a mix of sloping reefs, rock pinnacles, sea mounts and drop offs – diving in Bangka is varied and exciting.
Bangka Island Critters and Macro
Bangka is best known for its soft corals but did you know that it's also home to many of the critters which are found in the Lembeh Strait? Some of the rare and unusual critters which we find around Bangka Island include: bargibanti and pontohi pygmy seahorses, robust and ornate ghost pipefishes, blue ring, mimic and wunderpus octopi, flamboyant cuttlefish, harlequin shrimps, numerous species of frogfishes, countless species of nudibranch, mantis shrimps, sea moths, candy (soft coral) crabs – the list is endless.
Big Fish
If you're more interested in pelagics than pygmies, Bangka will not disappoint. Look out for schools of mackerel, fusiliers, jacks and rainbow runners in the blue. Passing pelagics include white tip, black tip and grey reef sharks, hunting tuna and trevally, great barracuda, marble rays and we've even seen whale sharks! We also have sightings (from the boat) of dolphin and pilot whale pods as well as seasonal sperm whales. A few of our dive sites are well known for dugongs and we have semi-frequent sightings throughout the year.
Bangka Island Family Activities
If you are planning a family vacation with a difference then Murex Bangka is a must. Forget movie theatres, malls, theme parks and video games – the resort is one big adventure playground! Watch the kids shell collecting and playing on the white sand beach, splashing in the wave break or investigating the rock pools at low tide. Snorkeling is from the beach just a few meters from your accommodation and they'll be spell bound by the colorful reef fish and corals. Take a snorkeling or diving trip on the boat and discover rock pinnacles, pristine reefs and virgin beaches. In between diving or snorkeling explore calm lagoons and paddle ashore with our stand up paddleboards. Most of all, enjoy quality time together amid stunning nature.
Murex Bangka Team:
Indonesians love children and our friendly team is no exception. Whatever the age of your little ones they will be well looked after. If you need some "Mom and Dad time" together, our resort staff will be delighted to look after them and give you a well-earned break. Our kitchen crew are able to prepare nutritious meals that appeal to all ages and dietary requirements.
Murex Bangka Location
Murex Bangka offers a tropical escape, conveniently located just one hour by car (and 20 minutes by boat) from Manado International Airport. If you're seeking to explore multiple locations during your holiday, you can reach the Lembeh Strait in just 1 hour by boat, and it's a 1 hour 45 minutes journey to Murex Manado and the Bunaken Marine Park. Our flagship Passport to Paradise program is your ticket to discovering all three unique destinations in one seamless trip: Bunaken, Bangka, and Lembeh. Dive into over 150 different dive and snorkel spots, ranging from Bunaken's stunning walls to Bangka's vibrant reefs, and experience the world's best muck diving in Lembeh.
Ready for the tranquility of Bangka Island?
Visit Murex Bangka Resort, imagine yourself basking in the serene beauty of Bangka Island in the heart of North Sulawesi. And treat yourself to the pristine beaches, crystal clear waters and vibrant marine life that characterize Bangka Island. 
If you are already enamored with the idea of indulging in the ultimate relaxation on our paradise island, take the next step towards making your dreams come true. Contact us with your questions and requests at reservations@murexresorts.com.
Curious about our Murex Resort Rates? Dive deeper into the details and reserve your spot for a truly remarkable experience. Embark on the Passport to Paradise journey or book your island getaway today!