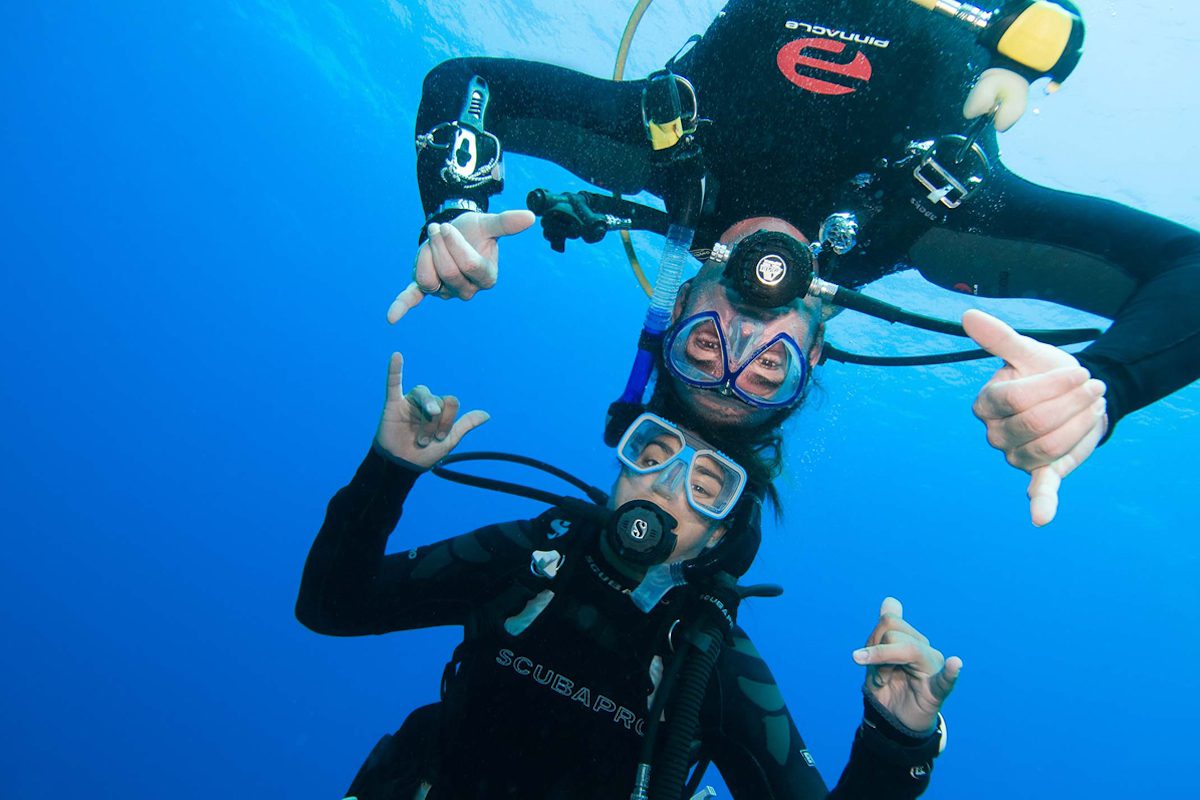 Buddy Diving
We all learn about the Buddy Diving system when we start diving but it is easy with increased experience and confidence to forget the essential basics. The Buddy Diving system is not just for beginners, it is important for the safety of all divers in a group and if your Dive Guide knows that you are on top of safety he can focus more on finding you amazing marine life and critters! Here are 5 essential tips you should never forget.
5 Ways To Be A Better Buddy
(…and impress your Dive Guide)
1. Remember your buddy diving check
Just because your diving equipment worked fine yesterday it doesn't mean that you haven't missed something today. When our Dive Guides see you running through the Buddy check they will recognise that you are responsible divers before you even enter the water and you use the Buddy Diving system.
Remember BWRAF:
Officially this stands for Begin With Review And Friend – but here are some other options to remember this phrase…
a) Breakfast with rice and fish
b) Big whales really are fast
c) Burgers With Relish And Fries
d) Breathing Water Really Ain't Fun
Bringing this back to the basics: BCD, Weights, Releases, Air and Final Check.
2. Always maintain buddy contact and communicate often
This doesn't mean that you need to swim on top of each other but be no more than 2 seconds apart. In an emergency, you may need each other! Don't forget to ask your buddy if they are "okay" regularly. Diving really is more fun with a buddy and you'll get to share some incredible moments together when diving here in North Sulawesi.
3. Remember that you are a buddy diving "team"
Diving is not a competition. Be encouraging towards your buddy but never force them into a dive they don't want to make. If you or your buddy are unsure about anything, ask your Murex Guide together for advice and guidance. Our Guides are trained to deal with problems that can occur when out on the boat and always have spare equipment and first aid kits at hand too.
4. Dive, dive, dive!
The more you dive the better you get and by diving in a range of conditions and environments you'll broaden your skill base and diving knowledge which all adds to increasing yours and your buddy's dive safety. Here at Murex you can experience everything from stunning wall diving in Bunaken and drift diving around Bangka to some great muck diving around the Manado coastline!
5. Continue learning!
If you have just passed your Open Water Course consider moving on to the Advanced program – you'll learn new skills and try different types of diving. When you have your Advanced program under your belt you'll be ready for the Rescue Diver Course which equips you with the skills and knowledge you need to be able to perform self-rescues, rescue other divers and you'll also learn how to recognise potential problems before they develop into more serious situations. We offer a full range of PADI Courses and whichever program you decide to take you can be sure that you'll be making some incredible North Sulawesi dives – and having a lot of fun!
Emergency Equipment for Buddy Diving
For those of you who have added experience, you may also want to include in your buddy check some extra emergency items:
Dive Knife: Confirm you have a dive knife or cutting tool accessible.
Surface Marker Buoy (SMB): If required, ensure you have it ready.
Whistle: Check that your whistle is attached and functional.
Dive Light (if a night dive or low visibility): Ensure it's working and have spare batteries if needed.
Are you planning your next trip?
By following these simple steps you'll become a great buddy and gain the respect of your Dive Guide. Why not make a start now and contact us at reservations@murexresorts.com to book your next diving trip or PADI program? We can't wait to welcome you at Murex Resorts. Don't forget to explore Murex Resorts Rates and get ready for an unforgettable underwater odyssey with our Passport to Paradise!