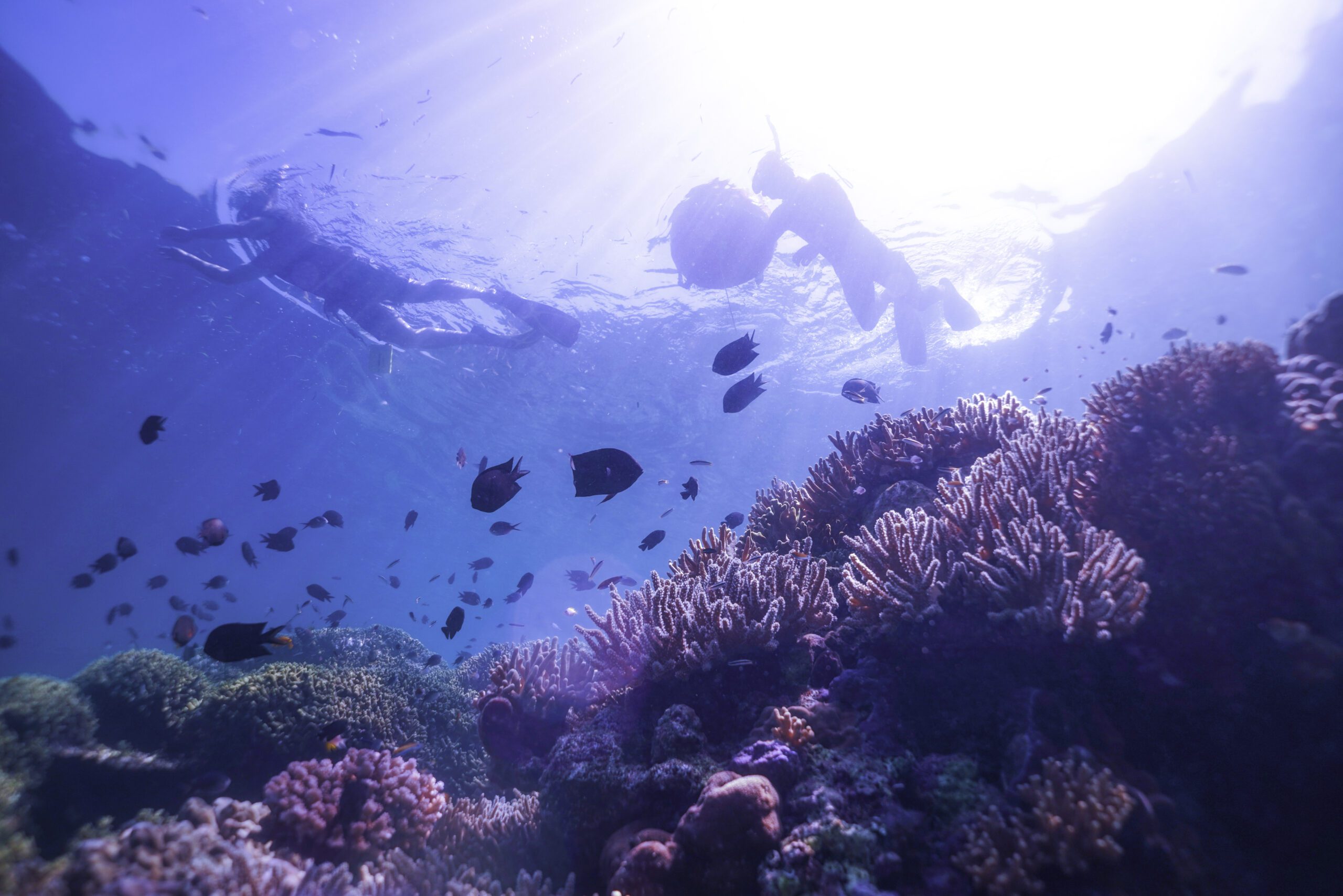 8 Tips for Snorkeling in Bunaken, Indonesia
The Bunaken Marine Park is located in the heart of the Coral Triangle which is where we call home! It's the epicenter of marine biodiversity and is home to more reef-building corals and species of tropical fish than anywhere else on Earth. If you are looking for a holiday of a lifetime, look no further than snorkeling in Bunaken.
We are extremely fortunate here to have thriving reefs which are teeming with life. The unique currents and ocean tides affected by the "Indonesian Through Flow" mean we have reefs that live in a unique marine environment and flourish year after year. A recent comparative study conducted over the last 4 years confirms an increase in reef health, coral growth, and fish numbers – see here for more details of the survey.
Did you know that we offer dedicated services for snorkelers through Murex Snorkeling? All of our snorkeling trips include a professional snorkeling guide to enhance your experience. For more information about our snorkeling packages check out our dedicated snorkeling page for Snorkeling Bunaken & Manado Bay and Snorkeling Bangka.
For many of us, snorkeling in tropical waters is a dream of a lifetime and one which we want to make the most of. To ensure you have the most memorable experience possible here are 8 tips to maximize your snorkeling in Bunaken experience.
1. Are you new to Tropical Sea and Coral Reef Snorkeling?
We offer free snorkeling lessons for beginners included in your trip! It's not just beginners who will benefit from a lesson, anyone who has never had any instruction is encouraged to join us – even experienced snorkelers. You'll learn or review general snorkeling techniques and you'll also learn specific skills for snorkeling in our area and guidance on protecting yourself, our marine life, and reefs.
2. Learn About the Marine Life
The Coral Triangle is home to 500 species of coral which equates to more than 76% of the world's known species, more than 3,000 species of fish, 6 out of the 7 world turtle species, a migratory route for over 30 species of marine mammals, home to more than one third of all whale and dolphin species and the greatest extent of mangrove forests in the world.
Having some basic knowledge of marine life and knowing what you are looking at makes the experience so much more special. That's why all Murex snorkeling trips are guided by our experienced snorkeling guides who will point out extra special species for you and help you to identify what you have seen underwater – they are full of interesting marine life facts!
3. Listen to Your Snorkeling Briefing
There is a snorkeling briefing on board all Murex boats before you enter the water. The briefing is when you will be informed of important safety information, given tips about what to look out for, advice on how to snorkel the area to see the highlights, and anything unusual. Our briefings are designed to help you to have the best snorkeling experience possible.
4. Pay Attention to Your Snorkeling Guide
Our snorkeling guides have a wealth of snorkeling sites and marine life information – make the most of them and remember that there is no such thing as a stupid question! Our snorkeling guides are one of our biggest assets and they are there to help with everything from leaking masks to marine life identification.
5. Take Your Time and Relish Each Moment … and Every Fish!
This is your holiday and your Indonesia snorkeling adventure so don't rush! Take your time and give everything a second glance. The more you look, the more you see, and the more relaxed and comfortable you'll be in the water.
6. Feel Proud to be a Reef Ambassador when Snorkeling in Bunaken
You can play a big part in protecting the reef too by being a positive Reef Ambassador while snorkeling in Bunaken. Be careful not to touch anything underwater, be extremely careful with your fins, and don't buy souvenirs made from reef products such as shells or coral, if you see any trash in the water, pick it up yourself – or ask your guide to help you.
7. Tell Your Friends and Spread the Word
Post on your social media about your experience of snorkeling in Bunaken – the more people who fall in love with the ocean, the more people there are who care enough to protect it!
8. Protect the Ocean from Home
We hope you won't forget the incredible reefs and marine life that you saw when snorkeling in Bunaken. When you return home, continue to care for ocean environments by reducing your usage of single-use plastics, recycle as much as you can, and make use of simple techniques to save resources such as turning off lights, not wasting water, and reducing your waste – all of which will save you money too and make you feel good!
What our guests say:
"Fabulous!"
Love this place! Great guides, fantastic food, awesome private villas surrounded by beautiful Lilly ponds, amazing personalized service. Can't get any better! We have been here twice and can't wait to return".
Elizgolden – TripAdvisor, July 2018
Do you want to see more of North Sulawesi while you are here? Why not combine your snorkeling in Bunaken with a stay at our Bangka Island Resort. Around Bangka, you'll discover vibrant sloping reefs and rock pinnacles which are adorned with kaleidoscopic soft corals. Our resort is set on a private white sand beach with our stunning House Reef just a step away from your bungalow.
Share your desired nights at each location, and we'll handle the details. Your dream holiday begins now! Get in touch to plan your adventure. Discover the ultimate paradise – Bunaken, Bangka, and Lembeh – in a single vacation. Find out more about our Passport to Paradise package.
For full details and reservations, explore our rates and secure your spot. Get ready to explore the amazing underwater world of North Sulawesi with us.