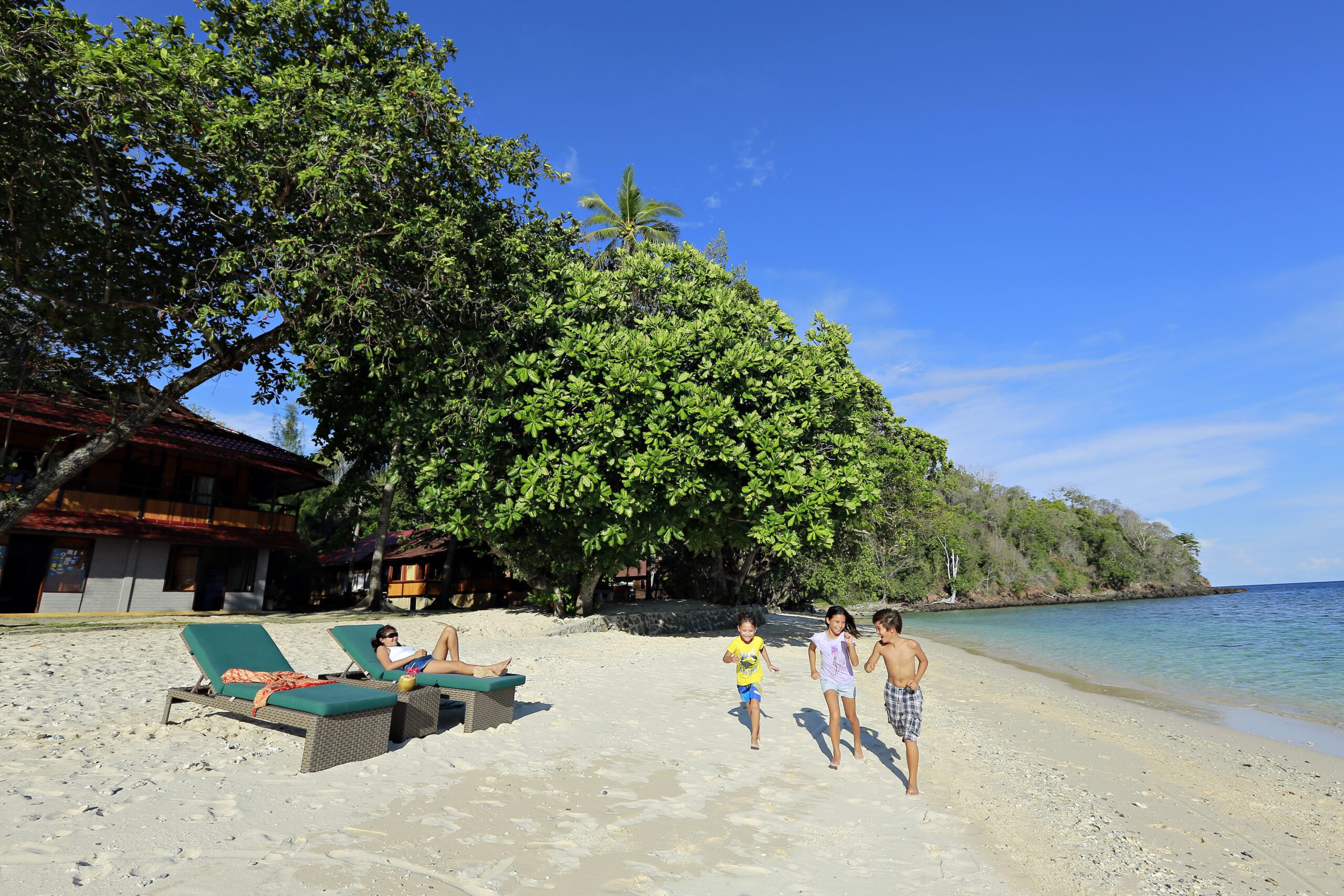 Taking a Family Holiday to Indonesia
Are you planning your family holiday to Indonesia? With over 17,000 islands it is not easy deciding where to visit and what to see, especially when traveling with children. Bali, for many families, is just too "touristy" with beach clubs, hotels, and attractions distracting from the culture, natural beauty and the essence of Indonesia.
If you are looking for a family holiday to Indonesia that allows you and your loved ones to experience stunning nature and genuine culture then North Sulawesi could be what you are looking for. North Sulawesi offers a real Indonesian adventure and a sense of stepping into another world. You'll have the chance to see some of the most astonishing coral reefs and unique wildlife in the world.
Manado and Around
The capital city of North Sulawesi is Manado which is a 2.5 hour flight from Bali or just over 3 hours from Jakarta and direct flights operate both routes. Manado is situated on the banks of the ocean in a wide sweeping bay. While Manado is a bustling city, just 30 minutes along the coastline Murex Manado is situated in the small village of Kalasey and surrounded by green countryside, mountains, jungle, and in short, nature – and lots of it!
Positioned directly on the seafront and set in mature tropical gardens Murex offers a family-friendly environment with warm hearted staff, an infinity pool for the kids (and parents) to enjoy – with stunning views across the ocean to the islands of the Bunaken Marine Park.
For families who want to really experience the beauty of the area and have easy access to all of the activities, sights and highlights of the region we are in the perfect location. There is a lot to see and do in North Sulawesi, from land tours to underwater, depending on how active (or not) you want to be. Here are our top recommendations which allow you to experience everything that the area has to offer:
An Underwater Family Holiday to Indonesia
Indonesia is famous for its marine life – here are 4 top activities to get you out, on (or under) the ocean during your family holiday to Indonesia.
Diving Bunaken Marine Park and Manado Bay
The Bunaken Marine Park was one of the first marine protected areas in Indonesia due to its exceptional marine biodiversity, stunning coral reefs, and beautiful natural environment. Dive the Bunaken Marine Park during your family holiday to Indonesia and you'll be diving in bright blue water and swimming through clouds of fish. The coral walls and shallow reef tops are awash with color and bursting with life.
Conditions are calm and suitable for all levels of divers including children and beginners. You can expect to see turtles on pretty much every dive (often several in one dive), schools of butterflyfish, red-toothed triggerfish, mackerel, antheas and damsels. There's an incredible array of reef fish of every shape and color imaginable and highlights also include harmless white tip reef sharks, eagle rays, dolphins cavorting alongside the boat, barracuda and a plethora of macro life.
If you are not already certified divers it's not a problem. Providing the children are a minimum of 10 years old and everyone is in good health you can try diving for the first time by joining a one day program called "Discover Scuba Diving". You'll have a training session in the swimming pool first before heading out on your first ocean dive. It's a wonderful experience.
If you're looking for a shared experience while on your family holiday to Indonesia, why not learn to dive together? Learning to dive will bring you together and create memories of a life time! Spend 4 days taking the PADI Open Water Course – a lifetime certificate which will be your ticket to an amazing future of family diving holidays all over the world! To read about one family's experience of taking the Open Water Course at Murex and the benefits it brought to them, check here.
Snorkel Bunaken Marine Park
Scuba diving is not the only way to experience the amazing underwater environment which North Sulawesi is so famous for. Snorkeling is an activity that can be enjoyed by all of the family regardless of age. As you swim over the colorful shallow reef tops you'll see a huge range of corals and reef fish. Many families plan one day of snorkeling and get hooked for the rest of their stay so don't be surprised if you can't keep the kids out of the water!
Sea Kayaking
This is a great way to get out on the water and it's serious fun for all ages. You don't need to have any experience and our stable sea kayaks allow you to glide effortlessly through the water. The calm waters around Bunaken and the secluded bays around Bangka Island are perfect for beginners. You'll want to take your snorkeling gear with you too so you can jump in whenever you want to take a closer look.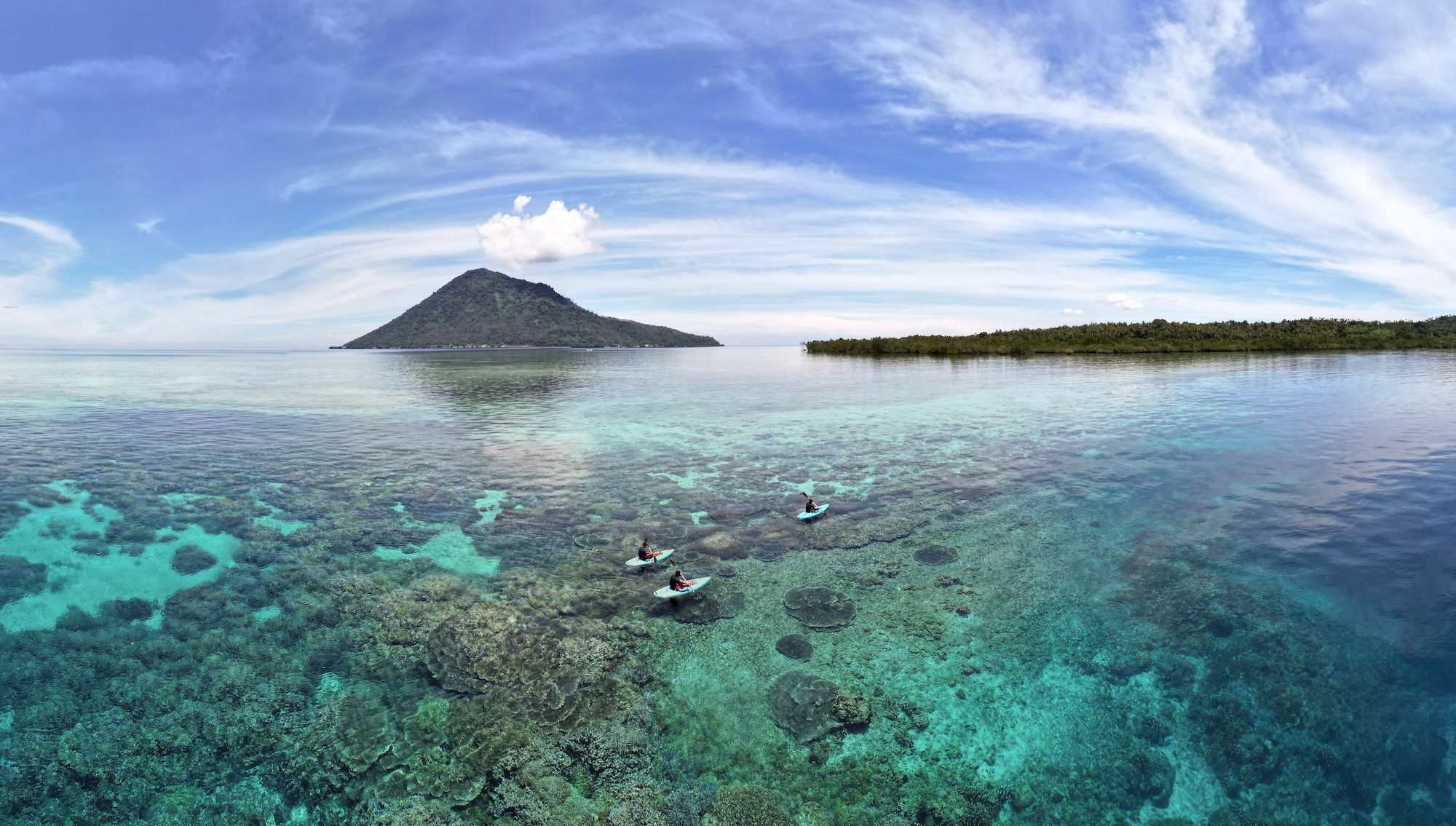 Bangka Island
Imagine a tropical island paradise with a palm-fringed white sand beach and crystal clear waters – that's Bangka Island. If you are taking a family holiday to Indonesia and your kids love beaches, Bangka Island is a must! You can swim and sunbathe while the kids explore the beach and shoreline. You can chill out in a hammock under a coconut tree while the kids collect shells and discover the shallow colorful reef tops.
Land Based Activities
If you don't want to get wet during your family holiday to Indonesia, or you'd simply like to mix things up, there is no shortage of stunning scenery, unique wildlife, and fascinating culture in North Sulawesi too.
Mount Mahawu
Indonesia is also known as the Ring of Fire so a family holiday to Indonesia would not be complete without a trek to the rim of a crater!  Mount Mahawu is a stratovolcano that is capped with a 180 m wide and 140 m deep crater with two pyroclastic cones.
The peak is at 1,324 meters above sea level and depending on the age of the members in your family, your fitness level, and how active you'd like to be the length of the trek can be tailored. It is possible to drive as close as a 15 minute walk away from the crater or, if you want to enjoy a longer trek, you can start from lower down. The views from the top are stunning and it's well worth the walk – no matter how long or short you make it.
Danau Tondano
Sitting at 600 meters above sea level Danau (lake) Tondano is the largest Crater Lake in North Sulawesi and along its extensive banks, you'll find numerous small local fishing communities. The lake is 20 km wide and 30 km long and is surrounded by breathtaking idyllic landscapes. Dozen of restaurants dot the edge of the lake.
Danau Linow
This sulfur Crater Lake is famous for its changing colors from green to blue to amber. The changes occur due to the sulfur in the lake and the refraction of the sunlight as it hits the water. It's a unique phenomenon that can be seen in only a few places in the world.
Traditional Minihasan Highland Market
There is no better way to gain insight into local life than by visiting the local Minihasan Highland market. Tomohon, also known as the "City of Flowers" has a traditional market where you will see countless spices, aromatics and vegetables on sale by the sack-full as well as an array of colorful blooms which are all grown locally. Why not enjoy a taste of the local cuisine that is cooked on site?
Hot springs and Tomohon
Indonesia is famous for its natural hot springs which are often said to have healing properties. Around Tomohon there are several different springs which you can visit and swim in. The lush and fertile mountainous lands of Tomohon are also home to coffee and coconut plantations, orchid gardens, and terraced hillsides.
Waterfalls
In the countryside surrounding Manado, and in the highlands, there are several impressive waterfalls, some of which are rarely visited by tourists (or locals) which makes them places of very peaceful and inspiring natural beauty. Some also have plunge pools which are perfect for a refreshing dip. A highlight is the Kali waterfall, just outside of Manado a beautiful trek through the forest leads up to the picturesque waterfall straight out of a Lord of the Rings movie.
Tangkoko Nature Reserve
For anyone taking a family holiday to Indonesia, the Tangkoko Nature Reserve covers an area of 8,700 hectares and includes three mountains: Mount Tangkoko (1,109 meters), Mount Dua Saudara (1,361 meters) and Mount Batuangus (450 meters). The scenery resembles that of Jurassic Park and while you won't find any dinosaurs here, the park protects at least 127 mammals, 233 birds, and 104 reptile and amphibian species. Out of these; 79 mammals, 103 birds, and 29 reptile and amphibian species are endemic to the island.
There are easy walking and trekking paths throughout the park (and some more challenging) and highlights include black macaques, tarsier monkeys and cuscus bears. If your kids love animals or you have any photographers in your family then Tangkoko is a must!
Tasikoki Wildlife Rehabilitation Center
This is an enjoyable, educational and heart-warming day out for all ages. Tasikoki rescues endangered species from smugglers who are attempting to illegally export them from Indonesia. The animals are rehabilitated and prepared for release back into the wild. Species that you may see here include orangutans, babirusa, sunbears, numerous species of birds of paradise, and many others. The tour ends at the observation tower where you can absorb the panoramic views of the surrounding park area and the wildlife within it.
If you are ready to experience the warm hospitality, colorful culture, stunning scenery, and some of Indonesia's best dive sites here in North Sulawesi, book your 2017 family adventure holiday now! [email protected].