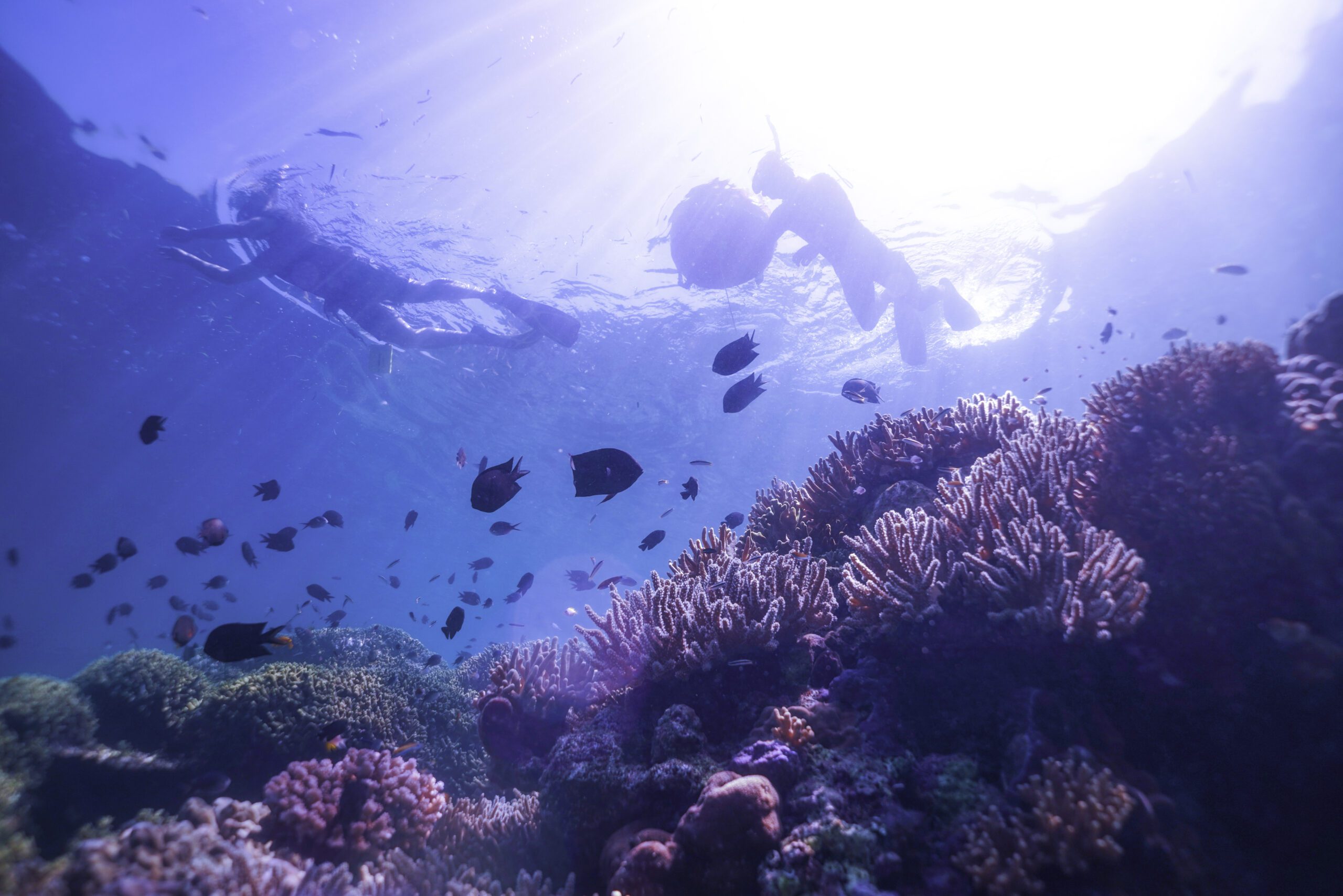 Snorkeling North Sulawesi
Why Choose North Sulawesi for Snorkeling?
North Sulawesi is located in the heart of the Coral Triangle, which is the most marine bio-diverse area on the planet. Known as the "Amazon of the Seas", the Coral Triangle boasts over 500 species of reef building corals, more than 3,000 species of fish, 6 out of the world's 7 species of turtles and the greatest extent of mangrove forests on earth. Here at Murex Resorts, we pride ourselves on our amazing snorkeling sites and resort facilities.
Snorkeling Bunaken, Manado & Bangka
Are you new to snorkeling? Not a problem. Our expert snorkeling guides will help you choose the right equipment, teach you the basics and accompany you during your snorkeling sessions. Our guides are excellent at pointing out the incredible marine life which we here in North Sulawesi.
If you don't have your own, we have a large selection of gear available. Whether you stay at Murex Manado or Murex Bangka Resort  you'll be kitted out with a mask and snorkel, which allows for easy breathing. You'll also be given fins which make every kick of your legs much more effective – you'll be able to move efficiently in the water without any stress or strain. If you'd like to wear an additional layer over your swim-suit to protect you from the sun and keep you that bit warmer, we can provide that too.
Snorkeling is a great way to see the reef and marine life without having to use cumbersome equipment. It's suitable for all ages and it's also a great way of staying fit. That doesn't mean it has to be a workout as North Sulawesi provides easy and calm conditions which allow you to swim around gently while experiencing this magnificent area.
If you're anxious about water depth, you don't need to be. There are numerous shallow water coral gardens, which you can enjoy with ease and comfort. Bunaken Marine Park is like a living playground, purpose built for snorkeling. To learn more about our favorite snorkeling sites, take a look at our snorkeling site maps.
Safety is of paramount importance to us at Murex. You'll be looked after by our team of professionally trained staff and we also carry safety equipment, first aid kits and communications systems on all boats.
Are you trying to decide when to visit us? North Sulawesi provides idyllic snorkeling conditions 365 days a year so you don't need to worry about seasonality. Decide the best dates for your trip and we'll be able to accommodate you. So what are you waiting for? Contact us today and reserve your place: reservations@murexresorts.com
Want to explore top side too? Discover the nature, wildlife and culture of North Sulawesi with some our day trips and tours.